| | | |
| --- | --- | --- |
| Kick-Ass Red Band Trailer | | |
Written by Ivan Radford
Wednesday, 03 February 2010 11:54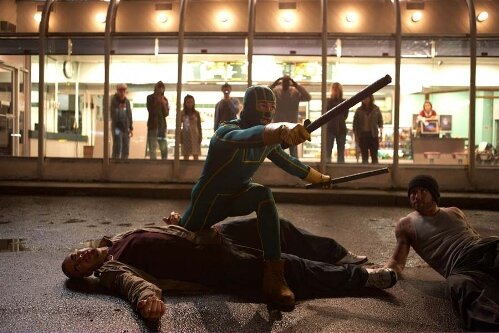 "How do I get hold of you?" "Just contact the mayor he has a special signal that shines in the sky. It's in the shape of a giant cock."

Ok, you've probably already seen bits and bobs of Matthew Vaughn's upcoming (un)super-hero comedy over the internet, but just in case you haven't, here's your chance to watch the new red band international trailer for Kick-Ass. Posters and videos have been flying around online for a while now - with more to come before the film's release - but the more I see of this, the more it looks brilliant.

Davie Lizewski (Aaron Johnson) is a comic book fan. So much so that he decides to become a costumed crime fighter himself, even though he has little to no power at all. Let alone super powers. Cue a caped crusade through a world where small girls can run up walls, shoot people mid-air, and Nicolas Cage doesn't act like Nicolas Cage.

In short? Amazing. Based on Mark Millar's ongoing series (started in 2008), Kick-Ass hits screens on Friday 2nd April. Read on for the video.
Tags:
comic book
hit-girl
kick-ass
mark millar
video
violent