| | | |
| --- | --- | --- |
| Wall Street 2 Trailer Online | | |
Written by Ivan Radford
Monday, 01 February 2010 08:43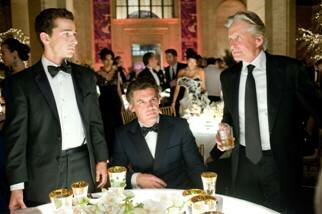 Gordon Gekko is back. And now you can watch him in action as the first teaser trailer for Wall Street 2: Money Never Sleeps is now online. Oliver Stone's long-awaited sequel to the 1980s finance flick sees Michael Douglas return as Gordon Gekko, now released from prison into a world where greed isn't just good: it's legal.

With Shia LeBeouf as Gekko's potential son-in-law and Carey Mulligan as the estranged daughter, Stone's follow up has a cast made of gold. And that's without mentioning Josh Brolin. Arriving on Friday 21st April, Wall Street 2 comes in the wake of the credit crunch, banking scandals and big city bonuse. Oliver Stone will be patting himself on the back with this one. 

Read on to watch the full video.
Tags: