Star Ratings
| | |
| --- | --- |
| | Amazing |
| | Well good |
| | Fun |
| | Meh |
| | Rubbish |
| | | |
| --- | --- | --- |
| Film Review: The Island President | | |
Written by Ivan Radford
Thursday, 29 March 2012 11:19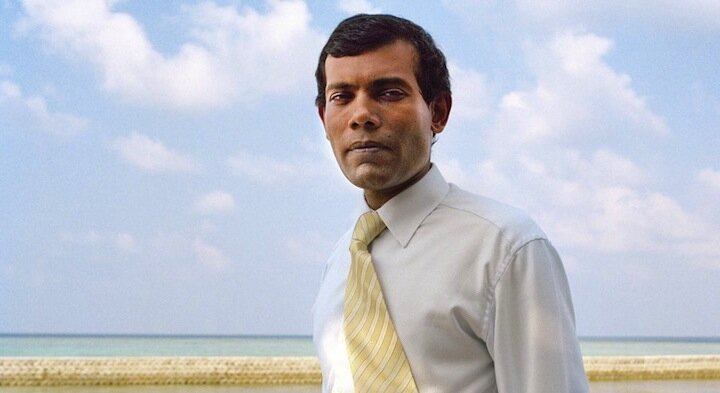 Director: Jon Shenk
Cast: Mohamed Nasheed
Certificate: 12A
Meet President Mohamed Nasheed. He is 42. He has two children. And in 90 years, most of his home country will be underwater. That is, unless the world makes some drastic changes in its attitude towards the environment.
The Island President follows The Maldives' leader in the run-up to the 2009 UN Climate Change Conference as he attempts to get the globe's attention. By the end of Jon Shenks' film, you'll be convinced of two things: Climate change is real and needs to be solved now. And every documentary should have Radiohead on its soundtrack.
Shenks spends 101 minutes sticking close to Nasheed. His handheld cameras capture everything from his publicity photos (him standing knee deep in the Indian Ocean) to his corrections to his chef at dinner. The President is elected on a wave of goodwill and support after the previous corrupt regime is overthrown. He takes office knowing he has 99 percent approval of the population. "Not even God gets that," comments one of his circle, with a smile.
But he has come into power at a crucial time for the islands: if carbon emissions aren't reduced to 350 parts per million and global temperatures lowered to 1.5 degrees C, The Maldives and all its 2,000 islands are unequivocally doomed. Nasheed gets to work, determined to do everything he can to convince the naysayers and skeptics that climate change is actually happening. "It is not something we are facing in the future. It is something we are facing now," he urges to the media, hosting the world's first underwater cabinet meeting to get everyone's attention.
Publicity stunts, of course, can only go so far. Other world leaders may nod and smile in public, but behind closed doors they bicker like children over percentages and numbers. It's no surprise to see the petty nature of global politics, but what's fascinating is Nasheed's response. Stalking through the backdoors of the Copenhagen conference centre, Shenk sees the President wheeling and dealing his butt off to secure every vital vote that will commit the UN to a definite climate change target.
And that's what makes The Island President such an effective documentary. Shenk doesn't batter us over the head with science, statistics and politics: he takes time to get to know Nasheed, turning the familiar cause in something personal and shockingly relevant.
"People in my generation will go on to die on this island," one resident tells the camera. Juxtaposed with stunning aerial shots of the landscape, the impending doom of such a beautiful place and so many people is given a sad and fresh new urgency. The phrase "environmental refugees" is particularly haunting.
Cutting the documentary together with some stylish edits and a toe-tapping soundtrack (a lot of Radiohead and some Sigur Ros for good measure), Shenk keeps things zipping along a fast pace. He's also keen to stress that 2009's Climate Change Conference wasn't the failure that the media portrayed it to be. But the thing that sticks with you afterwards is Nasheed's enthusiasm. "He always finds a positive angle," his wife comments near the end.
The tragic fact is that if things continue the way they are (Nasheed was actually forced to resign last month after protests), this is one situation that could have a very negative ending.

For an even more stunning documentary on climate change, check out our Chasing Ice review.