| | | |
| --- | --- | --- |
| Monsters vs Aliens 3-D | | |
Written by Ivan Radford
Thursday, 02 April 2009 11:00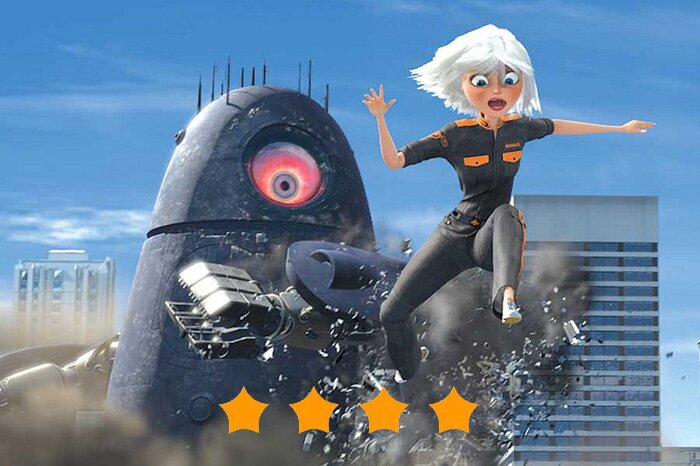 Directors: Rob Letterman, Conrad Vernon
Cast: Reese Witherspoon, Kiefer Sutherland, Hugh Laurie, Will Arnett, Seth Rogen, Stephen Colbert
Certificate: PG
Trailers and Clips 

Monsters are awesome. Who doesn't love Godzilla, the original man-in-a-muppet Japanese destroyer? Or that pulsating blobby thing from The Blob? Well, many 5 year old kids, for a start. They've never seen these classics – unless they had one weird upbringing. So this tribute to trashy terrors shouldn't really appeal to them. But oh boy, it does.

Dreamwork's latest animation nails both audiences with one fell swoop. It takes some monsters. And an alien. Then lets rip. So we have Susan (Witherspoon), a bride to be who gets hit by a massive meteor. And then grows to 10 times her normal size. Taken into custody by General W.R. Monger (Sutherland), "Ginormica" (her given name) is soon surrounded by other monsters: the gelatinous Bicarbonate Ostylezene Benzoate, 'BOB' (Rogen); a mad scientist, turned into a cockroach, Dr Cockroach PhD (Laurie); The Missing Link (Arnett), a thawed out fish-man from 20,000 years ago; and Insectosaurus, a giant insect. Well, duh.

When alien Galaxxar invades America ("the only country UFOs ever seem to land in"), they respond by unleashing their own brand of freaks. The result is a frenetic series of set-piece confrontations, punctuated by silly jokes and stunning graphics - each frame is rendered with a real sense of depth. The plot is simplistic, near non-existent; it's a mish-mash of every monster movie cliché Hollywood has to offer. Which is precisely why it works.

Playfully riffing on the 50's fiends, the film leaps from the Black Lagoon to The Fly with a knowing wink. As Close Encounters of the Third Kind gives way to War of the Worlds, they introduce a 50ft Woman for the 21st century – a self-empowered female who literally outgrows her subdued marital role. And then tears down the Golden Gate Bridge. Each character is a witty piece of design, from their appearance to their roots. It's just a shame we don't get more aliens to match (the lazy route of cloning will have to suffice).

Instead, the B-Movie vibe gets an A-List cast, with Arrested Development's Will Arnett and Seth Rogen's Blob a particular highlight. Sutherland, too, has fun as the hammy General playing Dr Strangelove to (Presidential candidate) Stephen Colbert's clueless (and slightly wasted) President: a mild satire on US foreign policy? Of course not. Bring on the monsters!

With everything bursting into glorious 3-D, the colourful visuals and very daft script make for madcap entertainment. More fun than Aliens vs Predator, this is perfect popcorn fodder for children and geeks alike.

VERDICT

Monsters! Aliens! Monsters! Awesome.
Comments (2)
Add your comment