| | | |
| --- | --- | --- |
| Duplicity | | |
Written by Ivan Radford
Friday, 20 March 2009 13:36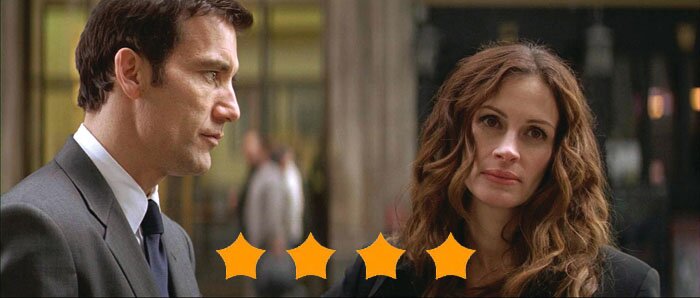 Director: Tony Gilroy
Cast: Clive Owen, Julia Roberts, Tom Wilkinson, Paul Giamatti
Certificate: 12A
Clive Owen and Julia Roberts pulling a long con? Most people think Ocean's Eleven, but Tony Gilroy's romantic caper is far closer to Charade - caper being the key word here. Darting in and out of hotel rooms, boardrooms, trains and planes, our two sparky stars caper all over the place. Sometimes, they caper so much their clothes fall off.

Ray Koval (Owen) and Claire Stenwick (Roberts) are spooks with a steamy past. Sexy, stylish and sneaky to boot, they put their suspicious minds together to scam two rival cosmetics companies, run by Howard Tully (Wilkinson) and Richard Garsik (Giamatti). How? Well, it's quite simple. Or, to be exact, incredibly convoluted. Amidst all the twists, turns, double crosses and triple crosses, it comes down to one thing: lotion. Or is it cream?

The point is that Tully and Garsik hate each other. Instead of exchanging price drops like normal people, they swap blows outside their private jets (a glorious slow-motion smackdown that sees Benjamin Franklin take out John Adams on tarmac). Intent on stealing the other's secret formulae, each have hired a crack counter-intelligence team. Cue Clive and Julia, all clued up on how to steal a million. Well, 40 million to be precise.

Gilroy's overly complex thriller zips along at a snappy pace, swinging from one country to another with old-school sass. Playing out to James Newton Howard's jazzy vibes, it smugly revels in its quick-smart dialogue and charming lead couple. Some complain that Clooney was clearly meant for Clive's part, but that doesn't do justice to his own brand of charisma; there's only one year between them, but Clive's definitely looking the better for wear. Neither are Cary Grant, but they're pretty darn close.

Roberts returns to the screen after maternity leave with a part that offers both glamour and deceit - she manages both with ease. Together, they trade one-liners gleefully; in their hands, even the same conversation three times over never fails to entertain. Tony Gilroy proved his penmanship with The Bourne Ultimatum and Michael Clayton. Here he splashes the ink about with a playful ear, matching it with a frisky eye and a soft spot for split-screens. The result? An electric climax to a crafty bit of trickery. When he does pull the rug out, you won't be complaining about carpet burn.

VERDICT

A fun frolic round the corridors of cosmetic subterfuge, Duplicity is a whimsical ruse of the smartest variety. And boy, does it know it.
Comments (2)
Add your comment