| | | |
| --- | --- | --- |
| Lesbian Vampire Killers | | |
Written by Ivan Radford
Friday, 20 March 2009 12:45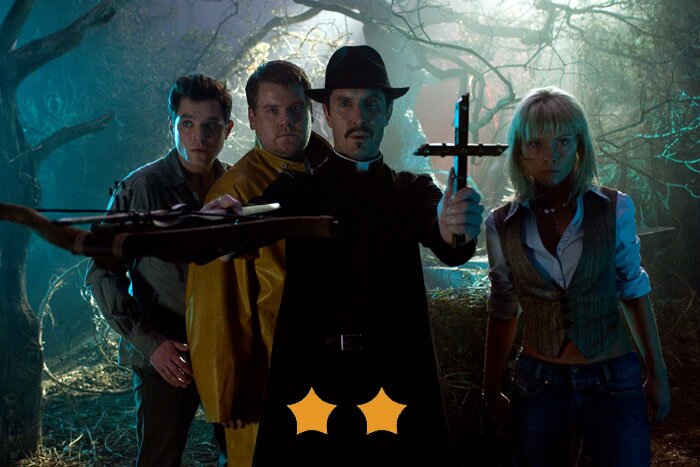 Director: Phil Claydon
Cast: Matthew Horne, James Corden, Paul McGann
Certificate: 15
Here they come, lolloping into our cinemas with all the grace of a one-legged watermelon: Horne and Corden. Corden and Horne. One fat, one thin. Get it? One of them (Corden) is fat. The other (Horne) isn't. What larks.

In today's adventure, Corden and Horne find themselves in a village. But this is no ordinary village: this is the village of Cragwich, which hath a curse upon it so mighty that all women of 18 years and above doth get turned into vampires of the homosexual variety. Oh no! What will they do? Is this the end of Corden and Horne, Horne and Corden?

Sadly not. They stay alive for the whole 90 minutes of brain-dead trite that they have to offer. Then, when you finally escape, safe in your home with the doors locked, you turn on the BBC only to find one thing: Horne and Corden. Corden and flipping Horne. Now, in all fairness to the dreadful double act, this one isn't really their fault. They've shown in the past that they do have talent - from Gavin and Stacey to History Boys, their comic timing can be spot-on. They're funny live, too (we'll leave the sketch show for another day). They didn't write Lesbian Vampire Killers, they just took the chance to star in it - a film gig, surrounded by scantily clad lesbians with one hell of a bloodlust? Many men (and all the 15-year old boys in the audience) would jump at the prospect.

Although the effort goes in appearance wise - the lighting, the effects, even the quirky titles work quite well, until you get sick of them - it's a textbook example of polishing a turd. Insistent upon comedy sound effects and needlessly speeding up random segments (something only Green Wing could pull off), director Phil Claydon goes so far that the whiff just gets stronger. By the time the cock sword and fat jokes start rearing their heads for the 50th time, you'll want to cut your nose off and shove it down their windpipes. It's a shame, really, because Paul McGann makes for a great priest.

VERDICT

Shaun of the Dead? Nowhere near. A horror-comedy that isn't scary and isn't funny, this is a lame-arsed attempt at making a lame duck walk.