Star Ratings
| | |
| --- | --- |
| | Amazing |
| | Well good |
| | Fun |
| | Meh |
| | Rubbish |
| | | |
| --- | --- | --- |
| The Descent: Part 2 | | |
Written by Ivan Radford
Friday, 04 December 2009 15:44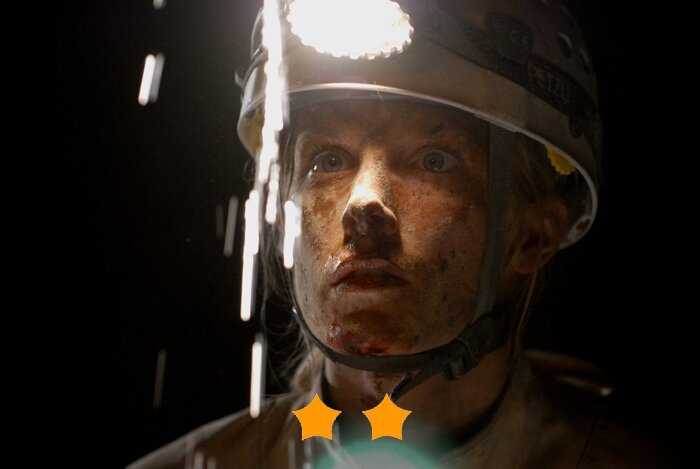 Director: Jon Harris
Cast: Shauna MacDonald, Natalie Jackson Mendoza 
Certificate: 18
Trailer
It's one of those normal days in the office. You're sitting around, doing your Sheriffy thing, and then in walks a blood-drenched woman, with no memory of what happened to her and her missing friends after they went caving. Of course, the first thing you do with an amnesiac, traumatised potential psycho-killer is drag her back down underground. And then nominate her to be your guide. Make sense, much? Well, it's pretty much par for the course in this retread of Neil Marshall's 2005 original.

The Descent: Part 2 follows on from the American ending of the British horror, with Sarah (MacDonald) apparently surviving the bloody massacre that terrified everyone's pants off. Accompanied by a grumpy Sheriff and some other people (who apparently have names), she is forced back to the violent scenes of her past, once again at the prey of the flat-nosed cave-dwelling monsters.

Mentally scarred and physically disturbed, she gibbers, crawls and stares her way through the inevitable slaughter of the group. Split up by rockfalls, chasms, and general human stupidity, Sarah soon finds herself alone, remembering stuff from the first film - including what she did to Juno (the key dramatic climax of the piece) in order to escape. Then Juno (Mendoza) herself turns up, all pickaxe and muddy overalls. Which supposedly brings in some backstory between them. It doesn't.

Fumbling their attempts to flesh out the sequel's cast, all three - yes, three - screenwriters fail to formulate any feeling of anger or fear. We all know the moron's not gonna make it. Why should we care exactly how they die? You'd hope for some decent creature development instead, but that's not happening either. There's a large pool of poo and you see one crawler take a dump. But that's about it.

So it's all up to first-time helmer, Jon Harris. He employs his editing experience on The Descent relatively well, building up the set pieces with a certain amount of energy. But there's only so much he can do. Aside from the claustrophobic set design and lighting (which merely recycle Marshall's movie), there's no huge tension or deep-set shocks. The Descent was so scary because of its tightly bound group of female characters. Here, it's a loose bag of rag-tag plot devices, dunked in bodily fluids. And don't even get me started on the ending - someone watched Deliverance a few too many times. They should've been watching Dog Soldiers.

VERDICT

Mucking up Marshall's icky masterpiece, The Descent: Part 2 is a bloody mess. Great, if you like that sort of thing.
Your rating
( 1 Vote )
Tags: