Star Ratings
| | |
| --- | --- |
| | Amazing |
| | Well good |
| | Fun |
| | Meh |
| | Rubbish |
| | | |
| --- | --- | --- |
| Paranormal Activity | | |
Written by Ivan Radford
Thursday, 26 November 2009 00:20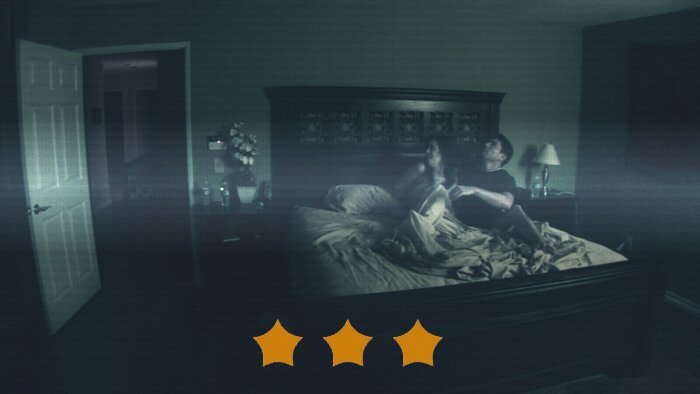 Director: Oren Peli
Cast: Katie Featherston, Micah Sloat
Certificate: 15
Trailer
There's always something scary about bedrooms. Especially your bed. Your one safe place in the world being infiltrated by something unknown? It's an unsettling prospect. The Exorcist, Nightmare on Elm Street - it's all about the beds. So imagine what it would be like if you set up a video camera to record all the stuff that goes on around your pillow at night. That's what Katie (Featherston) and Michah (Sloat) do. What's it like? In places, pretty damn terrifying. In other places, not so much.

It all starts off safe enough, with our suburbanite sweethearts arriving home, Micah carrying his brand new (and expensive) camera. Eager and excited to investigate the unusual, Micah can't wait to put the tripod up and hit the big red button. Katie's not so keen. Then again, she's the one who keeps hearing the noises.

And so begins a three week cycle of filming and playback, each night's events escalating gradually. It's in this routine, repeating itself every 24 hours, that Paranormal Activity finds its fear; after a night's suspenseful surveillance, we then have to re-watch it with Katie and Micah the next morning, sharing their reactions for a second time.

The simple structure is matched by its stripped-down presentation. Shown entirely through Micah's handheld, the shots are mostly static, restricted to the same corner of the room. The squirms come from scrutinising what happens on-screen; scouring left and right, you seek out the subtle movements of a blanket or the creaking of a closing door. Fading in and out from its fixed frame, things get more freaky thanks to the creative audio, with no score to distract from the stark sounds of the unseen.

But while Oren Peli's low-budget horror is technically spot-on, his script is less so. Following the age-old path of "found footage" to its grisly end, Paranormal's central pair are little more than plot functions - photos from the past, unexplained websites, and a rather convenient climax don't help us connect with the characters. Can you really be scared when you don't care what happens to them? While its effective to have an unknown enemy (compare this set-up to Blair Witch's backstory), the result is a more visceral than emotional engagement; it's impressive on a shallow level, but Paranormal doesn't pack the deep punch it so prolifically proclaims. When things don't happen, it's brilliantly disturbing. When they do, it's a slight disappointment.

VERDICT

The predictable Paranormal Activity is a haunting, if hollow, achievement. You'll get chills down your spine but you won't wet your pants.
Your rating
( 2 Votes )
Tags: