Star Ratings
| | |
| --- | --- |
| | Amazing |
| | Well good |
| | Fun |
| | Meh |
| | Rubbish |
| | | |
| --- | --- | --- |
| Zombieland | | |
Written by Ivan Radford
Thursday, 08 October 2009 17:37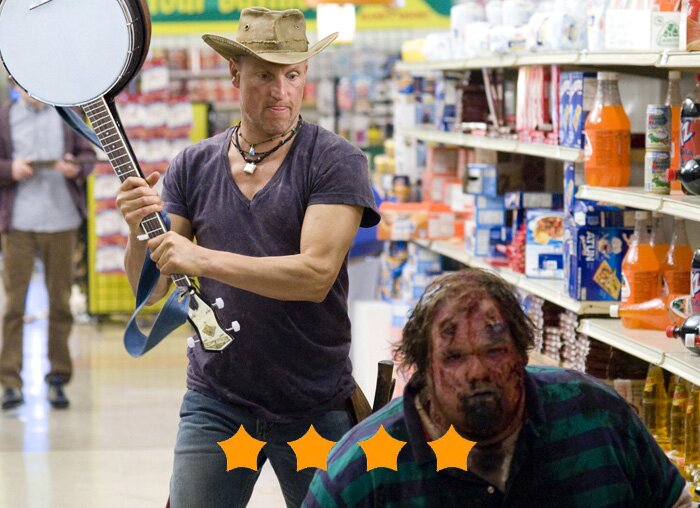 Director: Ruben Fleischer
Cast: Woody Harrelson, Jesse Eisenberg, Emma Stone, Abigail Breslin
Certificate: 15
Trailer
"The first girl I let into my life and she tries to eat me." Such is the life of nerdy pathetic Columbus (Eisenberg), a loner who avoided humans just as much before the zombie plague wiped out most of the United States. Now, surviving on his own paranoid instincts (Rule#2: Beware of Bathrooms), he's just undead fodder waiting to be undeaded.
Then along comes Tallahassee (Harrelson), a fellow survivor and complete psycho. Armed with guns, gardening shears and a banjo, he's Rambo's redneck cousin - a trigger-happy hero in a land of the dead. As the duo face each other down with shotguns apiece, theirs is an edgy relationship, one which ultimately fuels the whole road trip across the country. The goal? Pacific Playland, an amusement park rumoured to be a zombie-free zone. 

Taking them there are Wichita (Stone) and Little Rock (Breslin), two grifter sisters with little trust and lots of hair products. They may look cute, but they wield weapons as well as the next warrior. Bantering through the zombie-butchering, the pseudo-family hold off the hordes before finally arriving at their destination. Of course, it's all lies: Pacific Playland is no safer than any other infested city. But it does have flashing lights, pretty music and lots of large metal objects. Nut up and shut up - welcome to Zombieland.

Zombieland is a place where nothing gets taken seriously. Pianos fall on people's heads, bullets blow out brains; it's a riotous orgy of full-on gory mayhem. Tongue firmly in rotted cheek, it's a good take on an overly familiar genre. The American Shaun of the Dead? Luckily not - Ruben Fleischer is too smart for that one. Gleefully switching to slow-mo, here we get running zombies, chaotic action and an unabashed love of the red stuff. Steering its own course clear of Shaun's style, Rhett Reese and Paul Wernick's script takes time out to award Zombie Kill of the Week, before bringing in Eisenberg's neurotic narrator.

Voicing over his OCD observations while Tallahassee trashes stores for Twinkies, Zombieland crafts characters that are just crazy enough to believe in. You don't really care that much about them (well, maybe a little) and the you-got-a-friend moral is pretty much meaningless, but this is a film that is far more focussed on having fun. And fun is very much had. Especially when a major Hollywood legend turns up and plays himself in an utterly hilarious cameo. Harrelson and Eisenberg's comedy chops are on full display here, but his bit-part takes the biscuit. It's a genius turn in an already witty movie.

VERDICT

Hannah Montana, Willie Nelson, Twinkies - it's the little touches that make this comedy more than it should be. Zombieland is a buddy movie. With zombies. Laugh-out-loud stuff. 
Your rating
( 1 Vote )
Tags:
abigail breslin
blood
film
gore
jesse eisenberg
little miss sunshine
review
romero
ruben fleischer
shaun of the dead