Star Ratings
| | |
| --- | --- |
| | Amazing |
| | Well good |
| | Fun |
| | Meh |
| | Rubbish |
| | | |
| --- | --- | --- |
| Film review: Looper | | |
Written by Ivan Radford
Monday, 24 September 2012 08:09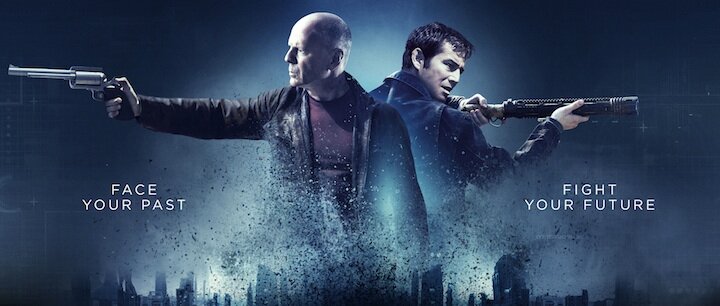 Director: Rian Johnson
Cast: Joseph Gordon-Levitt, Bruce Willis, Emily Blunt
Certificate: 15
Looper trailer
Hello?
Holy crap, it worked.
Hello? Who's this? And why is my computer glowing a strange colour?
I knew you were going to say that.
Because that's not a freaky thing to say…
Well, you're the one who said it.
No, I'm not.
You're right: but you're the one who's going to say it. In thirty years' time.
30 years? What the hell are you going on about?
I'm from the future.
Yeah, right. Is this Alex?
No.
Joe?
No.
Susan? It's Susan, isn't it? Very funny, Susan.
I'm not Susan. I'm you. Ivan Radford. From the year 2042.
Prove it.
You know the film Looper?
Yeah.
You saw it last night, right?
Yep.
I can tell you that it's going to be released in the United Kingdom on Friday 28th September 2012.
Everyone knows that. 
Ok. Well… I can tell you that other people liked it as much as you did.
Really? 
Yep. Audiences went crazy, there was talk of awards and then at the Oscars in 2013… let's not go there. Anyway, in the future, Looper's kind of a big deal.
Good, because I really enjoyed it. Who knew Joseph Gordon-Levitt and Bruce Willis could look so alike? Even with that prosthetic nose.
Man, everyone has those nowadays. Prosthetic noses are the iPhone of 2042. Michael Jackson's hologram has never had it so good.
I'm glad there are no holograms in Looper. It's futuristic enough to allow for time travel to be invented, but not too far in the future to be unbelievable. Like Rian Johnson's first film, Brick, building a world one bit of jargon at a time. Even the title itself, Looper, to refer to Joe's profession as an assassin who kills people sent back from 30 years in the future. It's simple, but complex. And then when old Joe is sent back and he's meant to kill himself...
... and "close his loop"? Yeah, I still geek out now just thinking about it.
I'm geeking out over this conversation! It's funny, our chat being an analogy of the film's witty central conceit and all. What a coincidence!
Yeah… It looks just as authentic in 2042. But hey, at least your blog traffic is up. A whole 12 people read this yesterday. And a robot dog.
A robot dog? They can read?
Yeah. And they pee lasers.
Wow! This is almost as exciting as that scene in the café when the two Joes first meet. We all want young Joe to ask old Joe loads of questions about the lottery and death and stuff. And old Joe's like "We're not going to talk about this time travel shit!" It's smart. 
And correct too – it's more important to go with the ride. You've got another 30 years to try and find plot holes. Besides, there's not much to tell about the future anyway. Robo-Tony Blair got elected EU President in 2023 and took over most of the world, and Apple and Samsung turned out to be owned by the same person all along. All pretty predictable when you think about it.
And instead of hearing all that in the film, we get those little personal future hints about Joe's life. That love story – I didn't see that coming. And that montage where young Joe turns into old Joe? The use of the arms? So many jaw-dropping moments. The production design is incredible. 
You're going to mention the hoverbikes, aren't you?
… No?
Don't pretend. I know you will. From where I'm sitting, you already have.
I LOVE THE HOVERBIKES!
Yeah. We don't really use those in real life. This isn't The Simpsons.
Balls. What do you have then?
Pogo sticks, duh. Anyway, enough of that. We're doing exactly what Bruce Willis says not to do.
Sorry. You're right. I do agree. I liked that French thing he said too. Do you remember it?
Remember it? We quote Looper all the time like you lot used to do with Tarantino films!
One bit in Looper does actually feel a lot like Tarantino: that interrogation with Joe's boss, played by Jeff Daniels. When Joe reveals his retirement plan? Jeff is deliciously threatening. "Don't go to France. Go to China," says Jeff. "I wanna go to France," whines Joe. And Jeff replies…
"I'm from the fucking future. I'm telling you go to China." Yeah, he's right. France is totally fucked.
But then all that wit and that excitement, that action – the guns, the hoverbikes – is just chucked out the window when farm-girl Sara shows up.
Emily Blunt? Man, she's awesome. Such a badass mother. Literally.

I had no idea she could chop wood with an AXE! She did it on Jonathan Ross' TV show the other week for real.
Yeah, she still does that trick at parties. It's even more impressive now she's 59.
There's an image.
I think I have a holo-video somewhere on my iPhone 12…
But anyway, as much as I love Emily Blunt as Sara, there's still that big shift in tone. It goes from action sci-fi to family drama. I'm still not sure about that… 
Are you kidding me? That's my favourite part!
Really?
Yeah! It's one thing to come up with a time travel gimmick. Any idiot with a blog could do that. But Rian Johnson takes it another step further. He sets up a believable, breathtaking world and then uses it to tell an engaging story.
I suppose you have a point.
Trust me: you'll say the same thing one day. You just have to let it settle for a bit and detach yourself from all that 2012 hype. Besides, the film's climax? Bringing everything back full circle to combine the action and concept with a real heart? It's so neat. No wonder we're all still talking about it 30 years later.
You are?
Hell yes, we are. And that incredible little boy in the film, Pierce Gagnon? He grew up. He's now Governor of California.
Wow, so he's like the next Schwarzenegger?
I hope not. Schwarzenegger's more machine now than man. You can't understand a word he says.
Some things never change.
Yeah, your jokes? They don't get any better when you're older.
Crap. 
Your wife hates them.
I'm married?
I said too much. Let's just leave it there.
Wait, shouldn't we come up with some tidy, witty ending to this conversation? Bring it back full circle? To keep the analogy with the film going? I can call you Susan again or something?
Nah, let's not bother. That's why Rian Johnson is awesome and you grow up to be an English teacher like your father. Anyway, I've got to go. My robot dog just blew up the neighbour's house again with his laser pee.

Tags:
joseph gordon-levitt
looper
pierce gagnon
rian johnson
time travel