Star Ratings
| | |
| --- | --- |
| | Amazing |
| | Well good |
| | Fun |
| | Meh |
| | Rubbish |
| | | |
| --- | --- | --- |
| FrightFest Review: Cockneys vs Zombies | | |
Written by Ivan Radford
Thursday, 23 August 2012 15:34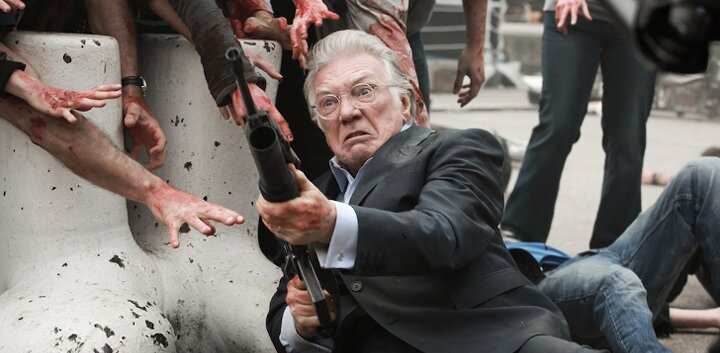 Director: Matthias Hoene
Cast: Rasmus Hardiker, Michelle Ryan, Harry Treadaway, Alan Ford, Richard Briers, Honor Blackman
Certificate: TBC
Showing: Thursday 23rd August 9pm
Prick up your donkeys, me old china plate, cos the brown bread are coming back to porridge knife – and they're headed straight to Hackney. I ain't taking the gypsy's. It's all Babe Ruth. But even Queens Park Ranger than that? This high-concept, low-brained pile of Albert Halls is proper Easter Bunny. You heard Isle of Wight: Cockneys vs Zombies? It's well Robin Hood.
(No, I have no idea what I'm writing either.)
Terry (Hardiker) and his one and t'other Andy (Treadaway) are apple bobbing the J Arthur Rank. With them are simple-minded Davey Tuppence (Jack Doolan) and gun-toting Mental Mickey (Ashley "Bashy" Thomas) – who, as his namesake suggests, is completely Dot Cotton in the head. Why should we Riverdance? Because these apple bobbers are actually chicken and rice. It turns out they're only half-inching to pay for their pot and pan's pot and pan. He's locked up in an old folks' gates of Rome and the council's gonna knock it to the penny-a-pound.
The undead going up against a load of Shawshank Redemptioners? That's what makes Cockneys vs Zombies Captain Kirk - it's not just the young Eastenders who get to leather boot them in the Uncle Ned. All of the gang have a go, from Albert Square's ass-kicking Michelle Ryan (lemon tart casting if ever I saw it) to Lock Stock's Alan Ford and Goldfinger's Honor Blackman.
The resulting Barney gives director Matthias Hoene a lot of opportunity for Hello Kitty moments. Red top buses, kitchen hatches - the locations all play a role, giving scope for a bucketload of Roy Hudd. There's plenty of Newington Butts too. It's wonderfully God's. Of course, horror comedy is a Sol Campbell unless it's Mariah Carey or Easter Bunny. But with Hoene hacking limbs off like a right bread and butter and James Moran (Severance) writing the script, you know you're in for a belt buckle.
One inspired bit sees Richard Briers, clutching a zimmer frame, trying to outrun one of the feather pluckers. "Ohhh, it's a zombie!" he cries, moving like a snail. It's the slowest chase you'll see this year, but blimey Charlie it's Louie Spence; hilarious, edge-of-your-seat nonsense.
In fact, the whole thing is mother's pearly gate. From the Harry and Billy opening (a graveyard in a Stratford building site) to the Ruud Gullit-spraying finale, there are more giraffes than Hackney City Farm. A lot of them come from Alan's foul-mouthed Bacardi Breezer, but the dustbin lids are alright too, with Treadaway's teenage lead hard to Hurricane Ike. Some of the cast even try a bit of the old Cockney Rhyming Slang: "Trafalgar Square, fox and hare, needle and stitch, Abercrombie and Fitch, Abercrombie... zombie!" says one. Then Pussy Galore walks in holding a shotgun.
It won't win points for down the drains, and the ending doesn't quite Kathy Burke, but Cockneys vs Zombies is messy, fast and a lot of Blue Nun. For FrightFest fans, it's just the Jiminee Cricket.
VERDICT
Cockneys vs Zombies gives you more than enough Roy Hudd for your Bread and Honey. Even if you have to go on your Tod, it's well worth a Paul McKenna.

Tags:
alan ford
cockneys vs zombies
frightfest
frightfest review
harry treadaway
matthias hoene
michelle ryan
rasmus hardiker
richard briers