Star Ratings
| | |
| --- | --- |
| | Amazing |
| | Well good |
| | Fun |
| | Meh |
| | Rubbish |
| | | |
| --- | --- | --- |
| Review: The Guard | | |
Written by Ivan Radford
Tuesday, 16 August 2011 08:25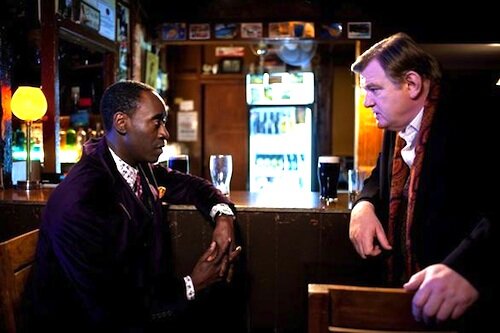 Director: John Michael McDonagh
Cast: Brendan Gleeson, Don Cheadle, Liam Cunningham, Mark Strong
Certificate: 15
Trailer
"I can't tell if you're really motherfucking smart, or really motherfucking dumb." So says Don Cheadle of Brendan Gleeson's deadpan crime-fighter. A hardened FBI officer sent to the West coast of Ireland, Wendell spends most of the film working out what to make of backwater Sergeant Gerry Boyle. Is he a drunk racist? A sarcastic genius? Or just a really brilliant actor? (Spoiler: It's all three. But mostly he's racist.)
Directed by John Michael McDonagh (the brother of Martin), it's fitting that The Guard shares DNA with In Bruges. Playing on the awkward chemistry of a fish-out-of-water couple, it's edgy, low-budget and flipping hilarious. There's none of the picturesque scenery of the Brussels-based thriller, but The Guard's low-key location has a charm of its own. One that mostly involves people being racist.
"I thought that only black lads were drug dealers," pipes up Boyle in the middle of a police briefing. When told off, he shrugs. "I'm Irish. Racism is part of my culture." As happy insulting foreigners as he is mocking gay boys from the IRA, Boyle lives to rub people up the wrong way - including the drug smuggling ring they're hunting down. (As long as the hunting isn't taking place on his day off. That's when he spends quality time with hookers.)
In between the bloody violence and black humour, the villains dish out philosophical musings. As lead bad guy Francis Sheehy, the ever-brilliant Liam Cunningham displays impeccable timing, a gentleman in comparison to David Wilmot's enjoyably unhinged killer. Mark Strong hardly stretches himself as London henchman Clive, but the witty writing consistently steers each scene away from a conventional end. At one point in an aquarium, Clive turns to the camera and smiles like he's in a perfume advert. "I like sharks. They're soothing."
Of course, the cast are all essentially just foils for Gleeson's rambunctious presence. Even the sight of him drinking a chocolate milkshake is funny, yet fraught with tension. He easily deserves an Oscar nomination - for Best Racist, if nothing else.
It all culminates in a shootout that delivers classy action as much as it defies expectations. And because McDonagh ties the film to the town that it's in, everything has a warped realism that packs a hefty emotional punch. Who knew that a racist cop could be so moving? Dominating the screen, Boyle may be really smart or really dumb, but one thing's for sure: he's really motherfucking brilliant.
VERDICT
Moving, violent and wonderfully caustic, The Guard is an absolute gem. What's the Gaelic for "Academy Award-nominee Brendan Gleeson"?

What did you think?
( 2 Votes )
Tags:
brendan gleeson
david wilmot
don cheadle
john michael mcdonagh
liam cunningham
mark strong
martin mcdonagh
the guard