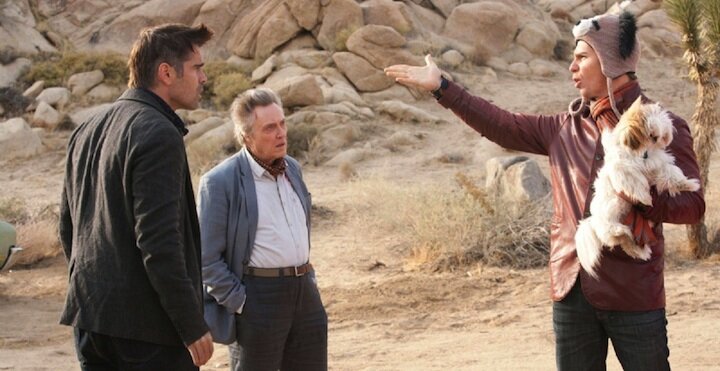 After Six Shooter and In Bruges, I've long suspected Martin McDonagh is one twisted fuck - in the very best way possible. The Seven Psychopaths trailer seems to confirm this. In the words of his sophomore effort, if it doesn't impress you, you're probably retarded and grew up on a farm.
Colin Farrell returns (as a troubled screenwriter called Martin) to join Christopher Walken and Sam Rockwell in a dog kidnapping business - a con that runs pretty smoothly, until they steal Woody Harrelson's pooch. And he's none too happy. He's also a psychopath. Obviously.
So that's four so far. The trailer counts down the rest, along with some seriously snort-inducing dialogue. There's no point in me going on about McDonagh's stage work and his play due in the West End next year, or about the serious post-modern existential drama that will no doubt rear its head in between his new film's blackly comic violence.
Instead, let's just recap for a second: Colin Farrell. Christopher Walken. Tom Waits. Abbie Cornish. Olga Kurylenko. Martin McDonagh. AND Sam Rockwell. You. Retarded. Farm. Etc. 
Read on for the Seven Psychopaths trailer - it's out in the US in October, so expect it to be at the London Film Festival ready for a wintery release. (Update: Read our Seven Psychopaths review here.)