Star Ratings
| | |
| --- | --- |
| | Amazing |
| | Well good |
| | Fun |
| | Meh |
| | Rubbish |
| | | |
| --- | --- | --- |
| The Fighter | | |
Written by Ivan Radford
Wednesday, 02 February 2011 13:01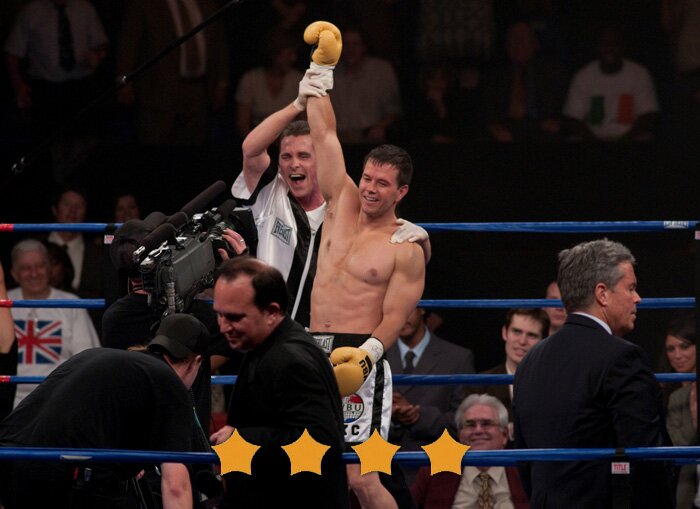 Director: David O'Russell
Cast: Mark Wahlberg, Christian Bale, Amy Adams, Melissa Leo
Certificate: 15
Micky Ward (Wahlberg) is a boxer - not a great one, but a good one. He's the younger brother of Dicky Ecklund (Bale). Dicky's a boxer too. He once knocked down Sugar Ray. Now he spends his days honking on his crack pipe and talking bollocks to a video camera.

The camera belongs to an HBO crew, who are filming a drugs documentary, but Dicky (bless his crack-addled socks) thinks they're making a movie about his big comeback. Which probably explains why he spends every scene jumping up and down for the camera.

Micky's mother (Leo) doesn't help much; she's obsessed with Dicky's comeback too, the pair managing Micky and holding him down while he tries to break the big time for himself. Soon enough, Micky meets feisty bargirl Charlene (Adams), who nurses Micky as his losses rack up. Beaten to a pulp by a black guy 20lbs above his weight, Micky's a bloody mess for their first date. If only he stuck to the plan from his brother, Dicky. Dicky knows best. Which is probably why he spends every scene jumping up and down for the camera.

Things proceed in the usual fashion: run-down estates, screwed up family, overly dramatic music. But David O'Russell gets his cast to put enough heart into the story to make it engaging. Melissa Leo and Amy Adams are excellent foils, one a bleach-blonde chain-smoking tyrant, the other a college drop out with a hot temper and earnest doe eyes. Amidst the bickering, bitch slapping and occasional boxing, Wahlberg's quiet resentment simmers nicely in the background.

But of course, the movie belongs to Best Supporting Actor Bale, whose gaunt face and withered frame set him directly on the path to Oscar victory. The film opens on his rambling exposition, which shows how much emphasis the script places on the fallen champ. No wonder he spends every scene jumping up and down for the camera.

Handhelds are the order of the day - the whole thing has an intimate feel that apes The Wrestler but never beats it. Still, Wahlberg's in-the-ring action is well cut with archive footage to keep things realistic. Perhaps that's the film's biggest emotional blow: it all happened just 10 years ago. The Fighter's not a great film, but it's a very good one. As long as you can put up with Christian Bale spending every scene jumping up and down for the camera.

VERDICT

Bale, Leo, Wahlberg and Adams give a conventional script a wallop of compassion. By the end, you'll be rooting for Micky and his crack-head brother. Who knew an underdog sports movie could be moving?
Your rating
( 1 Vote )
Tags:
amy adams
dicky ecklund
mark wahlberg
martin scorsese
melissa leo
micky ward
raging bull
the wrestler