Star Ratings
| | |
| --- | --- |
| | Amazing |
| | Well good |
| | Fun |
| | Meh |
| | Rubbish |
| | | |
| --- | --- | --- |
| The Tourist | | |
Written by Ivan Radford
Thursday, 09 December 2010 08:14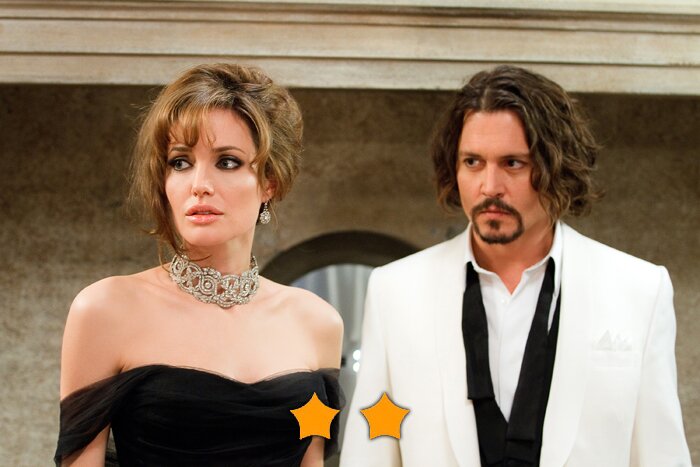 Director: Florian Henckel von Donnersmarck
Cast: Johnny Depp, Angelina Jolie, Paul Bettany
Certificate: 12AG
Trailer
Florian Henckel von Donnersmarck. It takes a great name to attract stars from Hollywood's A-list. Ever since 2006's The Lives of Others, it was clear that the man christened Florian by the Henckel von Donnermarcks was destined for great things. This isn't one of them.

He had great things lined up, for sure: Angelina Jolie, Johnny Depp, Venice. He even managed to get Rufus Sewell on board for all of ten seconds. But from the opening scene surveilling a French cafe to the moment when Elise (Jolie) meets Frank (Depp) on a train bound for Italy, it's pretty obvious what's going on.

She picks him because he looks a bit like Alexander Pearce, the elusive fraudster who made off with several millions of Steven Berkoff's money. Of course, The Berkoff wants it back. And Interpol want to claim the tax. What better way to throw them all off the scent than frame a maths teaching tourist as a fall guy?

Whether you can think of a better plan is irrelevant - this is the one you've got. And if you don't agree with it, then you should jolly well just stare at Angelina's arse for two hours. That's what 90% of the male population in the film do. All the time. Even a wasted Paul Bettany does it as Agent Acheson (of Scotland Yard's Financial Crimes Division). His boss (Timothy Dalton, playing Timothy Dalton) doesn't do much to stop him.

Content with the glamorous cast and gorgeous location, events unfold at a surprisingly sluggish speed. The first twist doesn't occur until almost halfway through. The screenplay is happy to hang loose, never quite finding enough wit to pull off its premise - at least James Mangold's similar Knight and Day had better jokes. It's no shock to see the whole thing's been written by three people. You can easily see that Christopher McQuarrie wrote the beginning and end, Florian did the bit in the middle, and Julian Fellowes added in the British accents.

Things remain predictable throughout, no matter how many times people hop on and off of boats. It's a terrible shame, because the names involved are far too grand to be given such a sloppy affair. Donnersmarck alone has three syllables. But despite Depp's dashing looks and Jolie's sex appeal, this Hitchcockian thriller has no chemistry to speak of. It's closer to Secret Window than Rear Window. When one of them declares their love for the other, it's an honestly laughable moment. I just feel sorry for Rufus Sewell.

VERDICT
Like Knight and Day, but less fun. Tourist? More like snorefest.
Your rating 
( 1 Vote )
Tags:
angelina jolie
christopher mcquarrie
florian henckel von donnersmarck
james mangold
johnny depp
julian fellowes
knight and day
review
rufus sewell
steven berkoff