Star Ratings
| | |
| --- | --- |
| | Amazing |
| | Well good |
| | Fun |
| | Meh |
| | Rubbish |
| | | |
| --- | --- | --- |
| Film review: All in Good Time | | |
Written by Ivan Radford
Tuesday, 08 May 2012 08:26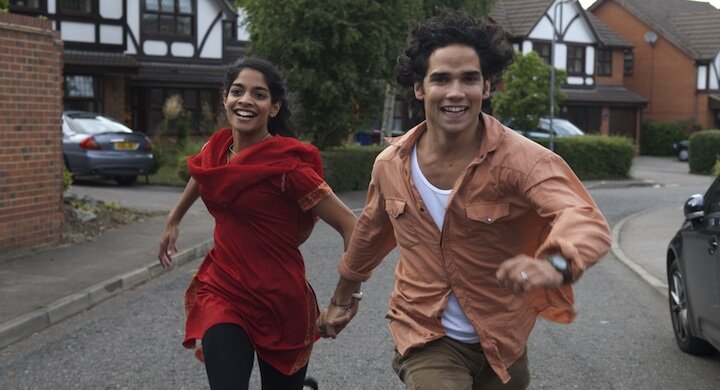 Director: Nigel Cole
Cast: Amara Karan, Reece Ritchie, Meera Syal, Harish Patel
Certificate: 12A
Trailer
A British play about young Indian newly-weds that won plaudits across the globe, it was inevitable that someone would look at Ayub Khan-Din's Rafta, Rafta and think "BAFTA, BAFTA". Enter Made in Dagenham's Nigel Cole, who directs this likeable screen adaptation. Together, his light touch and a talented cast make sure it isn't (ahem) naff-ta, naff-ta.
Using the title of Rafta, Rafta's original inspiration (playwright Bill Naughton's 1963 follow-up to Alfie), All in Good Time is a generally charming affair. How hard is it for a couple to have their first bonk in Botlon? Atul (Ritchie) and Vina (Karan) are about to find out.
Their wedding goes smoothly, but once back at Atul's parent's home, everything goes wrong. Families intrude, honeymoons are cancelled and old secrets are dredged up. All the while, their marriage goes unconsummated – and gossip spreads through the town's small immigrant community.
If you're already thinking of East is East, don't be surprised: Ayub Khan-Din wrote that too. Similar themes crop up, from integration and infidelity to sexual identity and overbearing fathers. But while events feel a little familiar, All in Good Time works by selling its characters.
The earnest Reece Ritchie and independent Amara Karan are a natural fit as the young pair; they nail the naïve awkwardness of popping your cherry, especially when your parents are right in the next room. Reprising their roles from the stage production, Harish Patel's father of the bridegroom and Meera Syal's mother are equally excellent. At first, Patel's drunken dad appears unfunny and overplayed ("Jesus doesn't eat curry!" he shouts at the wedding reception) but he and Syal carefully expand their marital history, hitting unexpected notes that counter all the obvious gags.
You may not always believe that a young couple's inability to copulate could cause such heightened drama but the ensemble are so effective that these little ripples do ultimately feel like big issues. Even Four Lions' Arsher Ali makes sure his token best friend role is convincing.
Yes, the father-son bonding scenes are heavy-handed and the sentiment is sometimes over-played, but Cole knows how to helm a feel-good flick and keeps things moving fast enough. The result is a cute production that, while hardly a break-through for the British film industry, stands up well in 2012 - even if it could have been made in 1999.
Rafta, Rafta's screen adaptation isn't always full of laughter, laughter but Cole's tender treatment of adolescent angst stops it from being a hard graft-a graft-a. A sure-fire BAFTA, BAFTA? Maybe not, but if you liked East Is East, you have to, have to see it.

Tags:
all in good time
amara karan
arsher ali
ayub khan-din
bill naughton
east is east
harish patel
made in dagenham
meera syal
nigel cole
rafta rafta