Star Ratings
| | |
| --- | --- |
| | Amazing |
| | Well good |
| | Fun |
| | Meh |
| | Rubbish |
| | | |
| --- | --- | --- |
| Tangled | | |
Written by Ivan Radford
Monday, 24 January 2011 09:15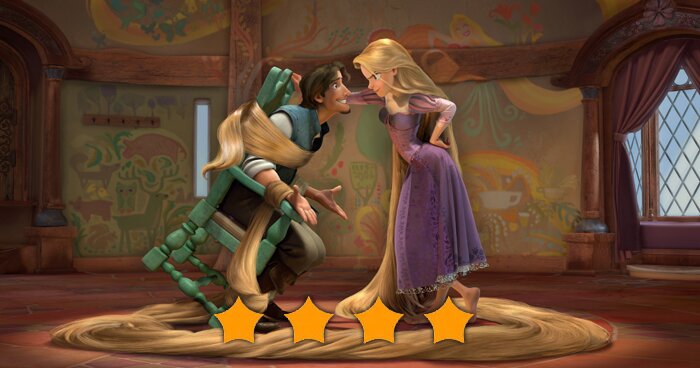 Directors: Nathan Greno, Byron Howard
Cast: Mandy Moore, Zachary Levi, Donna Murphy
Certificate: PG
Disney's 50th is their first CGI movie. It's a fresh take on Rapunzel – perhaps the only fairytale they haven't touched – and it's in 3D. Old school story meets modern film-making? Whatever. It's about a girl with hair. And that's something everyone can identify with. Apart from boys. And people with no hair.
Oh yes, this is proper Disney prisoner-to-princess territory. Rapunzel (Moore) is snatched from her royal cradle and held captive in the improbably tall tower of not-very-nice witch Gothel (Murphy). Why? Well, her magical locks hold the power of eternal youth. It's a secret L'Oreal would kill for. So Rapunzel is kept indoors while Gothel swans about outside looking like a spring chicken. A spring chicken that will never die.
Then along comes suave thief Flynn Rider (Levi) – "sorry Blondie, I don't do back story" – who winds up rescuing her and helping her blossom into a woman. Of course, her hair comes in handy, as a grappling hook and impromptu weapon, but Flynn falls for our heroine because of her neurotic repressed qualities and her cute animated face. Or something.
As romance fills the air, the two bond over a staggering display of floating lanterns – one of the best uses of 3D yet, even if it is a total gimmick. The rest of the time they spend getting chased by a grumpy palace horse, who (thankfully) doesn't talk. Peppering the scenes with slapstick, he's a sidekick to rival Aladdin's Abu. And it's hard to top a monkey in a hat.
Other highlights include a bar room brawl with a gang of angry criminals (namely Jeffrey Tambor, Ron Perlman and – yes – Richard Kiel). One of them has a hook. One has an eye patch. Another plays the piano. They join together for a rousing ditty called I've Got a Dream.
Ok, so Alan Menken's music isn't his finest (Glenn Slater's lyrics let the side down) but this is full-on family fun. The feisty Mandy Moore and Zachary Levi lead the show, and stage stalwart Donna Murphy almost steals it with her excellent signature tune, Mother Knows Best.
It's all presented with a classy confidence. The animation is superb, bursting with bright colours, but the script really shines. Witty without laboured pop culture references, Dan Fogelman has taken a female protagonist of old and written a story that's engaging across the board. And throughout it all, Rapunzel's hair looks great.
VERDICT
Enchanted, Princess and the Frog, and now this? Disney hasn't had such a winning streak since the early 90s. Tangled is happy, hirsute fun.
Your rating
( 1 Vote )