Star Ratings
| | |
| --- | --- |
| | Amazing |
| | Well good |
| | Fun |
| | Meh |
| | Rubbish |
| | | |
| --- | --- | --- |
| The King's Speech | | |
Written by Selina Pearson
Wednesday, 05 January 2011 10:29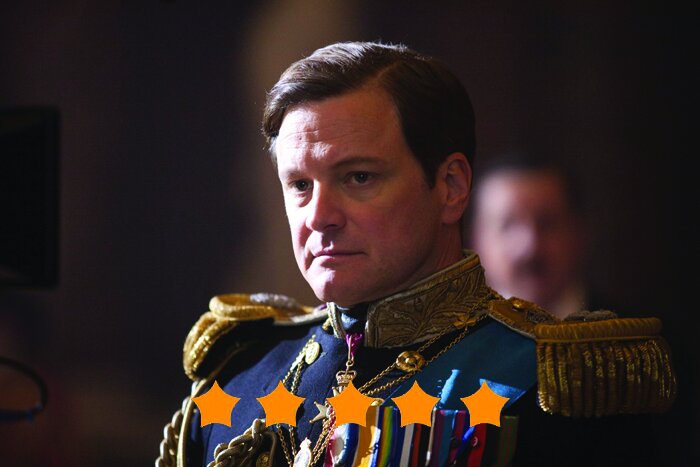 Director: Tom Hooper
Cast: Colin Firth, Geoffrey Rush, Helena Bonham Carter, Michael Gambon, Guy Pearce
Certificate: 12A
Poor Bertie (Firth). He has to deal with something most of us hate: public speaking. He fluffs his way through a speech at a twin-towered Wembley, packed full of people for the closing ceremony for the Empire Exhibition. Not a good start for the King's second son.

The need to deliver a speech becomes increasingly important to the royals with the introduction of the wireless; "we've become actors," declares King George V (His Royal Highness The Gambon). Relentlessly and cruelly badgered by his imperious father, the Duke of York has become defined by his speech impediment.

Poor wife Liz (Bonham Carter) scours high and low for someone who can help with Bertie's crippling stammer and eventually finds alliterative antipodean Lionel Logue (Rush) lurking around Harley Street. Logue rolls out the full Henry Higgins act in a speech exercise montage, ranging from diaphragm exercises to 12A-busting sweary rants. They delve into the source of the Prince's impediments, uncovering a bruised psyche and years of familial taunting from his overbearing father and caddish older brother (Pearce).

The film deals with themes of inadequacy and dedication to duty. The latter is shunned by sibling Edward VIII in his pursuit of twice-divorced Wallis Simpson. Focusing on the personal struggle instead of long-winded exposition, the abdication provides the impetus for the soon-to-be-King to find a cure. In the background, the build up to World War II haunts the whole film.

David Seidler's bright and witty script allows the fantastic cast to shine, particularly the two leads. Firth leaves all memories of tacky rom-coms far behind with a fine follow-up to his heartbreaking performance in A Single Man. By his side, Bonham Carter fills the shoes of the supportive and assertive wife amiably. Rush as Logue is effervescent, warm and funny and threatens to steal the film until Timothy Spall turns up as Churchill. It's an endearing, rich and humourous piece, superior to Stephen Frears' The Queen in tone, script and subject matter.

VERDICT

The King's Speech is a crowning achievement for British film. We've seen this all before, but never so articulate. Magnificent.
Your rating
( 1 Vote )
Tags:
bbfc
bertie
biopic
colin firth
david seidler
geoffrey rush
guy pearce
helena bonham carter
king george vii
lionel logue
michael gambon