Star Ratings
| | |
| --- | --- |
| | Excellent    |
| | Very Good |
| | Good |
| | Average |
| | Terrible |
| | | |
| --- | --- | --- |
| Alice in Wonderland | | |
Written by Ivan Radford
Friday, 05 March 2010 16:10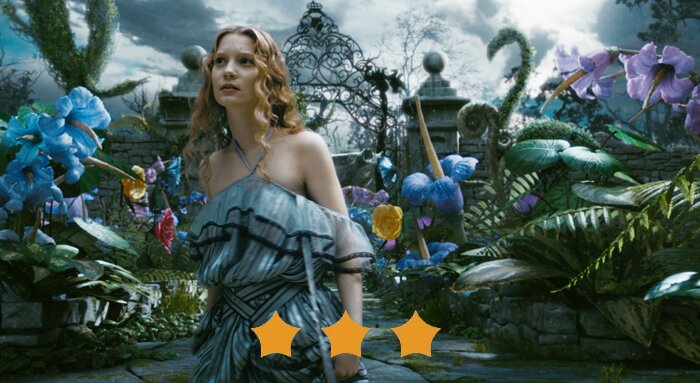 Director: Tim Burton
Cast: Johnny Depp, Helena Bonham Carter, Mia Wasikowska, Alan Rickman, Crispin Glover, Stephen Fry, Michael Sheen
Certificate: PG
Trailer
Lewis Carroll's loopy classic gets a Tim Burton tinkering in this unfamiliar take on a family favourite. Alice (Wasikowska) is a girl on the brink of a marriage proposal - from a snobby idiot with red hair. Now 19, she's a strange creature, at odds with society. Convinced her half-forgotten childhood trip to Wonderland was all a dream, she soon falls back down the same rabbit hole to a very different place. This isn't Lewis Carroll's Wonderland. Oh no. This is Tim Burton's Underland.

It's a darker world, ruled by the tyrannical Red Queen (a gloriously pompous Bonham Carter), which needs a saviour: Alice. But is Alice really Alice? "Not hardly", judges the blue caterpillar (Rickman), puffing away in a haze of dry sarcasm. But The Mad Hatter (Depp) won't give up hope. Even if Alice has changed since she was last there. The problem is, you see, there's much of a much that's not quite right. She's lost her muchness. Judging by this all-too-conventional adaptation, so has Tim Burton.

It seemed like a match made in some warped literary heaven. Burton and Carroll. Carroll and Burton. But as surreal as Tim's twisted imagination is, his narrative doesn't work. Mixing together Alice in Wonderland, Through the Looking Glass and chucking in Jabberwocky, Linda Woolverton's script is more a post-modern smoothie of Carroll's seminal literature than anything else. Was the original too familiar to simply revisit? Perhaps, but it helps if you can come up with a half-decent replacement.

Here, it's all about Alice's coming of age. Rising to the post of prophesied champion, she grows into the shoes of The Alice that Underland's animals know and love. And, thanks to Mia Wasikowska, there is some sense of development across the cliched framework. Gradually becoming more confident, Wasikowska's firmly set face sits well against the vivid backdrop of Burton's landscape. Best of all is Helena Bonham Carter's disproportionate monarch, all giant head and no body with an extra dose of psychopath. Hamming it up with clipped cries of "off with their heads!" Helena is a great villain with a perfect grasp of the theatrical.

Against Depp's Mad Hatter, though, she comes across as underplayed; jumping from lisping English to roaring Scottish, Depp's Hatter is all over the place. Orange wig and green contact lenses in place, he's poised as the film's romantic lead, when he's really just a supporting role. Given too much screen time, his overacting antics cost much of the movie's momentum, overshadowing Alice's generic journey to womanhood with a pale imitation of Willy Wonka. He recites Jabberwocky well, with malicious intent, but all it does is make you wonder where the rest went wrong.

Otherwise, the casting is flawless. Stephen Fry's delicious vocals are perfect for the Chesire Cat, Anne Hathaway's trippy Nigella-like White Queen is wonderful, and Crispin Glover's one-eyed Knave is a welcome touch. The crew, too, are undeniably ideal; check out the Red Queen's moat, filled with severed heads. But as the final battle unravels on a massive chessboard, our heroine mounted atop a Bandersnatch, the slight disappointment at how average Alice is begins to set in. It's not underwhelming, nor is it overwhelming. It's just plain old whelming. All spark and no soul, the lack of Carroll's riddles and wordplay is sad amidst such stunning visual flair - a lot of the attempted laughs just fall down flat.

Pointlessly converted into 3-D from 2-D, it's easy to overlook the raw visual composition. Blending CGI with live action in a weirdly unsettling way, Burton's eye clearly hasn't lost its touch, even working from such dubious writing. But maybe he should find himself a new leading male, just to refresh his storytelling skills. Worried that she's going round the bend, Alice tells her father she fears she's gone mad. He turns to her and smiles. "All the best people are". It's true, they are. But sadly they don't always produce their best work.

VERDICT

Spectacular, sinister, but oddly soulless, Alice in Wonderland is an uneven piece of wacky film-making. It should be up there with Lord of the Rings. Instead it's hanging around with Prince Caspian.
Your rating 
( 2 Votes )