Star Ratings
| | |
| --- | --- |
| | Excellent    |
| | Very Good |
| | Good |
| | Average |
| | Terrible |
| | | |
| --- | --- | --- |
| The Lovely Bones | | |
Written by Ivan Radford
Friday, 19 February 2010 15:40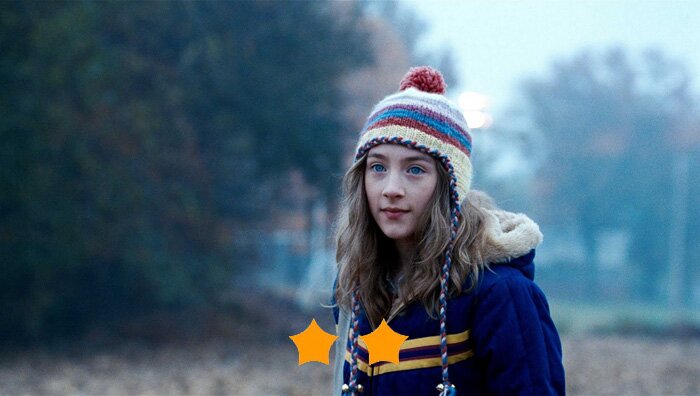 Director: Peter Jackson
Cast: Saoirse Ronan, Mark Wahlberg, Rachel Weisz, Stanley Tucci, Susan Sarandon
Certificate: 12A
A 12A film about a girl who gets raped and murdered? Is that really possible? Oh wait, they removed the rape bit. Now that makes more sense. Except it doesn't quite. Peter Jackson's follow-up to King Kong is an equally audacious movie: an adaptation of Alice Sebold's complex creation, The Lovely Bones, which sees Susie Salmon (Ronan) stranded in the afterlife watching the folks down below trying to solve her murder. Filled with fantasy vistas, stylish flourishes, emotional breakdowns and blue contact lenses, it's a bold project to take on. It's brave. It's ambitious. It's also a mess.

More composite than its CGI landscapes, Jackson's 70s tale is a movie with too many heads. On the one hand, we get a family drama about grief, with Jack (Wahlberg) and Abigail (Weisz) Salmon struggling to cope with their loss. On the other, it's a slow study of a serial killer, George Harvey (played with incredible nuance by an unrecognisable Stanley Tucci). And then, to cap it all off, we get Susie on the Other Side, swanning around lakes and cornfields with trees that change colour and mountains that turn into teapots. And stuff.

It's great that they've tried to be so faithful to their source material, but Sebold's novel works on that expansive, literary level. On screen it just rambles about and never gels together - we get hints of better movies, from Zodiac and Sunset Boulevard to A Matter of Life and Death. And none of those required a sugared up vision of That Bit That Comes Before Heaven. If you want that, rent What Dreams May Come.

There are flashes of brilliance, with some strong editing and striking shots, which remind you who's holding the megaphone - a scene reminiscent of Rear Window is wonderfully executed with dynamic camera movements. But despite Tucci's strong turn and Saoirse Ronan's natural charisma, The Lovely Bones is just too heavy-handed with the heartfelt stuff. It doesn't know when to stop. Which leads to duff plot points (Abigail disappears for 90% of the movie) and an inconsistent tone - Susie's alchoholic grandma (Sarandon) belongs in another film entirely.

But still Jackson piles on the sugar, pushing up the levels with no feel for our gag reflex. When ghosts of previous victims run out of thin air, giggling and shouting "It's Heaven!" you wonder if they all died of a Pop Tart overdose. With its saccharine content, syrupy score and over-stuffed script, The Lovely Bones is horribly bloated. It's like having a fat kid sit on your face for two and a half hours. Whilst pouring golden syrup up your nose.

VERDICT

A swollen and protacted piece, The Lovely Bones is easy on the eyes but hard on your glucose levels. Bring some insulin. And a book to read.
Your rating
( 5 Votes )
Tags:
afterlife
alice sebold
heaven
lovely bones
mark wahlberg
murder
novel
peter jackson
rachel weisz
rape
saoirse ronan
Comments (1)
Add your comment