| | | |
| --- | --- | --- |
| 4 Things That They Cut Out from the Shame LFF Press Conference | | |
Written by Ivan Radford
Saturday, 15 October 2011 13:55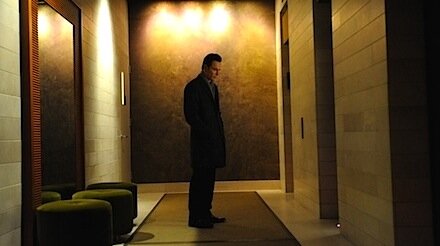 Shame – a truly devastating bit of brilliance – premiered last night at the London Film Festival. It was on again today for those in the mood to be moved, shocked, and mesmerised by Steve McQueen's ability to create near-perfect moments of cinema. (And, I feel obliged to add, if you want to see Michael Fassbender naked.)  
The press conference, also held yesterday, was an equally fascinating sight. Not just because Michael Fassbender was there, and because the co-writer (Abi Morgan) and producer Iain Canning had interesting things to say about the film, but because the panel (particularly director McQueen) were just as unflinching in their responses to some of the questions that were asked.
As a result, the edited highlights (below) don't quite to justice to the full discussion of a staggering piece of cinema. Here are four things that they cut out from the Shame press conference:
1. Steve McQueen doesn't talk about nonsense
Judging by the repeated shaking of his head and abrupt manner, McQueen is a director who won't tolerate silly or vague questions. "Will male nudity ever cease to raise eyebrows?" one journalist asked.

"I don't know... If it had been a woman, it wouldn't be such a conversation to be had. I don't want to get into this conversation. It doesn't make sense and I don't want to give too much of brain to it. Talking about nonsense doesn't help me."
2. Some things can't be written down
Given the stunning (and sparse) images in McQueen's work, how much is written down on the page to begin with? McQueen's response said a lot about why he works in the visual medium:
"It's more atmosphere. Some things you can just talk about but are difficult to write down. The ambience, the feeling, the emotion has to come from the performance and the camera. [For Carey Mulligan's singing scene] I spoke about wanting to make New York, New York into a blues – the lyrics are actually a sad song – and it's a situation where Brandon can't leave. He's confronted with his past. And that can only happen in cinema."
3. Michael Fassbender's body is a tool to be used
"As an actor, you're like a dancer. You use your body. It's a tool," said McQueen. "i don't understand all these questions about nudity. It's nonsense. You're an actor. You're an artist. Get on with it."
It's nice to know that Michael's body is a tool that we can all use - I hope my local B&Q have him in stock. Michael might even be up for it as well, judging by his practical attitude: "My imagination was much more devious from the actual film… (Laughs) It just had to get done, you know what I mean?"
4. Steve's talent is as natural as you'd expect
Steve's composition of each frame is pretty much flawless, so what does the director think about when shooting a scene? Sacre bleu, he's forgotten to tape Cyrano de Bergerac starring Gerard Depardieu? "I'm thinking what's the best thing I can do in that moment. Some are coincidences. I just think about the content, the narrative. Form will take care of itself. The best advice I ever had was from a good friend of mine, who said a camera should be like a cat jumping on a table. Just enough effort."
That's right, folks. He's as terrifyingly gifted as you expected. Stupid natural talent.
Here are the edited video highlights of the Shame press conference:
Head this way to read our Shame LFF review.
Tags:
abi morgan
press conference
shame
steve mcqueen