| | | |
| --- | --- | --- |
| Shooting Acts of Godfrey: Johnny Daukes Interview | | |
Written by Ivan Radford
Thursday, 26 January 2012 11:29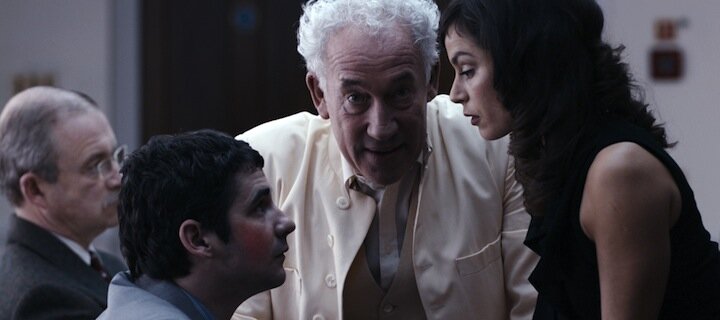 Back in September 2011, I watched a surprising indie fillum. It was all written in verse - and really quite striking. It was called Acts of Godfrey. And I rather liked it. It was fun and starred lots of folk off TV, like Harry Enfield, Simon Callow and Celia Imrie. I enjoyed the film so much, in fact, my Acts of Godfrey review's in rhyming couplets to match.
And now, you can catch the rhyming bug too because it's coming out in UK cinemas soon. This Friday, if you want to be really pedantic, but before you start worrying and getting all frantic, you can see it online (that stuff's all the rage) by visiting the Acts of Godfrey Facebook page.
An enjoyably dark play on fate and folly, the film turns its script into something quite jolly. Why? Not just because the cast is so good, but the director, Johnny Daukes, is talented to boot. He's a writer, musician and filmmaker, you see - he even had a series on BBC 3.
Here's what he said about making the movie when we spoke last September (he seemed very groovy). They shot the film quickly in a real life hotel and though things went wrong, it all turned out quite well. The full Johnny Daukes interview is over here - it includes clip and trailers that will really endear. 
How long was the shoot?
We had 16 days in the hotel - it was a working hotel - to shoot probably 65 per cent of the dialogue and we just machined through it. Our script supervisor after a couple of days threw her hands in the air and said "I can't keep up!" We were just shooting tracts of dialogue, and when you see it on the page, it doesn't look like a normal script. But shooting in a hotel gave us a lot and caused lots of problems.
What kind of problems?
Sound was hard. It's an old building and we couldn't shut the corridors around us. That conference room where we were shooting is just silence – you can't put any extraneous atmos in, because there's nothing that would work. And there was a conference next door and every 15 minutes they just burst into applause because, you know, Keith sold a photocopier or something, and we were next door and just had to keep a lid on it. One scene at reception, there was a jazz band playing downstairs and you're trying to keep the hotel doors shut and then the managers would complain about you shutting their hotel doors... well, you can understand why people scream on set sometimes!
And what were the benefits of using the hotel?
We had no art department budget it all. We brought nothing with us, but we used their furniture, their robes, their bedrooms. We had to make our own reception area in one of the wings where it was quiet because they couldn't shut down their reception, but we were shooting everything in our lobby using their lobby. There's a tracking shot we do at one point, and you see down through three rooms about 30 extras. And all of those are real guests, you know. We get a shot that wouldn't look out of place in Gosford Park for nothing. One part, where Malcolm (Harry Enfield) comes out and an old woman faints, there was a wake going on in the hotel… It was the worst possible thing we could be shooting!
How did the hotel react to the naked car park scene?
We were lucky enough on the shoot to have an amazing line manager, Julie Clark. Her scheduling is the reason everything worked. She knew that it would be contentious and could get us thrown out, so that was the last day of filming – and hey presto, they did try and stop us! By which point we could strong-arm it. If we did that on any other day, we wouldn't have been allowed back in the hotel. That's the thing you should never compromise on for a low budget film: never compromise on your line manager.
The rain at the beginning and end of the film adds real atmosphere. Was that fake, or was it a fortuitous bit of fate?
No, that was us! It was overcast and grey every day we were there, then on the day we were shooting rain, there was a 30mph east wind and not a cloud in the sky. If you look at any of the shots, you can see that some rain is coming down vertically and the other rain is actually going sideways - it was a shambles! And then the bloody sun came out…
That's dedication from Iain to stand there with his kit off!
We were shooting it in February and it was ice cold. Between every take we had paramedics and silver blankets on standby. And we would switch on the water cannons but then we were waiting for the poor bastard to get wet. So I got four buckets of cold water and just poured them over him every time we were about to start rolling. And then someone else suggested hot water, which was even better!
Acts of Godfrey is on release in the UK from Friday. Go see it.