Star Ratings
| | |
| --- | --- |
| | Amazing |
| | Well good |
| | Fun |
| | Meh |
| | Rubbish |
| | | |
| --- | --- | --- |
| Raindance Review: Acts of Godfrey | | |
Written by Ivan Radford
Monday, 03 October 2011 08:43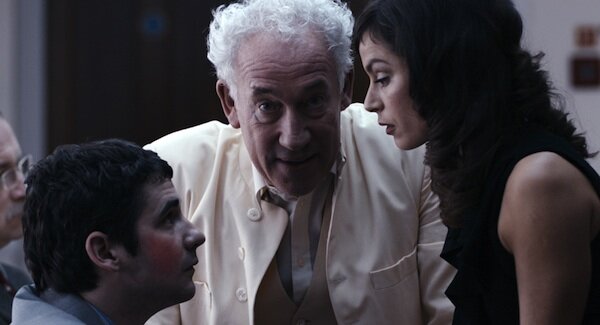 Acts of Godfrey, in case you don't know, is a rather peculiar sort of a show. The director's a few pence short of a purse, cos he decided to write the whole thing in verse. Not the Iambic Pentameter of Shakespeare, but a string of stanzas that play on the ear. 84 minutes of rhyming couplets? It sounds well annoying but I actually loved it.
Ok, love is a slightly strong word, but any creation that is this absurd, that still manages to tell an intriguing story (alongside its language tricks and its word sorcery) is hard to dislike and not easy to hate - it even tackles the notion of fate.
Vic (Iain Robertson) is a salesperson, who goes on a hotel course in self-assertion, but why is his car clutch in need of repair? And why does he find himself attracted to Mary, Myfanwy Waring's rival (as cruel as she's cute) with hard-selling tactics and nice breasts to boot?
The answer lies in the titular figure, who hovers in backgrounds and takes time to linger where he can have fun, as he meddles with stuff, like destiny, actions and feelings of love. Played by Simon Callow - that loud, funny thesp - God pulls the cast's strings as he jokes and he jests. He calls one a bitch and narrates to the camera, then serves people drinks as a barman who banters with poor Vic, who doesn't like folks who are rude, or bars with loud music and overpriced food. "You should lower your prices as well as this racket." "I'm sorry," says Callow, "you've opened the packet."
But it's not just the screenplay and rhymes that amuse - the actors are on beat, and know how to choose the right words to highlight and make things sound natural - a credit to their handling of the material. With players like Harry Enfield and Celia Imrie, you don't stop to think "Hey, they've been on TV!" Instead they bring drama and depth to their lovers, even when they're busy bonking each other. 
Enfield's delivery is evil and slimy, milking his role with deadpan timing. Others bring chemistry to the ensemble, while Daukes shoots everything with aplomb; all the inside scenes don't feel too static and CGI bits keep the visuals dramatic. Even when Vic's naked in a wet car park, events still have that balance of light and of dark. With silly wordplay and acting that's lively, the plot unfolds neatly even if it's contrived. Meanwhile, kudos to Daukes for spending years on the script and finding someone to spend money on it - he failed to find one word to rhyme with orange, but at least he didn't create a character called "Blorange".
Does the film's rhyme distract from the discussion of fate? At times, yes it does, but I'd still highly rate it. A comedy revealing the farce of each day, Acts of Godrey could annoy, but things don't turn out that way.

Tags:
celia imrie
iain robertson
myfanwy waring