| | | |
| --- | --- | --- |
| My Week with My Week with Marilyn: Simon Curtis Interview | | |
Written by Ivan Radford
Friday, 25 November 2011 06:51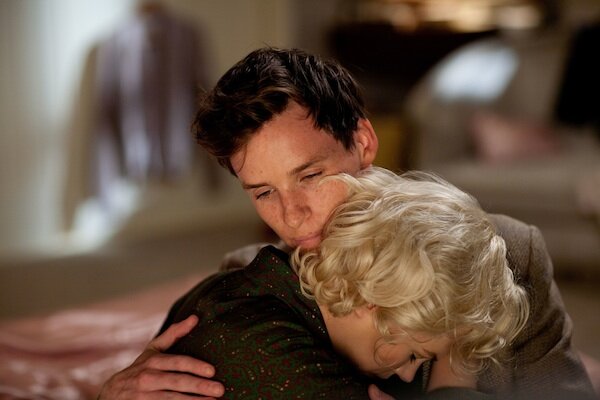 Whether you're Sir Laurence Olivier or a small boy blagging a job as third assistant director on a film set, the chances are that you have, at some point, been hopelessly in love with Marilyn Monroe. Even if you've never met her.
But not so for Simon Curtis. The BAFTA and Emmy-nominated director of Cranford, Pride and David Copperfield was never a die-hard Monroe fan. So why did he direct My Week with Marilyn, a film about the iconic sex symbol's attempts to act seriously in Olivier's conflict-filled production of The Prince and the Showgirl?
He rang me up yesterday morning to explain himself, and contribute to My Week with My Week with Marilyn by discussing Michelle Williams, Colin Clark's memoirs and the Oscar buzz surrounding his charming film.
This is your first feature film, and you've chosen Marilyn Monroe as your subject. Were you ever in love with her?
Actually, no. I came to the film because I fell for the book.
Colin Clark's memoirs are a fascinating insight into Marilyn behind that persona - was there much competition for the rights?
No, there wasn't. I read them when they were first published and I went back to them a few years later and I think a few other people may have pursued it, but they were available when I went for them.
How long ago did you decide you wanted to adapt the book? 
We were going to a script meeting on the day of 7/7 and the anniversary of that passed not long ago – so it's definitely been going longer than that.
You've gone for this seven-day period rather than the usual full-scale biopic approach. Do you think that makes for a more intimate story?
Yes, I do. It's a new genre, looking at someone's life by a telling moment in that life. And that was what we were dealing with – that was the story, and it turned out, even just from reading the memoirs, that it was an incredibly important turning point in all their lives; Marilyn, Olivier, and so on. And that brought the depth to it.
There's that curious similarity between Colin and Marilyn, who share this innocence and naivety, although one is far more aware of it than the other... 
Oh, yes. Colin and Marilyn's time together should work on several levels. The erotic fantasy of every boy's dream to be in bed with Marilyn, but also him helping her to recreate the childhood that she never had.
Using Colin's perspective is a big part of that, isn't it?
A great deal. We felt the point was Colin's version – there are so many other versions that one could have come up with, but we were telling this version.
How close to Colin's memoirs is the finished product? The dialogue, for example?
As all things, it evolves, but Colin was always the starting point and I feel a lot of it is his dialogue.
The cast you've assembled is impressive. How much could you identify with Laurence Olivier's frustrations as a director, marshalling these big names?
I guess I'm a very different director. I have a very different style; he was used to being in charge, but I try and work out what my cast need and try and deliver it.
How did you work with Michelle to achieve that stunning transformation? 
Well, she is incredibly hard working and incredibly talented - both helped! I don't think there's anyone better to play Marilyn aged 30. I was just so thrilled when she wanted to do it.
She got that dance scene from The Prince and the Showgirl spot-on. How important was that scene?
Michelle worked really hard on that dance and for so long - way before we started shooting. And it was one of the last things we shot. It was a really special moment.
I read somewhere that she wore a belt round her legs to get that Marilyn wiggle.
Oh yes, she did all kinds of things! 
Outside of the dance, how was the wider challenge of recreating Pinewood's sets for The Prince and the Showgirl? 
It's funny. There's actually not that much of The Prince and the Showgirl in the film – we don't do much recreating.
There's the dance and the bit where she walks into the room?
Yes – recreating 17 takes of the same one line! (Laughs) In some ways, it's not that much easier to recreate something, but unlike everything else, which is a voyage into the unknown, you kind of know what you're aiming for.
You chose to start and finish the film with some superb song and dance sequences. Like you say, there are so many versions that you could make of this story. Where did that decision come from?
It was something we added after a. we found out what a brilliant singer and dancer Michelle was, and also because so much of the film is such an unexpected journey into who Marilyn is, we wanted to present from the get-go a more familiar image of her, if that makes sense. Although, of course, we had to have songs that were pre-1956… 
Alongside Michelle and the excellent Eddie Redmayne, presumably Kenneth Branagh was always at the top of your mind for Olivier? 
Very much so! Obviously, there's his association with Olivier, plus he's the right age and is such a good actor. He brings all that history to the part as well as being terribly funny and very moving.
There's a lot of awards buzz going on right now around the film. How is that for you? Is that something you're aware of?
Right now, you're talking to someone who's first film is opening ths weekend in the UK, US and Canada. I can barely breathe just thinking of that! (Laughs) Let's just get through that first! But I'm really excited that people are responding to it positively, and I'm really happy now that I've seen the film 30 or 40 times with audiences and to hear their laughter is a really happy experience. Right now, I just hope that people come and see it and enjoy it. And if, down the line, the wonderful actors get some recognition, I couldn't be prouder.
My Week with Marilyn is out in UK cinemas today. Head this way for the rest of My Week with My Week with Marilyn.
Tags:
marilyn week
my week with marilyn
simon curtis
the prince and the showgirl