| | | |
| --- | --- | --- |
| Brief Encounters: Joseph Gordon-Levitt and Ellen Page | | |
Written by Ivan Radford
Monday, 12 July 2010 12:39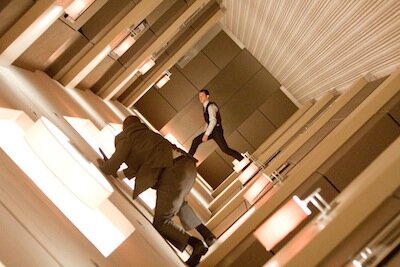 Ok, so we fobbed you off with that "Exclusive Interview" Twitter thing from the other day - although the answers really were revelatory for many - so here's an actual Q&A sesh for you to enjoy. What's it like working with Christopher Nolan on such a crazy project like Inception? Who better to ask than young stars Joseph Gordon-Levitt and Ellen Page? Let's face it, they're two of Nolan's sexiest cast members.

"It felt like my 10 year old boy fantasies had come true" - Gordon-Levitt went the distance for the set pieces, shooting guns, throwing punches, running around a revolving corridor. As for the uber-talented Ellen Page? Well, she designed the dreams that dazzled your eyeballs. Yeah, she designed them. And then folded Paris in half. On top of itself. We haven't done that, so we decided to go with their accounts of filming Inception, seeing as they were actually there and everything.

Here's what they both had to say about working on the movie (hint: it was awesome). Enjoy watching their excited and happy faces. Then go read our 5 star review. Then go see the film. Preferably in that order. Simples.
Tags:
500 days of summer
batman begins
dark knight
joseph gordon-levitt
juno
Last Updated on Monday, 12 July 2010 12:58