| | | |
| --- | --- | --- |
| BlogalongaBond: Die Another Day (2002) | | |
Written by Ivan Radford
Friday, 31 August 2012 07:37

BlogalongaBond. One Bond film a month until Skyfall turns up.
If The World Is Not Enough saw Pierce Brosnan lose control of his cheese-nibbling habit, Die Another Day saw The Bronhomme dive face-first into a giant vat of brie. Terrible dialogue, ludicrous science, a dumb plot. All of it stinks of mouldy lactose. It's a proper, not-safe-for-humans, toxic Dairylea dunker of a film.
So concerned with 007's 20th anniversary were Eon, they gave writers Neal Purvis and Robert Wade free reign to do whatever the hell they wanted. Despite turning out a solid TWINE script, the result here was a string of nonsensical set pieces and stupid villains all conceived with the sole purpose of constantly referring to Bond's birthday – like a drunk uncle who forgets what day it is and tries to fob you off with a tenner the morning afterwards.
Old props appeared, parachutes popped out and Bond continued into space with technology that Roger Moore could only dream of. Make no mistake: this was the Moonraker of the 21st Century. But featuring some extra bullshit about DNA.
Even the henchmen were rubbish, half of them only invented just as an excuse for a pun. "My name is Mr. Kil," says one after opening a car door. "That's a name to die for," retorts Bond. This has absolutely nothing to do with the rest of the film.
And we still haven't got to that flipping invisible car. As if ruining John Cleese wasn't bad enough, Die Another Day then had to go and tarnish the reputation of the Aston Martin as well, drowning everyone and everything in a river of melted brie.
And THEN, after paddling up and down in Aston Martin's cheddary fondue grave, it had the gall to take Ian Fleming's gritty, manly secret agent and dump him in the middle of a CGI surfing set piece that's closer to a SNES game than a Hollywood blockbuster. You couldn't be cheesier if you were listening to Come On Eileen on a New Zealand LPFM radio station (called Cheese) while wolfing down Wensleydale and reading Cheese!, the monthly Japanese manga magazine. You might as well replace Pierce Brosnan with a CGI Cheese String for all the difference it makes.
It's a wonder, then, that Die Another Day starts off so phenomenally well. The Bronhomme grows a proper beard, is banished by M and winds up out of date in the changed, modern world of espionage. Why? Because director Lee Tamahori had one good idea: trying to kill Bond. He spends the whole of the opening credit beating the heck out of 007 in a North Korean jail cell. Oh yes, that Tamahori was a sadistic git, all right.
But even before the near-death of 007, Die Another Day's introductory sequence is top-notch. How can you rival such a thrilling, surprising slice of entertainment?
The first step is to read this informative pamphlet I found in my Die Another DVD case…
How to Open a Bond Film
SEX!

Got your attention? Sex is a great way to wake up the men in the audience – and the women, if Roger Moore isn't on screen. Die Another Day is notable for being one of the few Bond films that doesn't begin with ickle 007, but you can't beat a bit of On Her Majesty's hanky-panky to get people in the mood for some spying.
DANGER!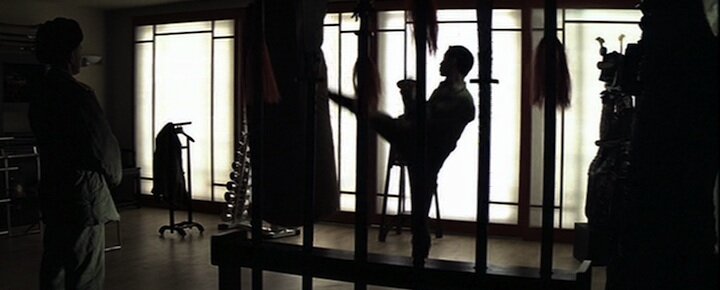 Spying is hard. Just ask anyone who's seen Spy Hard. So make sure people can see where the danger's coming from straight away: a villain, a henchman, whatever. The important thing is they're lethal. Die Another Day introduces the villain, Colonel Tan-Sun Moon, by watching him kick a punch bag into pieces – a punch bag that contains a human. Compare that to Scaramanga and his 1970s fun house. One is dangerous. The other is stupid.
CARS/SKIS/BOATS/HOVERCRAFTS!

What do you do when you see danger? Run away. Or, if you're James Bond, run after them. Either way, it involves moving quickly. Skis. Boats. Cars. It doesn't matter how you do it: as long as it involves someone chasing someone else (even a henchman slowly following a decoy Sean Connery through a maze), you're fine. Big-ass hovercrafts are also acceptable.
STYLE!

Surfers slowly appearing one by one out of the mist? That's a seriously stylish way to start a film. But it's more than that. Pre-title Bond sequences are as much about visual storytelling as they are watching 007 roger more women – and that's how you can spot a good Bond film. How much you show versus how much you tell says as much about your movie as it does your characters. On Her Majesty's Secret Service, perhaps the king of pre-credits visual storytelling, is full of panache. The rear view mirror. The shadows on the beach. It tells you: this is a film that knows how to look cool. It's a cool film. Die Another Day is almost as impressive. Lee Tamahori's introduction of the villain without talking is a textbook example (human punchbag = evil douche, simple as). 
PLOT!

Again, it's all about the tease. A little bit of exposition, but not too much. In The World Is Not Enough, the henchwoman's cries do more for Robert Carlyle than Dr. Molly Warmflash's exposition. "I can protect you!" Bond cries. "Not from him!" comes the reply.
Here's where Die Another Day starts to fall down: not because of Tamahori's speed-up/slow-down direction, but because of the script. "Few men have the guts to trade conflict diamonds since the UN embargo…" offers 007. "I know all about the embargo…" says the Colonel. A subtle foreshadow? Yes. But also of the dialogue to come.
PUNS!

Sex! Danger! Cars! That's not what spying's about. Wordplay! That's what really defines a 00-agent's ability in the field. With its constant references to points while looking at swords, Die Another Day took its puns a little too literally – as its introduction tries to warn us:
"Saved by the bell!" mutters Bond after being saved by a giant bell. If they went straight into the theme tune and Screech showed up as Blofeld, this would've been perfectly acceptable.
STUNTS!

What happens at the end of a chase? A stunt. Duh. But not just any stunt. It has to be the stunt to end all stunts. The biggest, bestest, most dangerous thing a human has ever done yet. Rick Sylvester's 3000-foot jump off a cliff in The Spy Who Loved Me set the bar. And what Bond has done over the years since is constantly try to top it. By Die Another Day, that ski stunt is now just a footnote – a joke to make halfway through. But after TWINE's longest-ever opening sequence, the introduction had to do something special: something no other Bond film had done before. It succeeded – but in a very different way…
DEATH!

Now the danger's been introduced and the chase has ended, make sure you eliminate it. It's a perfect formula for a henchman's messy demise. Blow them up, shoot them, throw them off a cliff – anything, as long as they die. If you're already dealing with the villain, kill them off anyway. That gives them the chance to come back halfway through and surprise everyone. And if you don't have a villain or henchman to fight, just kill off a good guy instead. Or a good woman. Nothing starts off a blockbuster like a little bit of death. It proves that the danger means something.
BOND! JAMES BOND!

It's a Bond film, so make sure we meet our hero properly. If you can, get him to say that famous name himself. In Die Another Day, we hear it from the menacing Zao. "His name is James Bond. A British assassin." Hardly a classic, but by the time we reach film number 20, that's less of an issue. We know who he is by now. Instead, it's the visual clues that build up the character.
Goldfinger set the trend here: Connery, calmly smoking pre-credits while a bomb goes off, says more about Bond in two seconds than words could. Pierce Brosnan's final two introductions took another tact, ending on a note of vulnerability. TWINE saw him hanging precariously from the Millennium Dome. Die Another Day took it one step further. He starts off by taking another man's sunglasses with a cheeky smile…
DEATH (AGAIN)!

… and then, things go horribly wrong. Brosnan ends the chase, kills the bad guy, makes a pun and starts to think about where he can find that sex Roger Moore was talking about – and then he turns around. The sudden reveal of a whole army of enemies is one of the best moments in the franchise: an ingenious rug-pull that leaves 007 speechless. Because that death we were talking about? It turns out it's not the bad guy's after all. It's Bond's.
After From Russia's cheeky fake 007, You Only Live Twice introduced the idea, with Connery going from a happy ending (his penis) to a surprise bedroom massacre. Die Another Day extends that (not his penis) even further. We don't just see Bond shot. We see his face, wincing, rammed into the camera, surrounded by ice-cold water.
And that's the note the sadistic Tamahori ends on for the opening credits. And just so we're in no doubt as to how screwed he really is, that torture continues for two whole minutes. AND he has to listen to Madonna.
That's Die Another Day's wow factor. That's its stunt to top them all. And not a ski jump in sight.
So there you have it: how to open a Bond film. For all the stick it gets from Bond fans, Die Another Day got that one thing right. The rest of it? Total cheese.
Tags:
die another day
lee tamahori
madonna