| | | |
| --- | --- | --- |
| Skyfall Week: Top 10 Bond adverts of all time (including Heineken) | | |
Written by Ivan Radford
Wednesday, 24 October 2012 10:01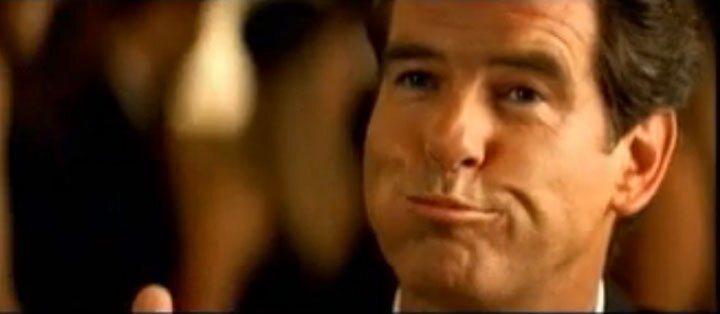 Right. Forget Heineken. If you're wound up about Bond selling out to Dutch lager for $45 million, get over it. It's not as if 007 hasn't advertised products before. Fleming's agent was defined by the brands of things he used – product placement and sponsorship in the movies is a natural continuation of that.
Besides, that Skyfall Heineken advert is nothing compared to some of the other James Bond TV adverts we've seen in the past. Sky-full, Casin-Coke Royale, Quantum of Sony. Here are the top 10 007 ads from the last 50 years of Bond...
Quantum of Sony
Daniel Craig? Check. Explosions? Check. Slow-motion? Check. This is either a brilliant little character study or a disturbing look at what would happen if Zack Snyder directed a Bond film. But with those bright blue contact-lensed eyes staring right at us, the most shocking thing about this advert is the fact that it isn't for Specsavers.
Heineken – Casino Royale
A pitch from Syriana's director Stephen Gahgan to helm a Bond movie? With its angles, quick cuts and pretty stairwells, it's not a bad effort – after all, George Lazenby won the role of Bond thanks to those Big Fry TV spots. But the main reason to watch this Heineken (them again) ad is because it's that rare example of a 007 commercial not featuring Bond himself: this one's all about Vesper Lynd. And I'm not going to complain about an extra 62 seconds of Eva Green. Even if her "Oh, you! How did you know I liked Heineken?!" expression is worse than Roger Moore's sex face.
MILKraker
Roger Moore. Moonraker. MILK. This one is just plain bizarre. And has probably turned me off dairy products forever.
Visa – Pierce Brosnan
The first of several appearances by the Bronhomme in this list. Here, he plays himself in a rickshaw cab trying to get across town to a hotel. Hi-LAR-ious hijinks ensue – Restaurants! Lobster! Pipes! – while Brosnan mugs like a pro. It's a surprisingly accurate update of a Roger Moore-era chase sequence, a fact which ranks this way above many other boring Bond ads.
Vicks – Odd Job
Harold Sakata, you lovely little man. From your deadly bowler hat to that tiny, sexy moustache, you can do no wrong. Even if you are advertising Vicks Formula 44 for bad colds. "This vid went viral on Lebanon" says one YouTube commenter. But this anecdote just below it is even better: "OMG so embarrasing! my dad took me and my brother to a james bond car thing, and_ we thought we met this guy! we took a picture with him and everything and he's literally identical! im so embaressed now i know he died in 1982 =0"
Schweppes – John Cleese
Another classic entry in the "Oh no, things are getting destroyed while I stay calm!" canon, but with one massive difference: this one stars John Cleese. It was made way before he became Q during the Brosnan years, but this 007-themed ad still makes the list. Why? Because it first popped up on the VHS of Licence to Kill. Also it's surprisingly funny. "Really it's irony, and the usage of british humor," explains one helpful YouTube user. Wathc out for the bit around the 20-second mark where Oddjob's hat is apparently controlled by aliens.
Diet Coke – Pierce Brosnan
Let it never be said that Pierce Brosnan turned down a chance to get some easy money. Here, he cashed in on 007 before he'd even been given the part. While debate raged around whether he or Timothy Dalton should don the tux, Dalton went off and made The Living Daylights. Brosnan? He made this cheesy effort for Diet Coke. It was only 15 years until Die Another Day.
Heineiken (Skyfall) – Daniel Craig
Yes, it's THAT Heineken advert. It couldn't not be included here, not least because of the fanboy furore surrounding it. And because of the very unexpected cameo around the 55 second mark…
Ferrero Rocher – Pierce Brosnan
He's back. But while you might think that Pierce Brosnan sold out to anyone – including a CGI surfboard company – let me remind you that a. This is for Ferrero Rocher, not just some random soft drink, b. It's in German, and c. He gets to pull this face at 26 seconds:
Ito Ham – Sean Connery
 




 

Just when you thought Sean Connery still had some integrity. Scotland's greatest bearded man has shunned all 007 publicity this year, even declining to appear in the Bond documentary Everything or Nothing. But don't be fooled: back in the day, he was as good as Brosnan in the advert stakes. Here he is shouting "Hon Mono!" very loudly in Japanese. I don't know what it means, but I've never been more turned on by ham in my life.

 




 

 




The fantastic Skyfall is out in UK cinemas on Friday 26th October (read our Skyfall review here) - and it will no doubt be followed by countless new 007 promos. What's your favourite Bond advert?

Tags:
daniel craig
oddjob
pierce brosnan
skyfall week