| | | |
| --- | --- | --- |
| 7 things I learned from Blackmail at the British Museum | | |
Written by Ivan Radford
Friday, 13 July 2012 08:11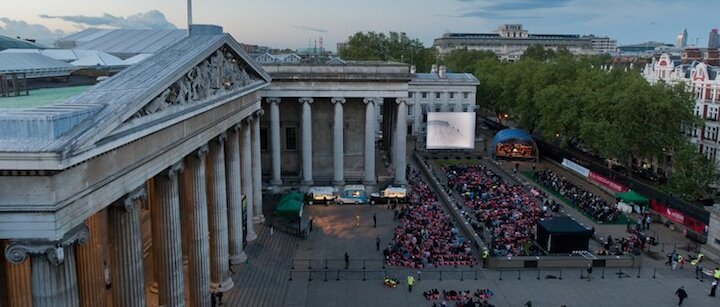 Photo: Benedict Johnson (via BFI) 
The other week I sat in a cold field on some grass staring at bright lights and live music into the wee small hours. No, I wasn't at T in the Park. I was watching Alfred Hitchcock's Blackmail as part of the BFI's Genius of Hitchcock season, newly restored and given a spanking new score by Neil Brand. It was a fantastic chance to watch some early, silent-era Hitchcock, something that taught me a few new things about a director I thought I knew very well.
Here are seven things I learned from watching Blackmail at the British Museum:
1. Alfred Hitchcock was king of "That's what SHE said!"
When he wasn't throwing birds at women in attics, young Alfie was a naughty man. Check out him talking to Czech actress (and star of Blackmail) Anny Ondra on camera: a sound test to show her how noises would come out on those new-fangled microphones what the film industry was talking about. 
That's right. Alfred Hitchcock, director of Vertigo and Rear Window, knew how to drop "That's what SHE said!" into any everyday conversation. The perve. 
2. Alfred Hitchcock had a detachable face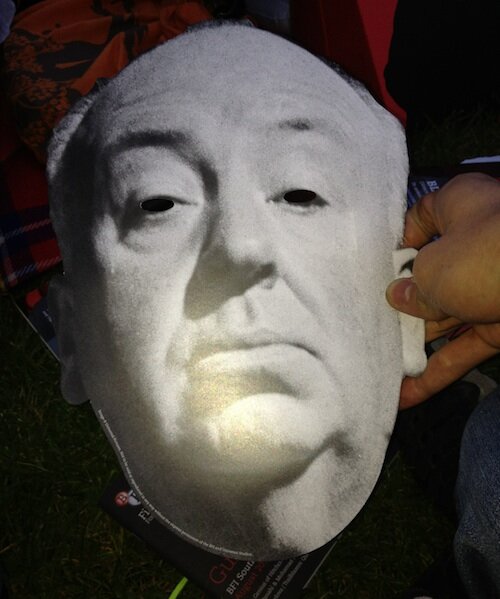 All the best directors can remove their faces. Along with John Travolta and Nicolas Cage.
3. Someone should make a film called Being Alfred Hitchcock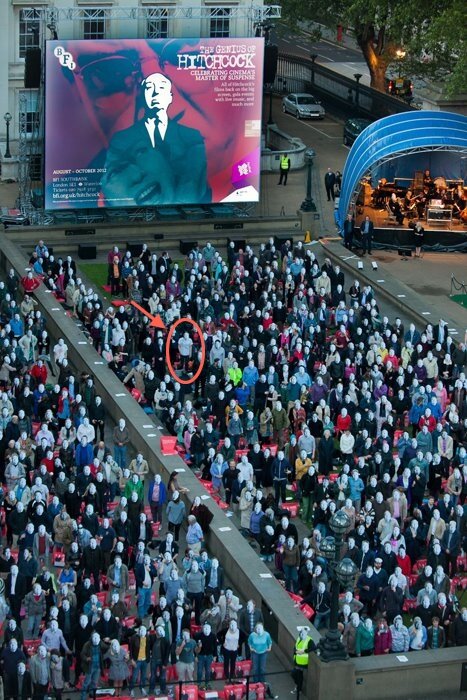 Photo: Benedict Johnson (via BFI) 
There's nothing like getting a sea of people to wear masks made out of the face of a dead man. The finished effect - apparently an attempt at setting the world record for "Most number of people wearing Alfred Hitchcock masks in one gathering" - was eerily reminiscent of Being John Malkovich. Someone should totally make Being Alfred Hitchcock. Well, that or Face/Off 2.
4. Hitchcock was as tall as a building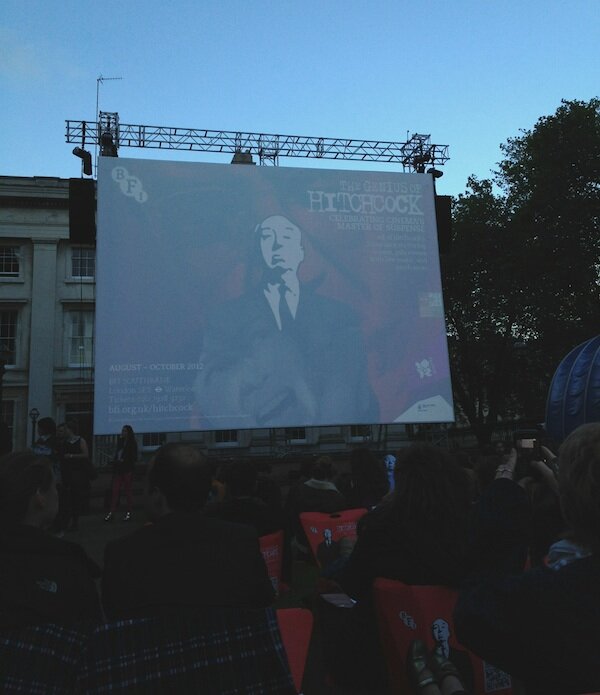 Fact. 
5. Hitchcock loved locations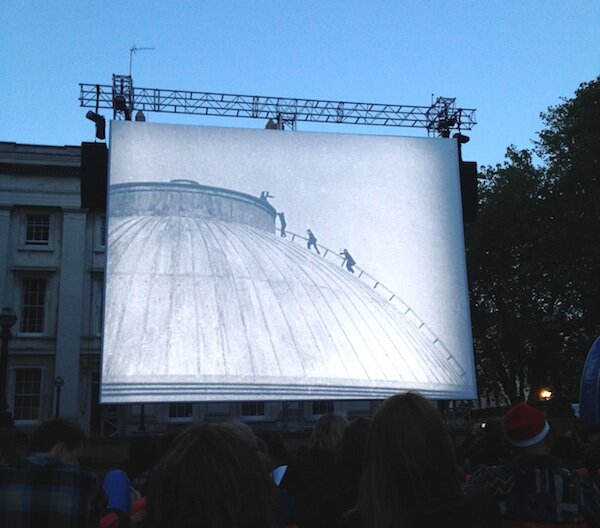 The London Palladium in The 39 Steps. The Royal Albert Hall in The Man Who Knew Too Much. The British Museum in Blackmail. Hitch loved his London locations. And that final chase over the domed roof of the museum? It's even more spectacular when you're looking right up at it.
6. I love Neil Brand
It's like I always knew I did. I just didn't know that I knew. Have a listen on this murder scene with his music. Isn't it fantabulous?
7. Hitchcock was a genius
From his use of sound to his amazingly bold camera movements, Hitchcock even at the young age of 29 was pretty much a master of cinema. Just look at his use of the word "knife" in this scene from Blackmail:
It's incredible to think just how talented a filmmaker he was - even more incredible to think that I almost forgot it. Can you imagine going through life not remembering what a genius Hitch was? Fortunately, the BFI have lined up a load of opportunities to remind you: Genius of Hitchcock runs all the way into October at different venues across London. It continues tomorrow with The Ring at Hackney Empire - tickets are still available here, although you can also stream it live online. (Isn't technology amazing?)
If you want more Hitchcock nerdery, check out Little White Lies in the coming weeks; I'll be writing a series of articles all about the great master of suspense. 
Tags:
anny ondra
blackmail
british museum
hitchcock