| | | |
| --- | --- | --- |
| 007 Goes Swimming - A History of Bond in Trunks | | |
Written by Ivan Radford
Wednesday, 18 January 2012 12:52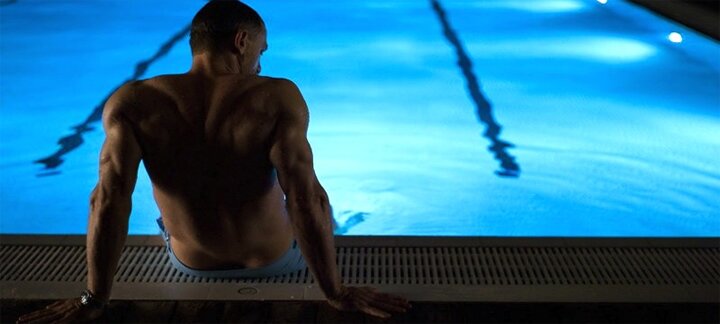 Women across the internet were all a fluster last week when a new image of Daniel Craig in swimming trunks popped up online. You'd almost think they'd never seen James Bond in a swimsuit before.
Of course, we all have. From Skyfall's Speedos to Goldfinger's grandpa number, 007 has been strutting his trunked stuff for decades. Here's a quick reminder of his checkered bikini past:
The Towel Swimsuit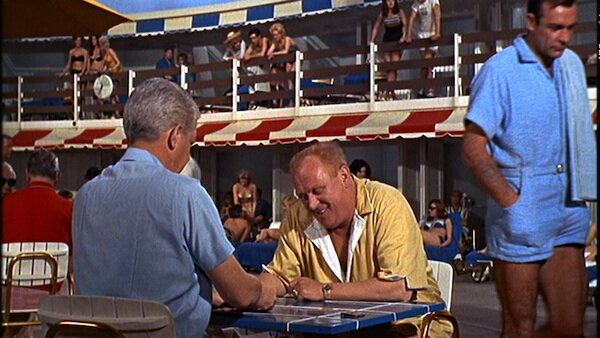 Blue towelling with a zip? This retro onesie continued the old Victorian tradition of bathing suits rather than revealing swimming shorts. Bond's manly thighs and hairy arms just about pull off the fuzzy fashion choice - the same can't be said of my dad when he wore one in 1995.
Modelled by Sean Connery
Seen in Goldfinger (1964)
Buy from That place where my dad shops
Sink or swim? Swim - Connery's charisma keeps it afloat.
The Skinny Dip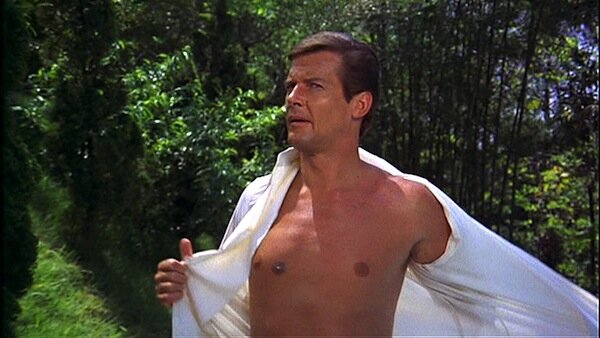 If your initial reaction to the words "Roger Moore" and "skinny dip" were to run away and vomit on a small child, your instincts were right. After all, who needs swimming trunks? Not 007. It's the 70s, baby. And so, offered a wet dip by a naked woman called Chew Mi (subtle), Moore swiftly cocks an eyebrows and starts to strip. Fortunately, someone else turns up and stops him.
Modelled by Roger Moore
Seen in The Man with the Golden Gun (1974)
Buy from The Oh-My-God-Make-It-Stop Shop
Sink or swim? Sink - even with a lightweight linen shirt on, stripping in someone else's front garden is rude. Just look at the mix of terror and mockery on this poor girl's face:
The I-Didn't-Pack-A-Change-Of-Clothes Look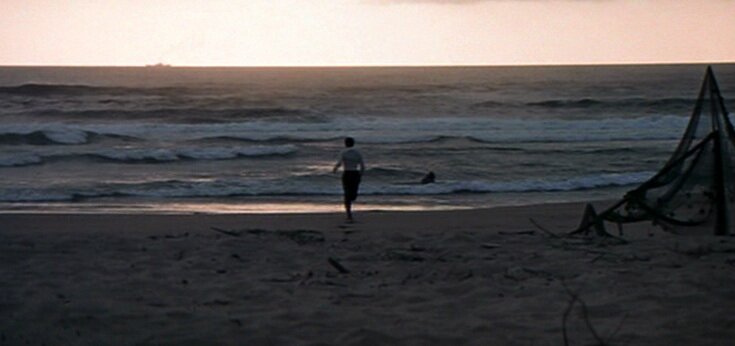 Every single Bond film (more or less) features 007 running into the ocean or diving into water to save a woman from peril. Obviously, in such perilous situations, there's no time to remove one's shirt or zip up your towel. For On Her Majesty's Secret service, though, it's less shark-infested water and more an impromptu paddle after Bond spots a woman enjoying a quiet stroll on the shore. Naturally, he jumps her but he keeps his frilly shirt on throughout - George Lazenby is far too sophisticated to be seen with his clothes off underwater. He'd sooner sport that towelling suit from Goldfinger. Which, of course, would be nowhere near as sexy as when Connery wore it, thus summing up exactly what's wrong with him.
Modelled by George Lazenby
Seen in On Her Majesty's Secret Service (1969)
Buy fromYour local frilly shirt emporium (probably in Camden)
Sink or swim? Sink - whether you're a character-driven hero or not, if you can't afford a decent pair of trunks, you don't belong in MI6.

The Water-Proof Tux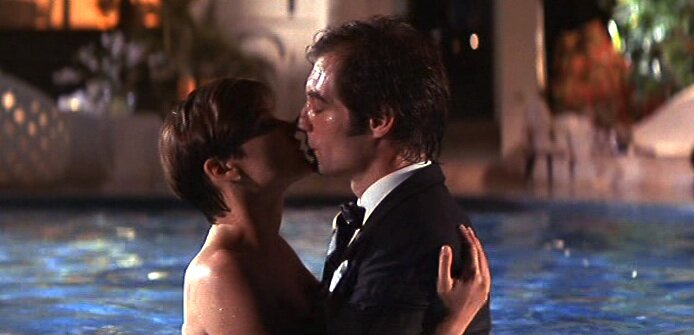 Another Bond who doesn't need trunks. But while Lazenby legged it after some woman on a beach, Timothy Dalton just casually dives off a balcony at a party. Why? Not for a heroic action sequence but to drag his woman into the water with him - a neat reversal of the usual Bond-gets-pushed-in-pool-by-henchman scenario (the other way Bond gets moist with his clothes on). It's a romantic costume decision, plus Bond's oddly water-proof tux is the sexiest thing the franchise has seen since Connery in a towelling leisure suit.
Modelled by Timothy Dalton
Seen in Licence to Kill (1989)
Buy from Somewhere better than Moss Bros
Sink or swim? Swim - because there's nothing as suave as sticking your finger up to the dry cleaning bill.
The Strangle-Me-Now Little Black Number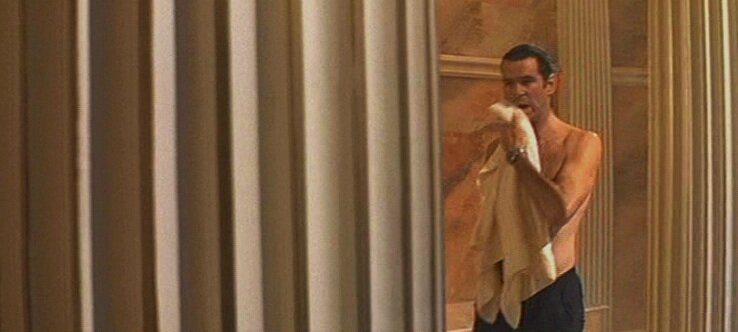 Rivalling Daniel Craig in the exposed flesh stakes, Goldeneye's swimming shorts are as figure-hugging as it gets. They're tiny, they're revealing, they're black - the perfect way to attract the attention of a psychotic female serial killer with a taste for between-the-thigh action.
Modelled by Pierce Brosnan
Seen in Goldeneye (1995)
Buy from Whatever major designer or department store chain was around in the 1990s and has now gone bankrupt
Sink or swim? Swim. It's the first time we see Bond in swimming shorts - an important modern step for the franchise. And for Pierce Brosnan's sexy man chest.
The Speedo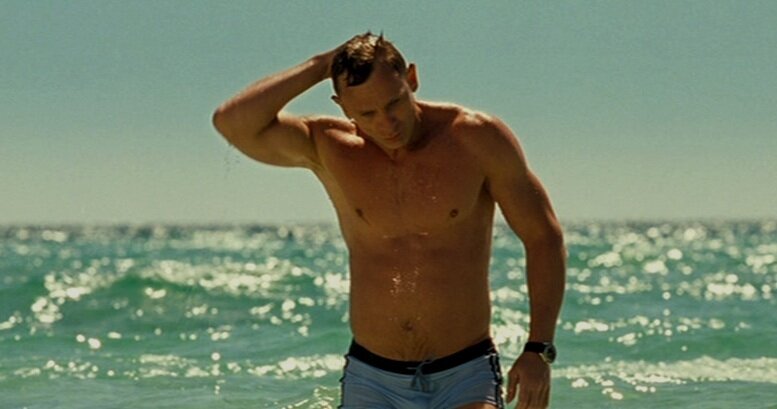 Enough said. Swoon.
Modelled by Daniel Craig
Seen in Casino Royale (2004)
Buy from Almost every website on the internet if you Google "Bond swimming trunks"
Sink or swim? Swim. Referencing Honey Ryder's sexy Dr. No swimwear and prompting a wave of lookalikes from retailers worldwide, these tight blue babies are the definitive way to make a splash.
The Skyfall Swimming Trunks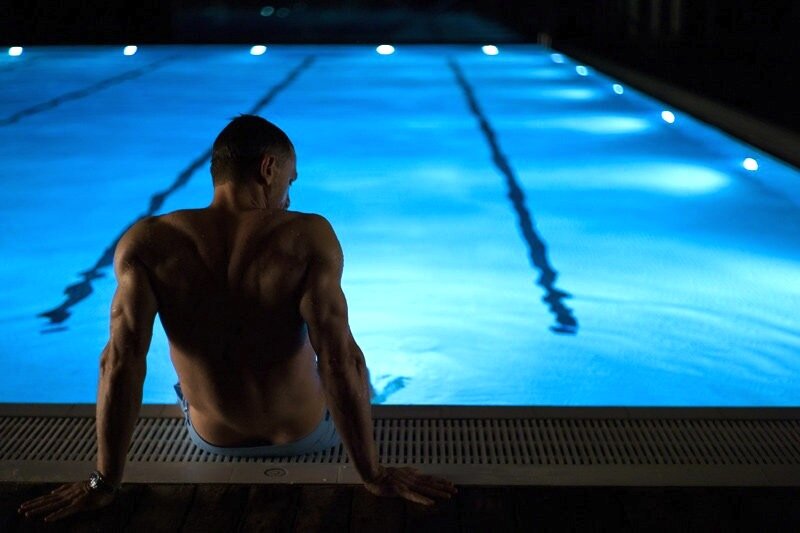 Enigmatic, yet familiar, these half-hidden swimming trunks are the kind of tease you'd expect from one of the more developed Bond characters - Roger Moore would never have gone swimming in such atmospheric lighting. It also marks the first time since Goldeneye that 007 takes an intimate indoor plunge for recreational purposes with no a woman to save. But most importantly, it sees the return of Daniel Craig's blue-bottomed attire - clearly Craig is a swimmer who knows when he's caused ripples in the fashion world.

 

Modelled by Daniel Craig

Seen in Skyfall (2012)

Buy from Even more websites than before when you Google "Bond swimming trunks"

Sink or swim? Swim. Woman want them. Men want to wear them. Bond has never been trendier. You wonder sometimes why they don't release these films at the peak of summer fashion.

 

 

That's the third Bond article I've written in a fortnight without continuing this month's BlogalongaBond - I'm beginning to run out of excuses not to watch Octopussy...


For the other two, see an analysis of new Bond composer Thomas Newman and these Super-Mega-Exclusive Skyfall on-set photos.