| | | |
| --- | --- | --- |
| Home Videos: The Return of Jafar (1994) | | |
Written by Ivan Radford
Tuesday, 07 June 2011 12:34
If my stash of VHS tapes in the attic taught me anything as a kid, it's that animated films always have sequels. Especially those made by Disney. So while Kung Fu Panda 2 hits cinemas and shows everyone how it's done, I can't help but pick up my old battered copy of another animated sequel: The Return of Jafar.
Now, I used to love this as a kid. Maybe it was the lingering adoration for Aladdin, which I've gone on about before, or maybe it was the fact that the box boldly proclaimed it to be a Disney Video Premiere (OMG! Get the red carpet!) but I distinctly remember thinking Aladdin 2: The Return of Jafar was a decent follow-up to the 1992 classic. I even (half-seriously) heralded it as a good animated sequel in my review of Kung Fu Panda 2 yesterday.

I was obviously an idiot child.

Ok, it's not terrible, but it's hardly The Lion King 2: Simba's Pride. Still, it has some claim to fame: The Return of Jafar was, indeed, the very first straight-to-video animated sequel by Disney. So at least it has a legacy to be proud of. It even makes a joke about Aladdin merchandise.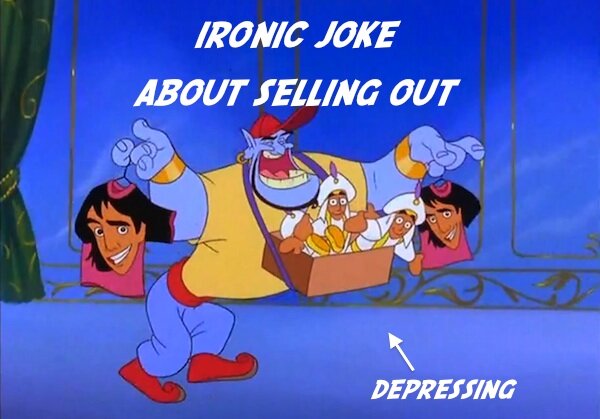 And so Return of Jafar established the trends for many animated sequels after it. It had a plot that referenced back to/subverted the original (spoiler: Jafar returns), it trampled all over my childhood dreams, lost half of its star cast in the process, and then tried to add in some new characters to make things bigger and more exciting.

The biggest addition to the cast? Abis Mal, an appalling thief - in that he was both not very nice and also extremely incompetent. That's Abis Mal. As in, abysmal. DO YOU SEE WHAT THEY DID THERE?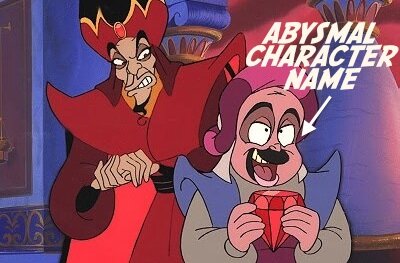 From the beginning of the film, Disney set the standard high, taking Alan Menken's unused alternative version of Arabian Nights from Aladdin as their theme song. Then they nick the Cave of Wonders music to put over the top of another cave chase sequence, which also features the magic carpet. Needless to say, there's no lava - or magic lamp - so the whole thing is way less exciting.

But that's partly because Aladdin himself isn't that exciting any more. He's still voiced by Scott Weinger, but after being given the same dialogue over and over in video games and direct-to-video sequels, you've got to wonder when Aladdin stops being a character and just becomes, well, the voice of Scott Weinger.

The same goes for Jasmine. The feisty Linda Larkin returns as the long-haired princess, but she's lost all sense of that feminine identity that Aladdin tried so hard to create. Now, she's got her prince, her palace and her magic carpet - everything's hunky dory in princess land. Presuming you think Aladdin is hunky (he isn't).

You can hear the transformation in the script too: she's literally gone from "I'm not some prize to be won!" to "You better change your clothes before dinner..."
| | |
| --- | --- |
| | |
| Aladdin | The Return of Jafar |
Still, you'd hope that Genie could keep the heroes' end up.

Then you remember that Robin Williams didn't agree to do Aladdin 2 after a minor falling out with Disney over the first film. Instead, they picked up Dan Castellaneta to play Genie. He had a lot to live up to (and he knew it, bless him). To his credit, he's great at doing the range of fast-talking accents but unsurprisingly, whenever he shouts he sounds a lot like Homer Simpson.
Without good guys to really root for, Disney let the villains steal the show. First up is Iago, who goes from minor sidekick to near-main character, kicking the whole film off with his own song-and-dance routine, I'm Looking Out for Me.

It's an excellent jazzy number, complete with a bit dancing on top of an elephant in the streets. A playful reversal of Aladdin's entrance as Prince Ali in the first film? Probably not.
He then gets a slower romantic song, designed to reunite Aladdin and Jasmine. But instead of showcasing Iago's softer side, Forget About Love is more of a chance for Gilbert Gottfried to screech his gravelly voicebox out, grating all the way through the syrupy lyrics.

Amazingly, it does actually sort of work, even if it does give rise to some of the most ham-fisted dialogue to feature in a Disney film: "Are you sure about him?" asks Jasmine, not trusting the deceitful parrot. "I'm sure about this," he replies, snogging her face off.

Then we get a subtle shot of a fountain, spraying its hot steaming love foam all over the palace gardens.
Of course, even with Iago's feathery charm, this movie's all about Jafar. Back and bigger than ever, Disney go all out to prove how evil he is. He's bright red, with bad teeth, a long ponytail, and an even longer, pointier beard.
Most exciting of all, he has a song - something sorely missing from Jonathan Freeman's spot-on panto turn in the original Aladdin (we had to make do with his own version of the Prince Ali song instead).

And You're Only Second Great is a proper villain's tune, not quite as good as Tangled's Mother Knows Best or The Lion King's Be Prepared, but it's effective enough, if only for the ridiculously convoluted lyrics. Who hasn't jumped out at their sister in the attic shouting "Granny's gonna grab ya"?
Add to that the fact that Jafar has evil ringwraith horses, and he's a pretty menacing presence throughout the whole sequel.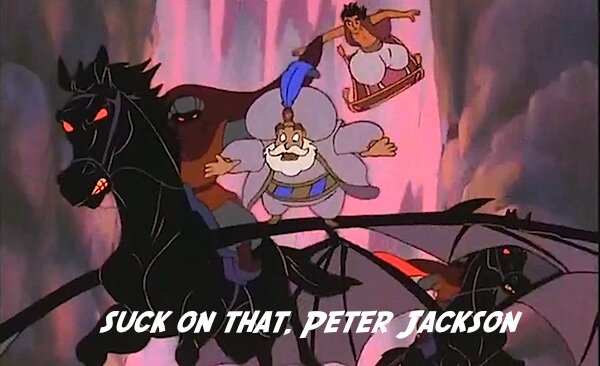 But it's still hard to avoid the fact that The Return of Jafar has no plot whatsoever. Jafar comes back, he kidnaps the Sultan, Aladdin runs to the palace and they have a big fight. That's it. The holes in the script get covered up by the fairly decent songs (tip of the hat to composer Mark Watters), but it's barely enough to last a TV episode, let alone a film.

And yet that's the best thing about The Return of Jafar. It's only 66 minutes. That's even shorter than Sylvain Chomet's The Illusionist (note: this does not make it better).

For those wanting Aladdin in even smaller chunks, the good news is that Disney plaster the video with adverts for their future Aladdin spin-offs, giving you plenty of warning before they completely crush your childhood happiness. Indeed, after the success of The Return of Jafar on VHS, Aladdin would return in another feature-length follow-up (straight to video, naturally) and then a TV series. As the voiceover puts it, "It's like having three wishes come true at once!" The fourth wish being for Aladdin to naff off completely and never return.

Of course, that didn't happen, and we soon got a wave of further Disney VHS sequels. I'm hoping there are no more in my attic.

And for the record, when I joked in that Kung Fu Panda 2 review that it's "better than The Return of Jafar", I meant it. I really, really meant it. Even if it does contain the world's sexiest monkey: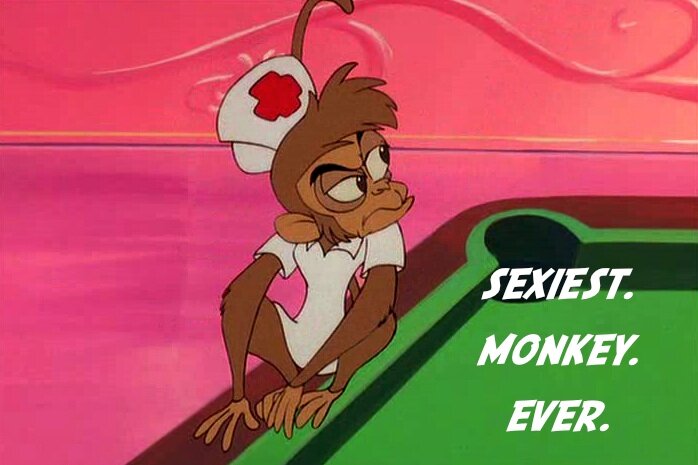 Tags:
aladdin
dan castellaneta
disney
home videos
jonathan freeman
return of jafar
scott weinger
vhs