| | | |
| --- | --- | --- |
| Home Videos: Aladdin (1992) | | |
Written by Ivan Radford
Tuesday, 10 May 2011 09:00
It's only as I start to properly search through the pile of VHS tapes in the attic that I realise how many Disney films there are. So in an effort to get a few out the way before I can enjoy some of the other live-action "classics" gathering dust, I stuck Aladdin in the VCR this week. And you know what? I only went and blooming fell in love with it all over again.
Looking at the box, I really doubted the film's bold claim to be "the most spectacular animated classic of all time!" but it's almost as good as The Lion King. Almost. Plus it has the very latest technology in the fight against piracy: a shiny sticker.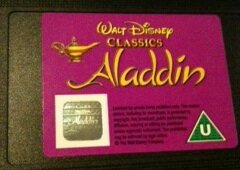 Fight the piracy, people!
It helps that Aladdin is a story that everyone knows. A poor boy who falls in love with a princess while a genie and a lamp float around causing chaos? It's charming stuff. And in between the traditional fairy tale elements, folks in the street spit fire, juggle swords and steal apples. Nothing like a bit of social realism, is there? Mike Leigh would have a field day.

In fact, Aladdin was so accurate in its depiction of Arab life that its opening song got edited soon after the film's release. Apparently the words "where they cut off your ears if they don't like your face" in the song's second line were deemed a teeny bit offensive.
Arabian Nights - Original
Arabian Nights - Edited
I like the way they got someone with a completely different voice to record the replacement line. Just to make sure no-one would ever notice it. (Even better, they made sure they kept in the adjective "barbaric". Because that's a lovely way to describe a foreign culture.)

And with that we're straight into the stereotypes. First up, a friendly local businessman who tries to sell us worthless trinkets. Something I didn't notice until now is that he's voiced by Robin Williams - famous for his range of politically correct foreign accents.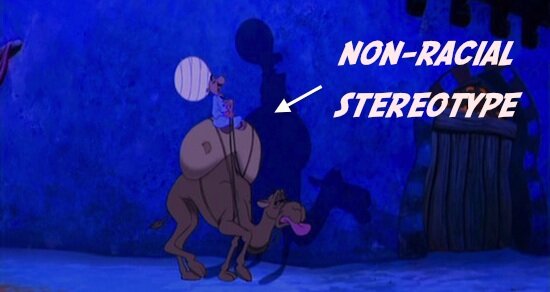 Directors John Musker and Ron Clements then wheel out their big villain: Jafar. As proven in The Lion King, you can tell how evil a villain is by the size of his beard. He's also introduced by a massive close-up of his eyes (complete with eyeshadow, natch), which only adds to his air of slightly arousing nastiness.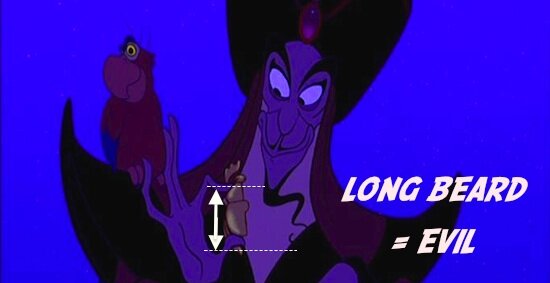 Just the way Jonathan Freeman says "Calm yourself, Iago..." in those plummy dulcet tones is enough to make your hair stand on end. He's almost as good as James Earl Jones. And check out those luscious lips. And that non-existent neck. And the sexy moustache. Oh yeah, he's a total Jafar Cake. I'd cover him in chocolate and lick his smashing orangey bit any day.

Anyway, you get the idea.

Jafar almost gets upstaged, though, by the appearance of the Cave of Wonders. Ranking highly in our list of cinema's top caves, the giant panther-shaped mouth was genuinely quite alarming when I were a wee lad. Again, it's the close-up of the eyes that do it. That and the booming voice - which belongs to Frank Welker, the guy who also voices Aladdin's monkey, Abu. Fact. 

Then we're whipped straight across to the Palace to meet Jasmine. Or, should I say, Yasmin. The very fact that her name is pronounced incorrectly throughout the film is enough to anger one friend of mine. Me, I just think it's cool that they created a Disney Princess who's different to the rest of the bunch, i.e. she's a total babelicious slut: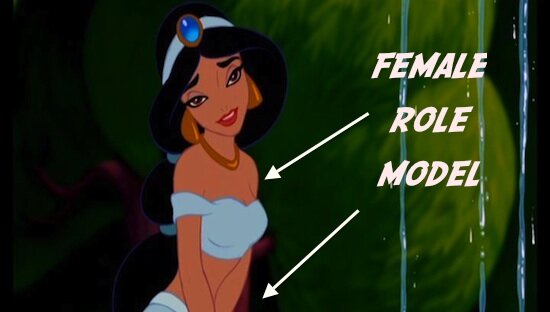 But don't be fooled by the skimpy clothes and excessive product in her hair: Jasmine's not some prize to be won. Yeah, that's right, you chauvinist pig. She even says so herself: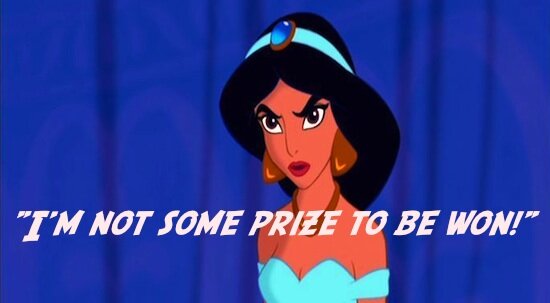 Although she's pretty easily won over by a magic carpet and a dancing elephant. Slut.

It's around this point that you might start to notice a little similarity between this pro-feminist (and anti-racist) kids classic and another recent Disney franchise starring Keira Knightley. Jasmine's low-cut strap top fits right alongside Elizabeth Swann's corset-busting struggle for empowerment in Pirates of the Caribbean.

The only reason I say that is because it's a contrived way to bring up the fact that screenwriting duo Ted Elliott and Terry Rossio did exactly the same job on both films: came in, touched up the female character, and made it sparkle with general wit and brilliance.

You could also start trying to compare Jack Sparrow to Aladdin himself if you wanted to go down the route of rascally male heroes. But we all know he's closer to Spider-Man.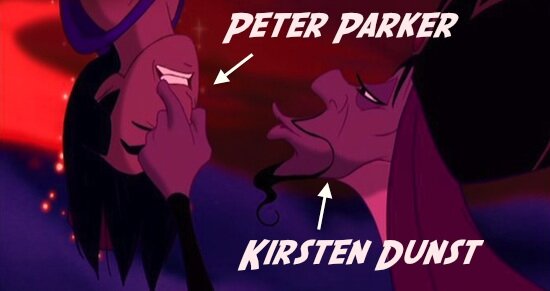 As is often the case with Disney creations, Aladdin deserves praise for its technical achievements. There's the magic carpet, a triumph of colourful CGI, best demonstrated by the spectacular Cave of Wonders chase sequence. Just check out the lava on this baby:
And then there's the music. Alan Menken's Oscar-winning score is musical gold, with songs that boast some of the best lyrics in any Disney film. Tim Rice came on board to do half of them after initial writer Howard Ashman died in 1991, and you can hardly notice the difference. It helps that they worked together on Beauty and the Beast the year before, but Rice nails Ashman's rhythms and wit and keeps the quality ridiculously high.

Of course, Rice went on to do the songs for The Lion King and has been Andrew Lloyd Webber's word bitch for years, so it's no surprise the guy's got talent.

"One jump ahead of the slowpokes / One skip ahead of my doom / Next time gonna use a nom de plume..." - Tim Rice

"Prince Ali! Mighty is he! Ali Ababwa / Strong as ten regular men, definitely!" - Howard Ashman

The other mention obviously belongs to Robin Williams as the Genie.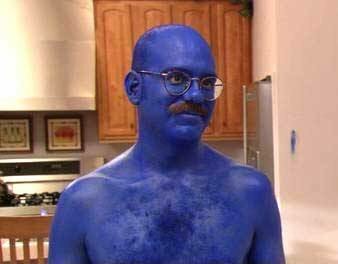 NOT A GENIE

Firing his way through a string of visual and verbal jokes, his rapid delivery was instantly recognisable after Good Morning, Vietnam - but Robin Williams asked not to have his name used in Aladdin's marketing because he had another film due for release the month after. It was called Toys. And was apparently rubbish. In the ensuing conflict, The Simpsons' Dan Castellaneta ended up as the voice of the Genie for the sequel, Return of Jafar.
Still, as hilarious as Robin's performance is, it's hard not to hate him for doing it. Mainly because he was responsible for introducing the tradition of casting celebrity voices as the comic relief. That inevitably led to Donkey in Shrek. And Eddie Murphy's fast-talking animal became annoying as soon as Shrek 2 came out.

It's a mathematical fact that Genie's worth a million Donkeys.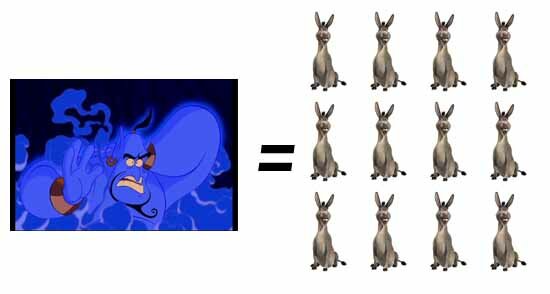 Still, we should be thankful for Aladdin's success and influence upon the animated world. Without it, there would be no Lion King or Toy Story. Plus seeing it in 1992 gave me the perfect way to end every argument for the rest of my childhood. And for most of my adult life as well.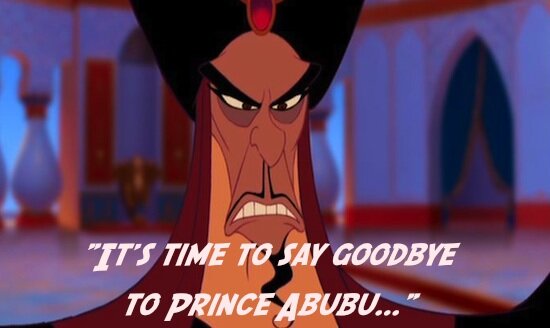 Aladdin, like all of the Disney films, will eventually be shown at the BFI this year as part of The Disney 50. Until then, it's available at all good charity shops for 25p.
Tags:
aladdin
alan menken
disney
howard ashman
jonathan freeman
pirates of the caribbean
robin williams
ted elliott
terry rossio
tim rice
vhs