| | | |
| --- | --- | --- |
| Don't Look Now: Eyeballs in Cinema | | |
Written by Ivan Radford
Thursday, 19 May 2011 08:53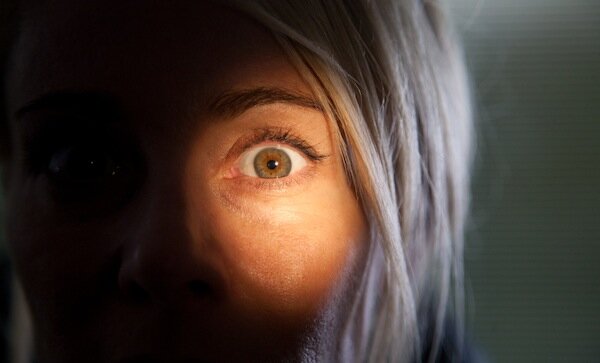 There's something gruesomely hypnotic about watching someone's eyes being mutilated on screen.

Whether it's because body horror has an inherently skin-crawling effect or because removing a person's sight cuts off the very act of watching a film, there's nowt like seeing an eyeball get squished, squashed, sliced or stabbed into tiny bits of jelly.

Julia's Eyes continues this fine tradition of eyes within the horror genre (although not quite to the extreme of some of the Japanese stuff that's out there). From first-person shots to close-ups of injections, director Guillem Morales totally gets the relationship between our eyes and the camera. Which means he's probably seen some of the following...

Avert your gaze: here are some of the juiciest eyeball moments in film.
Un Chien Andalou 
You can't mess with the classic. Dali and Buñuel's legendary surreal short is miles ahead of all other eye mutilations thanks to its smart use of editing and unexpected appearance right at the beginning of the film. Squirm central.
The Evil Dead 2
Trap door. Head. Eyeball. Mouth. Sorted.
Kill Bill Vol. 2 
Tarantino loves a bit of mutilation in the morning. This pokey-pokey squishy-squishy scene squirts as much goo everywhere as you could hope. Plus it's a great opportunity to enjoy Daryl Hannah's acting abilities. That's acting with a capital AAAAAARRRGGGHHHH. For one minute and 20 seconds.
Blade Runner
You could write an essay on the significance of eyes in Blade Runner. Someone undoubtedly has. But as awesome as Rutger Hauer is in the thumbs-in-eyeball department, he's no Daryl Hannah.
Minority Report 
This arguably wouldn't be here without Blade Runner's eye-gouging scene from years before. Equally unsettling, Spielberg's optical surgery gives his futuristic sci-fi dystopia a nice eerie feel. Plus we get to see Tom Cruise's eyes cut out by a mental person. Win.
And then there are the REALLY screwed up Japanese films...

Like this, in which a woman gets so much pleasure out of food and pain that she decides to eats her own eyeball. (Warning: this video contains footage of a woman eating her own eyeball.)
Naked Blood  
I DID warn you. 
But my favourite has to be this Italian film from 1975:
Gatti Rossi in un Labirinto di Vetro
Literally translated as "Red Cats in a Maze of Glass", this Italian horror (simply called "Eyeball" in English) is about a killer in a red mac who goes around plucking out people's eyeballs. You can tell this by the MASSIVE CLOSE-UP OF SOME WOMAN'S EYE that happens every three seconds in the trailer. Best of all, it's set to the sound of really jaunty music. And people screaming. And stuff.
Of course, no matter how crazy all this foreign eyeball frolicking gets, nothing is quite as freaky as Eyes Without a Face. No, not Georges Franju's seminal 1960 French horror. The Billy Idol song:
Eyes Without a Face 
Even without eye-gouging horror, this is just plain wrong.
You can get more Spanish eyeball goodness in cinemas from Friday 20th May. Read our Julia's Eyes review here.
Tags:
blade runner
daryl hannah
kill bill
minority report
rutger hauer
steven spielberg
the evil dead
the evil dead 2
tom cruise
un chien andalou