| | | |
| --- | --- | --- |
| Home Videos: Hook (1991) | | |
Written by Ivan Radford
Tuesday, 05 April 2011 09:08
I was up in the attic the other day feeding the ex-wife and came across something unexpected: a Joanna Trollope book. And, underneath the Trollope, a massive pile of VHS tapes. After several minutes of marvelling at this haven of modern technology (no HDMI cables, no upscaling, no scratched or lost discs), something struck me: this would be a great excuse for a blog post.
| | | |
| --- | --- | --- |
|   |   |   |
| Trollope in the attic. |   | My hidden childhood. |
So, every week I'll be delving into the blue PVC bag of my forgotten youth and digging out a video cassette to watch on a 37" HD LCD TV and enjoy all the grainy detail. Who knows? It may even be a good film.

The first to go in the VCR? Steven Spielberg's 1991 fantasy film, Hook.
The box itself is wonderfully naff, all green plastic and no special features. It should be noted that the VHS features DOLBY STEREO SYTEM sound, which is almost as amazing as the number of exclamation marks used in the synopsis - although "all children grow up... except one!" seems to be a gross misrepresentation of the film's basic plot, given that it's about a grown-up Peter Pan whose children are kidnapped by Captain Hook.

Whatever, there's a Hook symbol on the inside of the case. And that's awesome.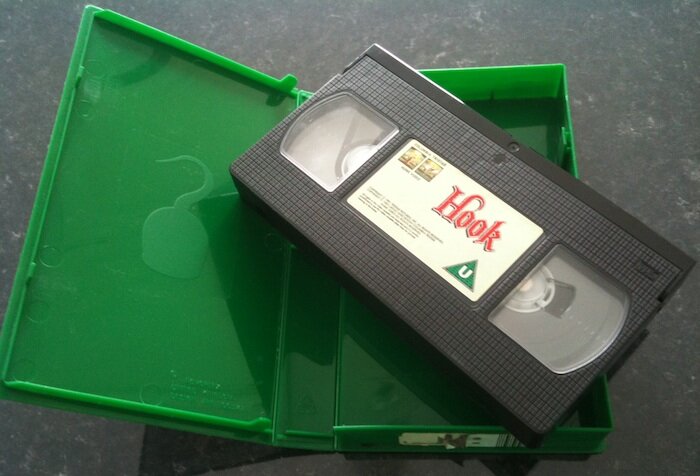 The VHS gets off to a great start with no trailers before the opening credits (in my memory, all old videos had those). Instead, we get the old-school TriStar Home Entertainment logo. Blurry, blue and looking like some kind of Blade Runner rip-off, it's so pixelated and horrible that it's almost as if the image is coming straight out of the screen at you. (Insert 3D joke here.)

The visuals, otherwise, are generally very impressive:




Suck on that, Alice in Wonderland Blu-ray.

A clever and witty take on the Peter Pan tale, Spielberg's family adventure kicks off with a dreadful school play of, you guessed it, Peter Pan. Annoying kids sing stupid lines like "We wanna be like Peter Pan. We don't wanna grow up!" while parents try not to look bored. A play within a film about a book? Charlie Kaufman's got nothing on James V. Hart (he went on to script such masterpieces as Lara Croft Tomb Raider: The Cradle of Life and Sahara).

Then we meet Peter Banning (Robin Williams), the adult Peter Pan. We can tell he's got no inner child because he has glasses, wears a suit, carries around a mobile phone in 1991, and misses his son's baseball games. Also, he's a lawyer. Boo, hiss.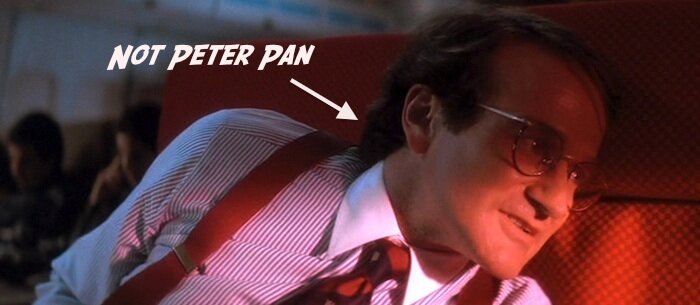 Even old woman Wendy ain't having none of that grown-up stuff. The first thing she does as soon as she lays eyes on Peter is diss the four-eyed loser: "So Peter… you've become a pirate!" No, the line makes no sense whatsoever (grandma's probably gone senile after snorting too much fairy dust), but who cares: it's Maggie fricking Smith. And no-one questions Maggie Smith.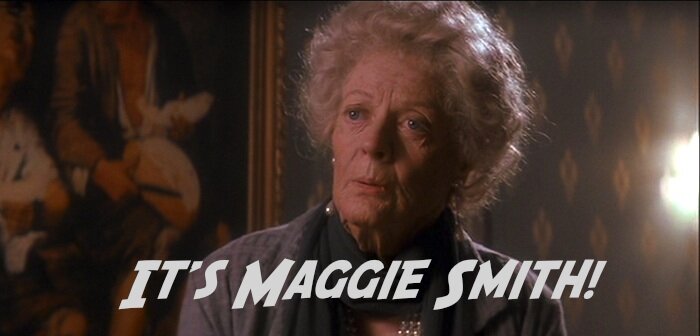 The stupidly good cast doesn't stop there. Bob Hoskins takes on Smee, a young Julia Roberts (hot on the heels of Pretty Woman) plays Tinkerbell, and to top it all off, Dustin Hoffman turns up as Captain James Hook, "the sleaziest sleaze of the Seven Seas".
 
I saw Hook when I were a wee lad - it's the first film I remember seeing in the cinema - so had no idea who Dustin Hoffman was. When I found out a few years later that it was Benjamin Braddock underneath all that make-up, I could tell he would one day star in something great, like that Sky Atlantic advert.

When not laughing in a villainous way, Hoffman's Hook spends his afternoons informing children that bedtime stories were invented to shut them up, and then mutters about shooting himself out of depression. He's clearly a very complex character.
 
 
Shits all over Jack Sparrow.

Then it's time to bring out The Lost Boys. For this, Spielberg deployed a classic array of orphan stereotypes: there's the black kid, the red head, the boy in the suit, the fat one, and the punk kid in charge, Rufio.

They all work together to remind Peter Pan how to fly, flight and crow (whatever that is) so he can rescue his kidnapped kids from the nasty pirates. Along the way, Peter plays basketball, finds his childhood teddy bear and has a food fight with pretend food: a set piece that only works if you like cheesy believe-in-yourself messages. Or brightly coloured paint.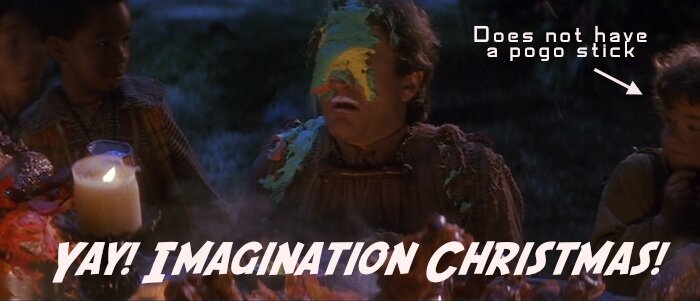 Quite how the children survive in the middle of the jungle on imaginary meals is anyone's guess. Especially the really fat kid. But that's soon forgotten that thanks to the film's decent swashbuckling action and self-aware sense of humour.

The production design, too, is as top-notch as you'd expect from a Spielberg project. The boat kicks the Dawn Treader's butt and the wire-work and blue screen effects look believable, even on VHS. No wonder it was nominated for Best Art Direction, Costume Design, Visual Effects and Make-Up at the Oscars.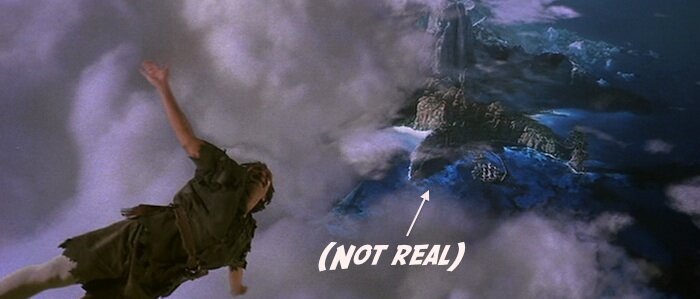 At 144 minutes, Hook is clearly too long (it's no Lord of the Rings), but at least it comes with a token John Williams score, which anticipates everything from Harry Potter to Jurassic Park. Williams earned the film its fifth Oscar nom - for Best Song.

Like a lot of Spielberg efforts, Hook is an engaging little family adventure that works as well as any of the Indiana Jones trilogy (i.e. it's better than Temple of Doom). Introducing kids to pirates before Jack Sparrow and doing J.M. Barrie before Finding Neverland, Hook is, in many ways, the perfect pre-Johnny Depp cinema outing. With its gaggle of child actors and hefty dose of pirates, it's perhaps best enjoyed as a companion piece to The Goonies. And that's not just because a fat child provides the movie's main comic relief.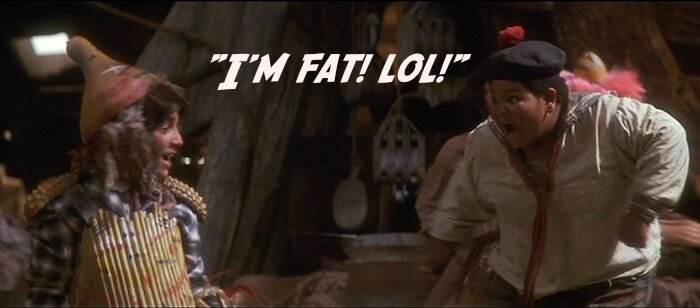 Hook is available now on VHS at all good charity shops for around 50p - although some guy on Amazon actually owns a brand new copy and is selling it for £5.79. What a douche.
Tags:
bob hoskins
dustin hoffman
finding neverland
home videos
hook
julia roberts
maggie smith
peter pan
pirates of the caribbean
robin williams
steven spielberg