| | | |
| --- | --- | --- |
| Pacific Rim Top Trumps | | |
Written by Ivan Radford
Monday, 15 July 2013 11:37
Kaiju feel the love tonight? The love of mass destruction? The thrill of metallic limbs pummeling mutant reptilian flesh? The smell of mechanical fluids and luminescent goo spraying all over a metropolis?
That's the one thing Pacific Rim has got going for it: big battles between big robots and even bigger monsters. But while these new beasts boast names like Gipsy Danger and Knifehead, how do they shape up against the Kaiju of old? Who would win in a fight, Leatherback or Godzilla? And what about the robots? Could Gipsy endanger The Iron Giant? Could the Terminator take down Tokyo's finest reptile?
Now, the answer is (sort of) here, with our very own set of (probably entirely inaccurate) Pacific Rim Top Trumps.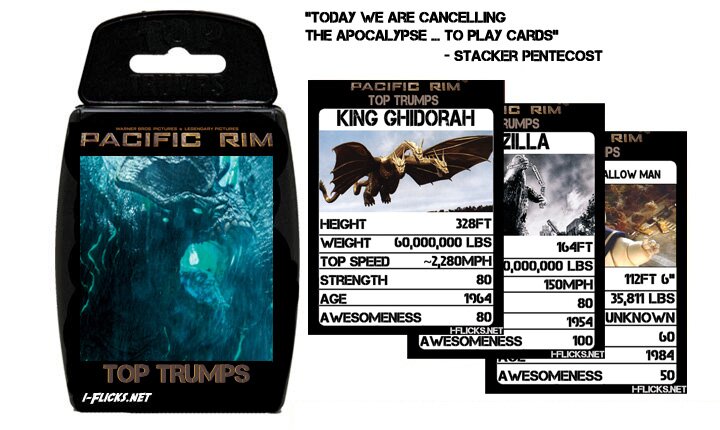 Cards have points divided into five categories: Height, Weight, Speed (where available), Age (the year that iteration of the monster/robot was first seen on a cinema screen) and Awesomeness (the coolness of its name, appearance and general bad-assery). Read on for the full rules.
Download the full deck here and enjoy battling monsters in the sunshine - or try one of our other decks, including Woody Allen Top Trumps and The Expendables 2 Top Trumps.
RULES
1. Shuffle and deal out the cards between players.
2. Take a card from the top of your pile and pick a category to read aloud. All other players must then do the same.
3. The highest number wins in all categories - except for age, when the earliest year wins.
4. If someone has "Unknown", the player whose turn it is must pick another category.
5. Whoever wins the round takes all the cards from that hand and has the next go.