| | | |
| --- | --- | --- |
| Shrek Forever After: New (Burnable) Pictures Online! | | |
Written by Ivan Radford
Thursday, 26 November 2009 12:27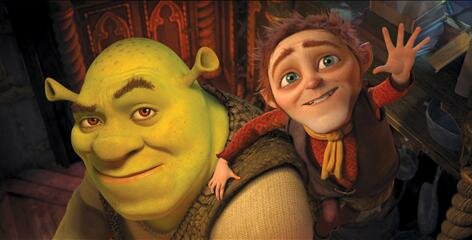 The end of Shrek is in sight, folks. Thank God for that. But before the ogre bows out for good, remember we've still got one more film to sit through: Shrek Forever After. But just in case you weren't scared enough, USA Today have got their hands on some images from the fourth in the franchise.

Continuing the fetid fairytale, Shrek 4 (let's use its real name) sees him "lose his roar", says director Mike Mitchell. "It used to send villagers running away in terror. Now they run to him and ask him to sign their pitchforks and torches."

And so Shrek does a deal with Rumpelstiltskin (voiced by Walt Dohrn - not Paul McCartney, as some people seem to think), leading to an It's a Wonderful Life set-up, which will no doubt crap all over its inspiration. Don't worry, though, because Mitchell has lined up a super-special cast, including Flight of the Conchord's Kristen Schaal (who's swiftly becoming psycho of the moment) and Mad Men's Jon Hamm (as a handsome, suave ogre). If Don Draper were in on this, he'd just say no.

But the green machine is unstoppable. Stomping into cinemas next year (in 3-D), Shrek Forever After will hopefully be shorter than its title. Of course, fans will no doubt be pleased that all the old cast are back, including Donkey and Puss in Boots: "All that was loved about Shrek in the first film is brought to the final film," announced Dreamworks. At least somebody's excited.

Read on for a picture of a CGI donkey. It's clearly worth a click. You could print it out and shred its face off.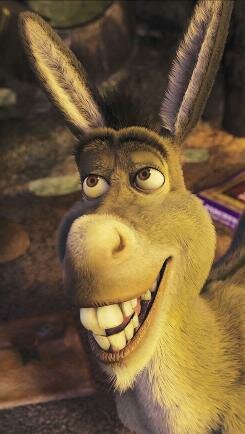 Tags:
donkey
eddie murphy
mike myers
pictures
puss in boots
ruined childhood
shrek
shrek forever after