| | | |
| --- | --- | --- |
| New Hunger Games Clip: Even Lenny Kravitz Can't Cure My Addiction | | |
Written by Ivan Radford
Wednesday, 07 March 2012 07:49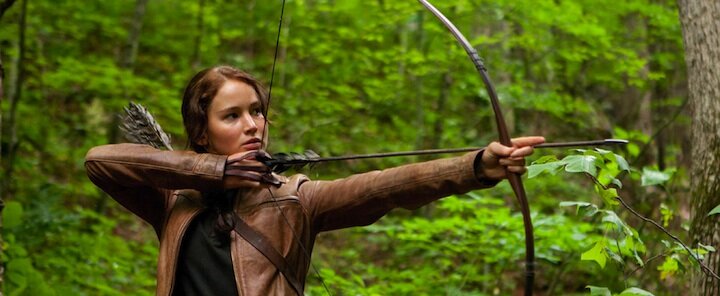 If you're unlucky enough to follow me on Twitter, you'll be aware of the terrifying addiction that took over my my life for the past 12 weeks: The Hunger Games.
When a big screen adaptation of Suzanne Collins' trilogy was first revealed, I took one look at it, was impressed, but dismissed it as Battle Royale. Several months later and I'm a changed man: I love the emotional (and surprisingly political) spin on the dystopian-reality-TV-kids-killing-each-other format; I'm torn between two fictional male characters (today is a Peeta day - yesterday was all about Gale); I have an unhealthy urge to shoot everything with arrows; and I can't wait to set my clothes on fire.
All of these things would actually be true if I were physically able to put the flipping books down. I'm reading them all again right now. I'm typing with my chin just so I can keep turning the pages. It's taken a frankly superhuman amount of effort just to look away from the text for two minutes to enjoy the latest Hunger Games clip - and even then, I could only manage it because I knew it contained Jennifer Lawrence as Katniss talking to Cinna, her down-to-earth stylist with a nose for costume flair. But even the first full clip featuring Lenny Kravitz talking fashion couldn't cure my addiction.
So before I go back to living between Collins' two covers, read on to watch the clip. Then start counting down to The Hunger Games on Friday 23rd March. Then start sending letters to Lionsgate to demand that they release this film as soon as possible. Then I can finally enjoy what looks to be a cracking cinematic version of Collins' novels, get over this obsession, and maybe, just maybe, I CAN GET MY SODDING LIFE BACK.
Still need a Katniss fix? Head over here to watch The Hunger Games trailer - or indulge in some authoritarian propaganda by reading the rather nicely done Capitol Couture magazine.
Tags:
jennifer lawrence
josh hutcherson
lenny kravitz
suzanne collins
the hunger games