| | | |
| --- | --- | --- |
| Titanic 3D Trailer Turns Up | | |
Written by Ivan Radford
Thursday, 17 November 2011 13:38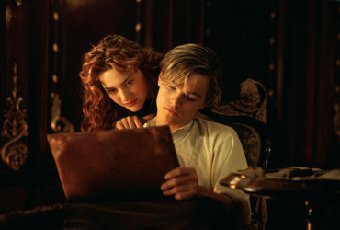 The Titanic 3D trailer turned up online last night - and it looks all reassuringly familiar.
James Cameron's "Titanic" is an epic, action-packed romance set against the ill-fated maiden voyage of the R.M.S. Titanic, the pride and joy of the White Star Line and, at the time, the largest moving object ever built. 
says the official synopsis. And we all know where it goes from there. Jack (Leonardo DiCaprio) meets Rose (Kate Winslet). Jack draws naughty pictures of Rose. Rose runs away from Billy Zane. The ship sinks. Everyone dies. And Billy Zane flounders about with a gun.
I'll be honest: I have a massive soft spot for Titanic. James Cameron is making a heck of a lot from this re-release, but the chance to watch it (probably for the 20th time) on a IMAX screen? I'm as excited as that Italian friend Leo has at the beginning of the film who disappears about halfway through and probably suffers an excruciatingly painful watery death.
Titanic 3D is in UK cinemas on Friday 6th April 2012 - 9 days before the 100th anniversary of the ship's sinking. It's going to be big. And even if you're not a fan of the film, let's face it, if you're not looking forward to seeing Billy Zane in a wet tux holding an M1911 pistol IN 3D, there's probably something wrong with you.
Read on for the trailer.