| | | |
| --- | --- | --- |
| UPDATE: 14 Days Until Full-On Monkey War | | |
Written by Ivan Radford
Friday, 29 July 2011 13:50
I cannot wait for Friday 12th August. Why? Because the second week in August will see nothing other than FULL-ON MONKEY WAR. 
Yes, Project Nim and Rise of the Planet of the Apes will be getting their filthy paws all over each other and monkey-slapping their arses to death in the foyer of your local cinema. 
The incredible thing about this simian oblivion is that both films look just a little bit amazing. On the one hand, you have Deep Blue Sea 2: Apes Will Rise, starring James Franco and Brian Cox. On the other hand, you have an Oscar-winning director introducing the cutest chimpanzee of all time.
Rise of the Planet of the Apes. Project Nim. Who will win the big primate showdown? There's only one way to find out...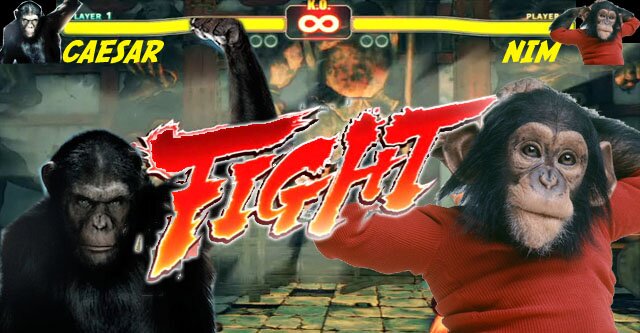 Round One: SCIENCE
"Our therapy enables the brain to repair itself..." says James Franco, proud that he can cure diseases like Alzheimer's. But when they feed the drug to smart ickle ape Caesar, as a side effect, he gets smarter. And scientifically speaking, we all know that nothing is as dangerous as a clever ape. Apart from a clever shark, of course.
Nim, on the other hand, was raised as a human, and proved that a primate could learn to communicate with sign language. There are no magic pills here, but the humans do give a chimp alcohol and cigarettes like he's a normal human child. That's real science. And it's more disturbing than a CGI revolution any day.
Conclusion: Nim wins at science because it's real. And unsettling.

Round Two: STRENGTH
Now they're smart and organised, Caesar's army of angry apes have the strength to open doors, drive cars, and even attack helicopters... Oh yeah, these apes can rise, beeatch. Look at them! Rising! Like little furry baking products... OF DEATH.
Poor baby Nim doesn't have much strength. Unless you count the ability to rip your heart out. Metaphorically, of course. (If either film features an ape literally ripping out someone's heart, it's officially the best film of 2011.)  
Conclusion: Caesar wins this round for sheer Deep Blue Sea-level chimpanzee carnage. 

Round Three: LOOKS
No-one likes armpits with lights flashing out of them. Fact. But cute red jumpers? We can all get on board with that.
Conclusion: Nim's got better fashion sense than anyone. Even Pippa Middleton couldn't pull off that jumper with such style.

Round Four: SYMPATHY
It's not nice to see an ape locked up in a cage, whether it's real or a CGI Andy Serkis. But while both chimps do some time behind bars in scientific captivity, one of them clearly shouldn't be trusted. Just look at Caesar's face: you can tell he's plotting something evil. Now look at Nim. Awwwwwwwww.
Conclusion: Caesar's decision to revolt is moving stuff, but Nim didn't complain about his confused upbringing. He didn't blow up helicopters or torch buildings. He just used sign language to say things like "Give eat orange" and "Tickle me Nim". Bless.

Round Five: CRAYONS
When it comes to intelligent apes, all we really want to know is one thing: can they use a crayon? The answer is yes. But while Nim's penmanship is admirable, Caesar's joy at using the crayon is way more obvious. He even draws a smiley James Franco face. Plus he goes for a pretty green one - now there's an ape who knows what colour crayon he wants, dammit.
Conclusion: Caesar gains back some points with his silky Crayola skills.

As the dust settles and the primate brains peel off the walls, Nim emerges as the champion. Now all we need is some crazy cinema manager to actually get an army of apes to fight it out in the foyer.
And for those who can't wait for the ape-ocalypse to arrive, check out the extremely cute Project Nim trailer and clips, or have another look at the Rise of the Planet of the Apes trailer. Then start learning sign language and start stockpiling fruit. Rise of the Planet of the Apes vs Project Nim? You're going to need all the bananas you can get.
(Note: I may use the words interchangeably because "Monkey War" sounds good, but monkeys and apes are NOT the same thing. When the ape-ocalypse happens, make sure you can tell the difference. This video from the rather excellent Veggie Tales should help.)
Tags:
brian cox
james franco
rise of the apes
rise of the planet of the apes