| | | |
| --- | --- | --- |
| New Rise of the Planet of the Apes Trailer Looks Better than Deep Blue Sea | | |
Written by Ivan Radford
Thursday, 23 June 2011 08:09
The new Rise of the Planet of the Apes trailer hit t'interweb yesterday and it's proper awesome stuff.
Somehow, through an amazing combination of James Franco, Brian Cox and CGI monkeys, Fox have turned this baby from laughably-named sequel (Eyes of the Rapes is still my preferred title) to potentially the best movie of the summer. How? As we briefly discussed before, they've gone and copied one of the greatest films of all time: Deep Blue Sea.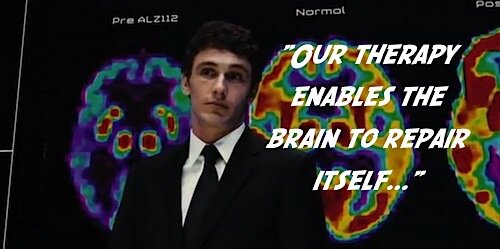 Deep Blue Sea 2: Monkey Business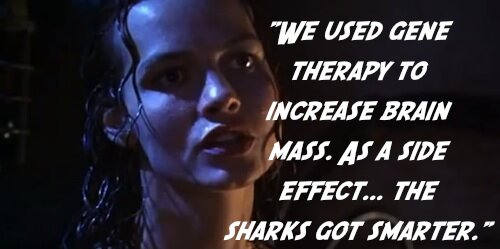 Sharks. Will. Rise.
Everyone knows it's scientific fact that monkeys and sharks are basically identical. They both have faces. And teeth. And other animal bits (ask your parents when you're older). So swapping one for the other is an inspired idea. And it looks like they've pulled it off.
Of course, Deep Blue Sea had more than just sharks going for it. There was Samuel L. Jackson, just waiting to be gobbled up in the middle of an inspirational speech. Rise of the Planet of the Apes' answer? David Oyelowo (the excellent Danny from BBC's Spooks), plus evil scientist Brian Cox (not that one) and his son, Tom Felton.
But Deep Blue Sea also featured LL Cool J as the on-board chef (can you say "Meg Ryan is a helicopter pilot"?) and he had a pet parrot. How do you match that? Quite simple, really. Get a monkey to hold a crayon:


Sharks can't hold crayons. Fact.
With the new Rise of the Planet of the Apes trailer again highlighting the emotional development of Andy Serkis' mo-capped monkey, Caesar, it's a promising sign that director Rupert Wyatt knows his character shizzle even better than his monkey-shark anatomy (look for the convincing Napoleon Dynamite impression around the 50 second mark).
All we have to work out now is when exactly Tom Felton and/or Brian Cox will get beaten to death by angry chimps. I bet they don't last more than 62 minutes.
Rise of the Planet of the Apes is released in the UK on Friday 12th August. Head this way to see more Rise of the Planet of the Apes trailers (including one with added crayon action).
Read on for the full new trailer - if you want to avoid seeing the whole plot explained, the Deep Blue Sea trailer's here. As for the crayons, you'll have to go find your own to play with.
Rise of the Planet of the Apes is out on Friday 12th August - the same day as Project Nim. See what we think will happen when Rise of the Planet of the Apes and Project Nim wage full-on chimpanzee war.
Tags:
brian cox
james franco
rise of the apes
rise of the planet of the apes
rupert wyatt
tom felton