| | | |
| --- | --- | --- |
| Tinker, Tailor, Soldier, Spy Trailer - Better than Channel 5's The Mole? | | |
Written by Ivan Radford
Thursday, 30 June 2011 12:41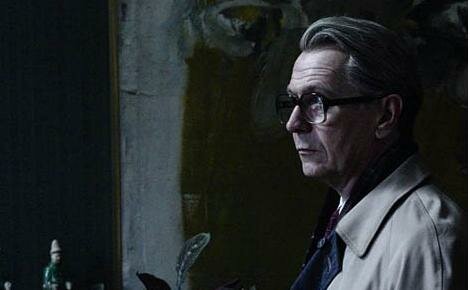 "There's a mole. Right at the top of the circus..."
Just when you thought 2011 was looking dull and nothing would ever make you feel all Smiley again, up pops the international teaser trailer for Tinker, Tailor, Soldier, Spy. And it's flipping perfect. PERFECT, I say. 
Adapted from the seminal John le Carré spy novel - already transformed into that classic BBC series starring Alec Guinness - the film follows George Smiley sneaking about inside MI6 trying to uncover a mole. The most exciting thing? It's directed by Let the Right One In's Tomas Alfredson. Oh, and George Smiley is played by Gary Oldman. And Colin Firth is in too.
I could go on. Actually, it's far easier if I just write a long list of awesome things. You can fill in the gaps with squees of excitement. John le Carré. Gary Oldman. Tomas Alfredson. Colin Firth. Tom Hardy. Mark Strong. Toby Jones. Benedict Cumberbatch. John Hurt. September 16th.
Released exclusively over at the Guardian, the trailer (complete with sinister strings on the soundtrack) is pretty much 80 seconds of perfection. A perfect story of subterfuge and double-crossing? Oh yes, this could even be better than Channel 5's classic reality TV series The Mole. And that had helicopters. And a really cheesy opening credits sequence.
Read on for the full Tinker, Tailor, Soldier, Spy video. Sadly, you'll have to wait over two months to find out if George Smiley identifies the mole, the traitor, the insider, the saboteur. Oh wait, that's the intro to the Channel 5 series again. Read on to see a video of that as well.
Tinker, Tailor, Soldier, Spy (2011)
Could Tomas Alfredson's film really be better than this?
The Mole (2001)
It's undeniable that the two are very similar. 
Head this way to read our Tinker, Tailor review.
Tags:
benedict cumberbatch
colin firth
john hurt
john le carre
mark strong
tinker tailor soldier spy
toby jones
tom hardy
tomas alfredson