| | | |
| --- | --- | --- |
| Green Lantern Doesn't Light Up UK Box Office | | |
Written by Ivan Radford
Wednesday, 22 June 2011 09:47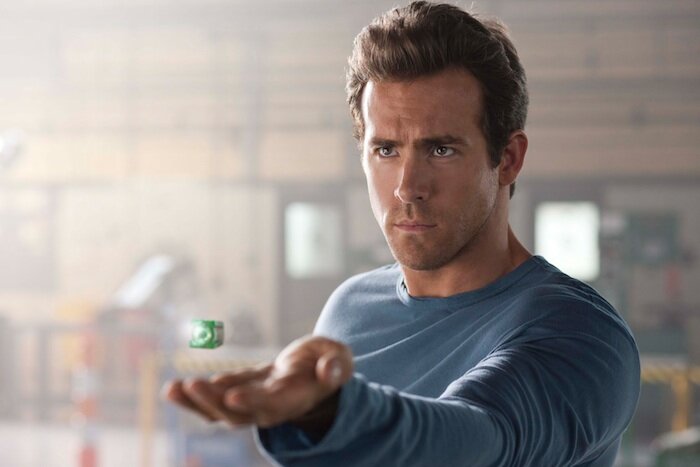 Green Lantern didn't light up the UK box office this week, taking £2.5m in its opening weekend.

It's hard to find a single person who thought that Green Lantern was good. And so it's no surprise that Warner Bros' comic book hero couldn't mount more than £3m for its debut.
It's not a terrible amount (compared to, say, the definitively floppy Tron: Legacy last year) but it's way below the £5.3m you'd theoretically expect after Lantern's US haul of $53m.

All the other big summer movies so far have opened around the £5m mark. Even Fast & Furious 5 managed that, and they didn't have Ryan Reynolds dressed up like a CGI leprechaun on every bus stop around the country.

Still, Green Lantern did beat Kung Fu Panda 2 to the top spot. Po's second week takings of just over £2m are a sizeable drop from his £6m debut (including previews), especially given Kung Fu Panda 2 has the highest number of screens in the UK at the moment - it lost just two of its 500 odd total from last week, so the £9m running gross is probably a little below what the industry was expecting. But there's still no major kids competition in multiplexes for weeks, so DreamWorks shouldn't be worrying just yet.

Bad Teacher is in third spot, taking home just under £2m in class credit. Programmed to play to the opposite crowd to Green Lantern, Sony will be pleased to have anything on the board before Bridesmaids comes along this week and wipes the slate completely; Paul Feig's wedding rom-com has been a big hit in the US, so Sony were probably wise to get out there a week early.

The rest of the UK Top Ten stays the same, with The Hangover Part II, X-Men and Pirates 4 all dropping standard percentages, allowing room for Senna to stay in seventh. It's barely lost a penny (down from £400k to £376k) in its third week and has raced from 122 cinemas up to 185.

With a peak of 359 cinemas (insane for a documentary) for one day only on Tuesday this week, Senna has become a multiplex sensation. With £1.7m from three weeks on release, the F1 movie should comfortably lap the £2m mark by next week, further boosting its position as one of the highest grossing documentaries in the UK ever (if you don't include stuff like Michael Jackson's This Is It). 

Other arthouse releases can't match that kind of pace, and shouldn't be expected to. But Catherine Deneuve's latest, Potiche, did well to grab £201k from 30 odd screens. That's a high per-screen average and enough to secure the French film a place in the UK Top Ten. The best part? It's above flipping Honey 2.

Indie vamp horror Stake Land had a more traditional screen average, around £60k for 60 screens, which almost matches YouTube documentary Life in a Day (on £45k from slightly fewer than 40 screens). Both are definitely not flops.

Oh no, that title is reserved for two other films. Firstly, The Beaver, which got around £5k less than Stake Land from 88 cinemas. It's not the first time that someone's described Jodie Foster's Beaver as a let-down, but it may be the last time you have to put up with my incessant beaver innuendoes (in-your-end-oes)

But Mel Gibson's hand-puppet-comedy-drama-thing still did better than Swinging with the Finkels, which has a dreadful per-screen average of approximately £200, despite opening in over 100 cinemas for no apparent reason. If you haven't heard of Swinging with the Finkels, count yourself lucky. 

For full box office figures, head over to Box Office Mojo. 
Tags:
green lantern
kung fu panda 2
senna
stake land
the beaver