| | | |
| --- | --- | --- |
| Kung Fu Panda 2 Kicks UK Box Office Ass | | |
Written by Ivan Radford
Wednesday, 15 June 2011 10:21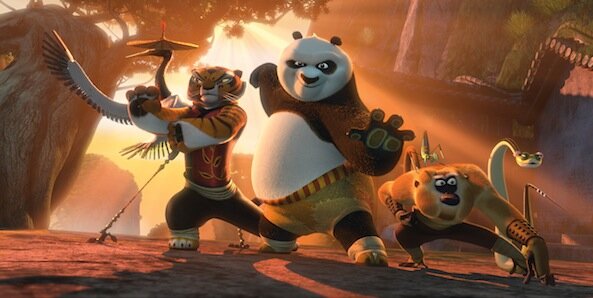 Kung Fu Panda 2 kicked the UK Box Office's ass this week, taking £6.19m in its first weekend.

That's a massive relief for everyone who thought that The Hangover Part II might grab hold of the top spot, proving that there's nothing as satisfying as seeing an overweight panda punch Bradley Cooper in the face.

Yes, that figure includes previews and 3D ticket prices, but it's still officially a step up from the first Kung Fu Panda, which opened on £6m, so DreamWorks will be fairly chuffed to see their chubby dragon warrior bringing in the kids. With Rio finally down at number ten in the UK charts, expect the Kung Fu Panda to stick around well into the summer holidays.

The Hangover 2 is still terrifyingly successful in second place. It dropped 28% to take under £3m in its third week, but is now on a total of over £26m. Warner Bros will be laughing.

That standard 30% dip was matched by X-Men and Pirates, both in third and fourth place respectively. Pirates is ahead of The Hangover 2's running total (it's just over the £29m mark), while X-Men: First Class has clawed together a gross of £10m. It's not bad going, but it's still not on a par with X-Men Origins: Wolverine, which took just over £12m in two weeks. Hopefully the prospect of going to see Green Lantern will push comic book fans towards Matthew Vaughn's excellent prequel.

While things went boom in blockbuster land, Honey 2 was hoping for some counter-programmed luck. Taking £520k from 300 odd cinemas, the dance sequel smells of something that definitely isn't honey. Then again, the first Honey movie, which starred Jessica Alba, arrived way back in 2004. It's hardly a franchise title anyone would remember.

And so once again, it's a documentary that prove the weekend's biggest hit. F1 racing doc Senna got over £400k in its second week after claiming approximately an extra 50 cinemas. The result? An increase of 17%. Which is amazing.

With Senna's box office total of £1m across 14 days almost equalling TT3D: Closer to the Edge's total after eight weeks, TT3D's drive-away success is about to be lapped by Senna considerably. It's great to see such a healthy response, especially after the high numbers for Cave of Forgotten Dreams and Pina a few months ago. No wonder BAFTA are reintroducing the documentary category to the awards.

With Green Lantern fast approaching on a wave of mocking laughter, most holdover titles won't be too worried about Ryan Reynolds and his little shiny magic ring. Indie horror Stake Land may carve out a patch of its own for blokes who have already seen X-Men and The Hangover, but it will be interesting to see what the audience appeal is for Mel Gibson in The Beaver. 

Otherwise, most studios will be hoping for another weekend of good attendance before Bridesmaids comes in and wipes the floor with them all in two weeks. Let's hope Senna gets another lap in before then.
For full box office figures, check out Box Office Mojo. 
Tags:
bafta
cave of forgotten dreams
comic book
green lantern
honey 2
kung fu panda 2
pirates 4
senna
stake land
the hangover part ii