| | | |
| --- | --- | --- |
| Hop Leaps Top of UK Box Office - Source Code in Strong Second | | |
Written by Ivan Radford
Wednesday, 06 April 2011 08:23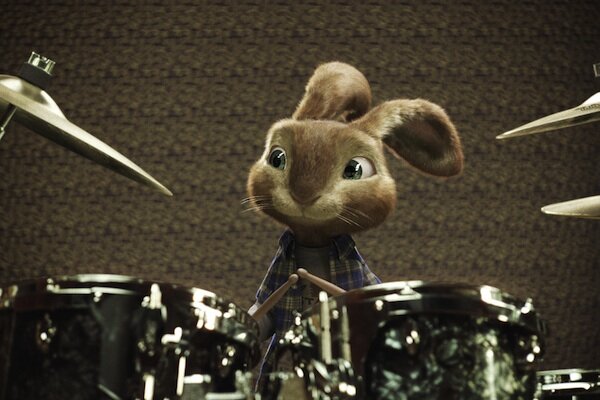 Hop leaps to the top of the UK Box Office this weekend, taking £1.4m - just ahead of Duncan Jones' Source Code on £1.3m.

It's no surprise that the kids animation won out over the sci-fi thriller, but the difference is barely £90k. That's impressive in itself, but considering that Hop has 70 more screens than Source Code, it's a ringing endorsement for the Moon director's excellent caper. It boasts the highest screen average of all films in the UK Top Ten.

Third place goes to the still strong Limitless, which dropped about 40%, but posted the second highest screen average to take £1.2m. It's a solid week for the top three, all earning over £1m, although it's a way down from this time last year when Clash of the Titans was at number one. Speaking of loud, dumb and unpleasant movies, how did Sucker Punch do?

Zack Snyder's shallow tits-fest flopped in fourth place, taking just over £800k despite showing in almost 400 cinemas. After bombing in the US with $19m, the old 10% rule should have put Sucker Punch close to £1.9m. It didn't even reach half that amount. Warner Bros won't be pleased.

The rest of the charts fill out as expected - a bit of Eagle (down to fifth) here, a bit of Rango (drops to seventh) there - but special mention goes to Anuvahood, which has notched up a running total of £1.65m in ninth place, increasing its cinema share once again to over 150 for its third week of release. A bare safe run to bow out on, innit. Indie distributor Revolver will be chuffed. Mainly because it means I stop writing sentences in fake ghetto speak.

Faring less well is new release Killing Bono, which debuted down at number 15. Racking up a mere £112k from around 250 cinemas, it's a poor turnout for the U2-based period drama, which still hasn't found the audience it was looking for. Ho ho ho. Everything's coming up bright for Oranges and Sunshine, though, which pulled together £82k - not brilliant for an arthouse release, but it was only showing in 40 odd screens, so Jim Loach is easily outclassing Bono in the money stakes. Nice one, Ken Jr. That's my boy.

The question now is whether Source Code can stay near the top for another couple of weeks. Hop will lose screens to Rio (as will A Turtle's Tail - that's dropped down to sixth already) but there isn't much to steal away Source Code's demographic - unless you count Aussie teen invasion flick Tomorrow, When the War Began. Most people wouldn't.

To see the full box office figures, head over to the UK Film Council or Box Office Mojo. 
Tags: