| | | |
| --- | --- | --- |
| Four Awesome Things About The Tree of Life Poster | | |
Written by Ivan Radford
Tuesday, 29 March 2011 09:16
In a wonderful "screw you, Cannes" moment, the world discovered last night that Terrence Malick's Tree of Life would be getting released in the UK on Friday 4th May. Yes, that's May this year (not 2012) BEFORE Cannes happens. Which was brilliant news.

Then it turned out that it probably wasn't true at all - and Empire got it wrong. Well done, Empire.

Fortunately, there's still a beautiful new poster over at IMDb to cheer us all up.

An epic mind-fuck of crazy proportions, Tree of Life could be one of Malick's best - or it could turn it to be The Fountain. It's hard to see which at the moment, but the official synopsis says that it's a tale about an 11 year old called Jack, who lives in the Midwest and sees wonder in the world around him as he grows up. "It ends in hope, acknowledging the beauty and joy in all things, in the everyday and above all in the family..."

Anyway, moving on from the message of "unselfish love", here are the awesome facts that the Tree of Life poster tell us about the film. Which will still premiere at Cannes. Dammit.
1. IT HAS DINOSAURS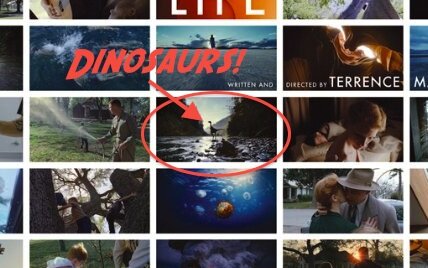 Dinosaurs are awesome. Fact. Which either sets Tree of Life up as an existential sequel to Jurassic Park, or as something approaching  The Kids Are All Right / You Will Meet a Tall Dark Stranger / Never Let Me Go but with added dinosaurs. And we can all agree that those near-identical posters could have done with a sprinkling of dinosaur goodness.
2. IT HAS SEAN PENN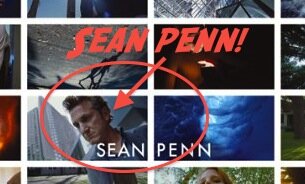 Not to be confused with a dinosaur, Sean Penn is obviously the best thing about the whole thing. Just ask Sean Penn - he'll confirm that.
3. IT HAS TREES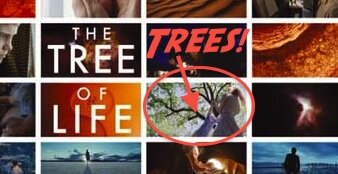 Oh yes, Tree of Life has trees. It has trees all over it. Its life is fricking made of trees. In fact, it's probably the best movie about trees since The Happening. It might even be better than The Happening. Imagine that.
4. IT HAS PRETTY PICTURES

Well, duh. That's like saying a Michael Bay film has explosions. But with astronomical and microbial imagery promised by Mr Visual Effects Supervisor, Dan Glass, these will be awesome pretty pictures the likes of which have never been seen before. Apart from in all those other Terrence Malick films where there were loads of pretty pictures. Quel surprise.
5. HA HA, CANNES (OR NOT)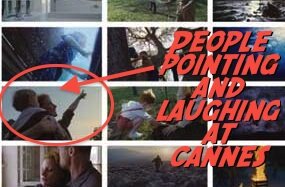 Let's all point and laugh at Cannes together, just for the fun of it. Oh no, wait, it turns out that actually that's a picture of Cannes pointing and laughing at us after all. Sad face.
For those wondering, read on to see what the full poster looks like: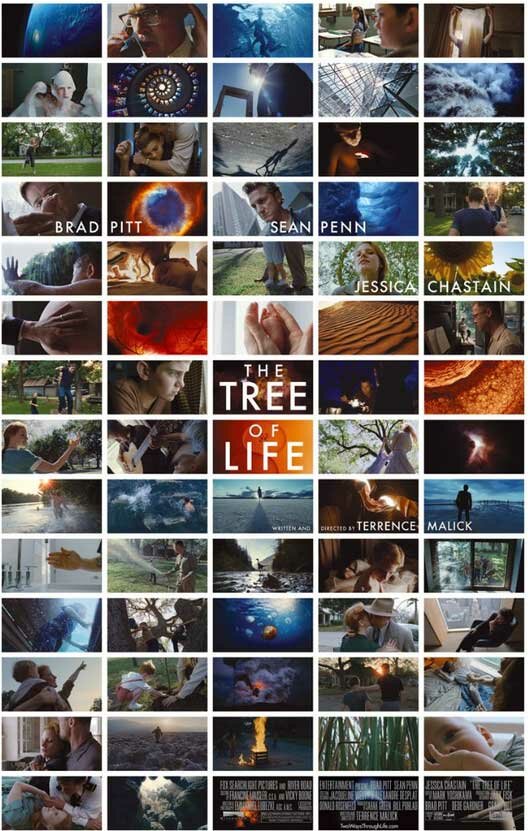 Tags:
brad pitt
sean penn
terrence malick
the tree of life