| | | |
| --- | --- | --- |
| Relive the First Five Minutes of Source Code Over and Over and Over and Over... | | |
Written by Ivan Radford
Tuesday, 15 March 2011 12:49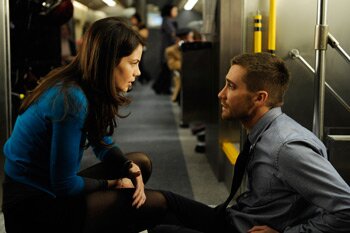 Thanks to the wonders of modern technology, you can now transport yourself into my body IN THE FUTURE and see what I shall be seeing at 6.30pm today.

Then, if you wish, you can relive those same 5 minutes of my life over and over again – until a train blows up.

Yes, the opening of Source Code has now appeared online at Yahoo! Movies. You can thank them or shout at them as you wish. And, thanks to modern technology, you'll be able to thank or shout at them over and over again as many times as you wish (warning: that won't stop the train blowing up).

Read on for the video, or just watch the Source Code trailer instead. Or for a truly spoiler-free experience, just gaze longingly at the Source Code posters. It's released on Friday 1st April.
Tags:
duncan jones
jake gyllenhaal
michelle monaghan
moon
source code