| | | |
| --- | --- | --- |
| Gnomeo Tops Half-Term While Drive Angry Crashes at UK Box Office | | |
Written by Ivan Radford
Tuesday, 01 March 2011 09:49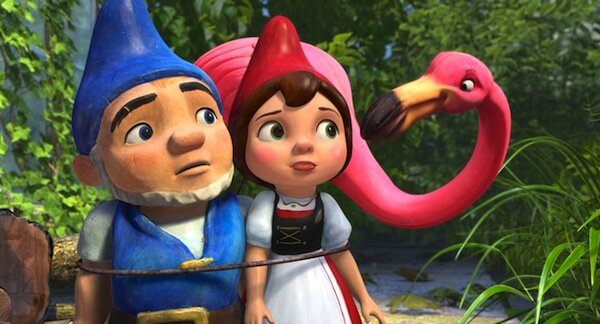 Gnomeo & Juliet has climbed back to the top of the UK Box Office during half-term, while Drive Angry 3D crashed outside of the Top Ten. 

It's not much of a surprise that a 3D animated film benefitted most from school holidays, with Gnomeo taking £2.5m (up by £300k) over the weekend. It's sad that the dwarf mess came out on top, but at least it's a long way ahead of Yogi Bear, which saw a weekend rise of £90k, jumping from sixth to fourth place.

Completing the animated hop up the charts was Tangled, which leapt two spots to fifth. It only increased by £60k, but given most of its five weeks have been during term time, a gross of £19.1m is impressive - although it does highlight how the holidays have helped Gnomeo to claw together its £12.9m total.

Paul was pushed to second place by the swarming kiddies, with a strong £2.07m from the weekend (£4.6m across the whole week). That leaves it firmly on a £10.1m gross, which puts it way out in front of Shaun of the Dead's lifetime total of £6.46m, although behind Hot Fuzz's second-week sum of £11.9m. Universal won't be complaining about that.

The new releases were led by I Am Number Four, D.J. Caruso's sci-fi nonsense, which debuted in third. It took £1.63m, which is very good given the negative buzz around it, although that does include £500k previews. Counter-programmed rom-com No Strings Attached, which boasted bigger names in Academy Award-winner Natalie Portman and Ashton Kutcher, fared less well, picking up £979k. Let's be clear, though: that's a good opening figure. It just looks worse when compared to Alex Pettyfer and his shape-shifting dog.

But the big surprise was Drive Angry 3D's box office takings - it politely pulled into 11th with just £651k from almost the same number as screens as No Strings. Put that next to Season of the Witch's £559k (it opened in a comparable 306 cinemas) and you can see that the magic of Nic Cage's hair is wearing off these days. Both had over 300 screens in the UK, but neither made an impact in the Top Ten.

The Cage marginally beat The Rite thanks to 3D and its Thursday previews; Anthony Hopkins only managed £626k, despite the horror genre usually being very popular with cinemagoers. Again, though, these are not terrible amounts: they're disappointing, but average openings. They just look bad compared to Ashton Kutcher with his trousers off.

The problem for Cage and Hopkins is that it's another very busy week at the UK Box Office, with six films earning over £1m (usually, £600k would easily grab you a place in the bottom half of the table). For any new film to break into the Top Ten now, especially while The King's Speech is in play, is a mark of success. 

Bizarrely, it was the sequel nobody asked for that slotted into tenth place. West Is West got £758k, comfortably out-performing The Rite and Drive Angry even though it had 100 fewer sites (185 compared to around 352 and 307 screens respectively). Justin Bieber, meanwhile, continued sinking with a near-50% drop leaving him in 14th place. Baby baby baby, no. Etc.

In The King's Speech news, old Bertie dropped 28% to take £1.2m, which is another phenomenal sum for Tom Hooper's Academy Award-winning costume drama. It's on £39.85m overall now, which I'm willing to call £40m for the sake of everyone's sanity.

The King's Speech is already in the top 30 UK all-time box office records, 29th to be exact. That's one above Star Wars: Episode III - Revenge of the Sith. And one below Indiana Jones and the Kingdom of the Crystal Bumhole. What a horrible sandwich. All Momentum need to do now is chuck another ton of money at their marketing department and watch that figure continue climbing on a wave of Oscar buzz. £45m? I wouldn't rule that out just yet, but Momentum's momentum is definitely running out.

Next week in Box Office Nerdery 2011: Can Liam Neeson beat Nic Cage? Has Rango has missed the half-term boat? And is there anyone left who hasn't seen The King's Speech? 
Tags:
alex pettyfer
ashton kutcher
drive angry 3d
i am number four
natalie portman
nic cage
no strings attached
the rite