| | | |
| --- | --- | --- |
| Rubber Gets New Poster! | | |
Written by Ivan Radford
Wednesday, 19 January 2011 14:05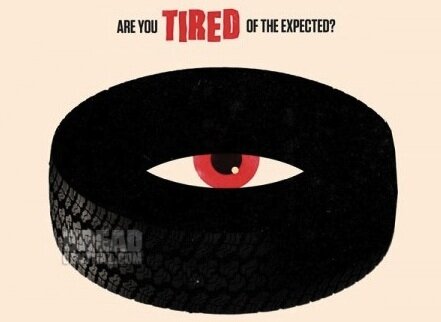 Rubber - officially The Best Trailer of 2010 - has just got itself a snazzy new poster. It's cool, it's classy, it's a picture of a tyre that kills you with its telepathic powers. What more could you want?

Quentin Dupieux's mental movie (about a tire called Robert) is out in April in the States and looked like a must-see, until this poster came along. Now it's a definite sell-your-wife-to-see-or-at-least-shoot-a-small-child movie.

No surprises there, though, because the poster's by an old flame of mine, Olly Moss - a man whose artistic talent is only outdone by his sexy, sexy hair. He'd agree with me on that too.

There's a new, longer theatrical trailer up on Apple too. Read on to see that (and the sexy new poster). Then run in terror every time you see a vehicle with wheels.