| | | |
| --- | --- | --- |
| BAFTA Rising Star Nominees - Mostly Well Risen | | |
Written by Ivan Radford
Monday, 10 January 2011 13:08
Gemma Arterton. Andrew Garfield. Tom Hardy. Aaron Johnson. Emma Stone. Yes, this year's BAFTA Orange Wednesdays Rising Star Award candidates are all rising and/or mostly risen.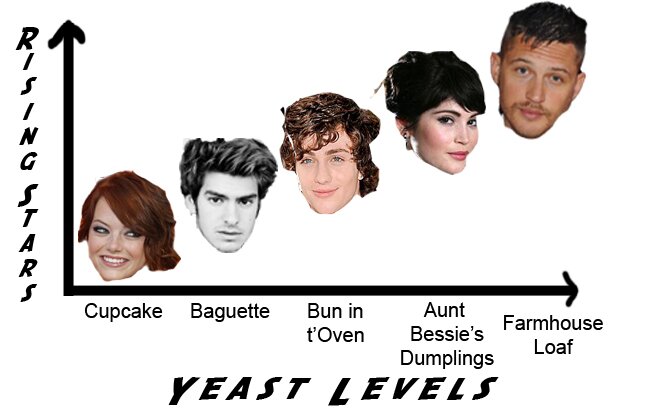 Gemma Arterton was a Bond girl - just about - in 2008 and then went on to star in Clash of the Titans and Prince of Persia. The Disappearance of Alice Creed and Tamara Drewe were small films, sure, but once you've hit two large studio films a year, you're pretty much there in the rising stakes, right?

Tom Hardy hit the big time with Inception, but even before Bronson boosted his name, he'd been a big screen stalwart for some time. Forget Layer Cake and Rocknrolla, this guy was Picard's evil clone in Star Trek: Nemesis. That was 8 years ago. That's well risen, baby. Like a farmhouse loaf.

Aaron Johnson got a lot of attention when he debuted in Nowhere Boy. Then he went on to star in Matthew Vaughn's Kick-Ass. Despite his naff decision to star in Chatroom, he's a solid (but late) pick for Rising Star. He's this year's bun in the oven. And that's not a reference to Sam Taylor-Wood.

The same can be said of Andrew Garfield - albeit to a lesser extent. He was excellent in The Social Network and awesome in Never Let Me Go. But back before then? Well, you're looking at Dr Who and TV's Red Riding Trilogy. He's risen to perfection in one calendar year. He doesn't need another leg to add to Spider-Man's 3D limbs, but he's perhaps the most deserving on the list.

Until you factor in Emma Stone, who jostled with Jesse Eisenberg for attention in Zombieland, sexed up Superbad and charmed her way through Easy A. She's so hot right now. And has been for several years.

Of course, it sucks that Riz Ahmed and Noomi Rapace aren't on the final list. You have Orange Wednesday customers to blame for that. Still, Spidey and Peter Parker's girlfriend Gwen Stacy going head-to-head? Just as they start filming Marc Webb's 3D reboot? Forget Orange Wednesdays: these should be the Sony Rising Star Awards.

Voting is over this way.
Tags:
aaron johnson
andrew garfield
bafta
chatroom
clash of the titans
easy a
gemma arterton
kick-ass
newcomer