| | | |
| --- | --- | --- |
| Golden Globes Get Nominations Wrong | | |
Written by Ivan Radford
Tuesday, 14 December 2010 17:38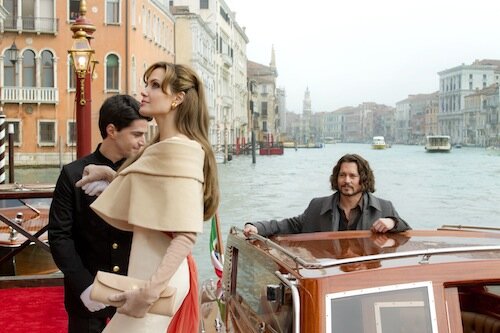 WRONG. WRONG. WRONG. WRONG. WRONG.

Speaking of wrong, let's talk about the Golden Globe nominations. The nominations which not only suggested that The Tourist was one of the Best Films of the year (Comedy or Musical), but also that Johnny Depp's performance in it was only rivalled by his other performance in Alice in flipping Wonderland.

There's not been a more wrong set of votes since Nick Clegg won Most Honest Pupil at his primary school in 1977.  

In the Drama categories, everything stayed on course. Most of the time. Black Swan, The Social Network and The King's Speech are all fighting it out with The Fighter as expected. Even Inception has got a look in, which is a reassuring sign that Nolan won't get snubbed again at the Oscars after The Dark Knight's lack of screenplay/director nominations.

But then weird things happened. Like David O'Russell and Tom Hooper getting the nod ahead of Danny Boyle. Wrong. Nicole Kidman in Rabbit Hole getting a nomination instead of Sally Hawkins in Made in Dagenham. Wrong. Scott Pilgrim not getting mentioned anywhere, never mind The Ghost (Writer). WRONG.

The only thing the HFPA got right (other than Christopher Nolan's Best Director nom) was Emma Stone's mention for Easy A. That and giving both Julianne Moore and Annette Bening a place in the line-up for The Kids Are All Right, which is also holding its own in the screenplay category.

Still, at least How to Train Your Dragon is getting some recognition in the Best Animated Feature race. Toy Story 3 will beat everything to it, but if you don't smile like a baby when you see The Illusionist's nomination, you're as thick as Angelina Jolie's lips.

Read on for the full list of film nominees. Then count how long until you start shouting "STOP GETTING GLOBES WRONG!"
Best Motion Picture – Drama
The Social Network
Inception
Black Swan
The Fighter
The King's Speech


Best Performance by an Actress in a Motion Picture – Drama
Halle Berry - Frankie and Alice
Nicole Kidman - Rabbit Hole
Jennifer Lawrence - Winter's Bone
Natalie Portman - Black Swan
Michelle Williams - Blue Valentine 

Best Performance by an Actor in a Motion Picture – Drama
Jessie Eisenberg - The Social Network
James Franco - 127 Hours
Colin Firth - The King's Speech
Ryan Gosling - Blue Valentine
Mark Wahlberg - The Fighter


Best Motion Picture – Musical or Comedy
Alice in Wonderland
Burlesque
The Kids Are All Right
Red
The Tourist 


Best Performance by an Actress in a Motion Picture – Musical or Comedy
Annette Bening - The Kids Are All Right
Julianne Moore - The Kids Are All Right
Anne Hathaway - Love and Other Drugs
Angelina Jolie - The Tourist
Emma Stone - Easy A 


Best Performance by an Actor in a Motion Picture – Musical or Comedy
Johnny Depp - Alice in Wonderland
Johnny Depp - The Tourist
Paul Giamatti - Barney's Vision
Jake Gyllenhaal - Love and Other Drugs
Kevin Spacey - Casino Jack 


Best Performance by an Actress in a Supporting Role in a Motion Picture
Amy Adams - The Fighter
Helena Bonham Carter - The King's Speech
Mila Kunis - Black Swan
Melissa Leo - The Fighter
Jacki Weaver - Animal Kingdom 


Best Performance by an Actor in a Supporting Role in a Motion Picture
Christian Bale - The Fighter
Michael Douglas - Wall Street Money Never Sleeps
Andrew Garfield - The Social Network
Jeremy Renner - The Town
Geoffrey Rush - The King's Speech 

Best Animated Feature Film
How to Train Your Dragon
The Illusionist
Tangled
Toy Story 3
Despicable Me

Best Foreign Language Film
The Concert
The Edge
Biutiful
I Am Love
In a Better World


Best Director – Motion Picture
Darren Aronofsky - Black Swan
David Fincher - The Social Network
Tom Hooper - The King's Speech
Christopher Nolan - Inception
David O Russell - The Fighter

Best Screenplay – Motion Picture
127 Hours - Danny Boyle & Simon Beaufoy
The Kids Are All Right - Lisa Chodolenko & Stuart Blumberg
Inception - Christopher Nolan
The King's Speech - David Seidler
The Social Network - Aaron Sorkin


Best Original Score – Motion Picture
The King's Speech - Alexandre Desplat
Alice in Wonderland - Danny Elfman
127 Hours - A.R. Rahman
The Social Network - Trent Reznor & Atticus Ross


Best Original Song – Motion Picture
I See the Light, Tangled
You Haven't Seen the Last of Me Yet, Burlesque
Bound to You, Burlesque
There's a Place for Us, The Chronicles of Narnia: The Voyage of the Dawn Treader
Coming Home, Country Strong
Tags:
127 hours
aaron sorkin
danny boyle
david o russell
golden globes
natalie portman
nominations