| | | |
| --- | --- | --- |
| New Narnia Trailer for Voyage of the Dawn Treader | | |
Written by Ivan Radford
Friday, 08 October 2010 08:02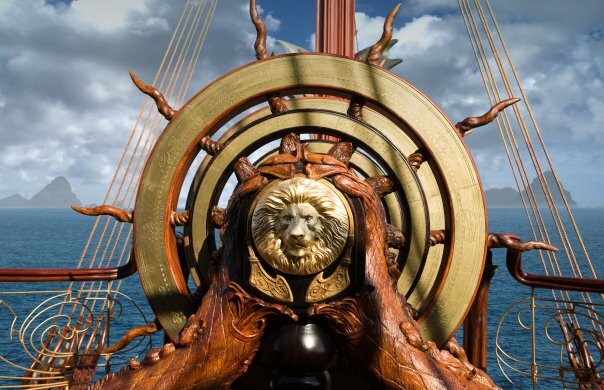 We've all done it. Had our room flooded by a picture of a boat and then swum into the picture and climbed aboard said ship, all the while tolerating our annoying cousin. If not, then you can see what it's like with the new trailer for Narnia's The Voyage of the Dawn Treader.

Going back to the mystical land of C.S. Lewis, Walden Media's new Voyage of the Dawn Treader trailer gives us a better idea of the scale of things. The lower budget sticks out a bit, despite some impressive visual effects and the (presumably high) price of Liam Neeson's vocal talents, but they've clearly tried hard to squeeze in some action. Not that there's much in the original, which saw Prince Caspian's (Ben Barnes) titular vessel sail the seas looking for lost Lords of Narnia, the main incident being the bit where Eustace (Will Poulter) succumbs to the temptation of greed. And a snazzy new bracelet.

Here, though, we've got some nonsense about Lucy and Edmund placing a magic sword at Aslan's table. The White Witch (Tilda Swinton) is back, too. So it's hardly a faithful adaptation of the fantasy novel, although they have kept the wishy-washy bit about going up to heaven in a rubber dinghy.

Directed by Michael Apted, the 3D adventure sails into cinemas on Friday 10th December. Read on for the full video, which was spotted by Slashfilm. And try not to think about Eddie Izzard's Reepicheep being replaced by Bill Nighy. It still makes me sad.
Tags:
aslan
ben barnes
cs lewis
liam neeson
michael apted
narnia
prince caspian
reepicheep
the lion the witch and the wardrobe
the voyage of the dawn treader
tilda swinton